Credit Cards vs. Cash: Choosing the Right Payment Method for International Travel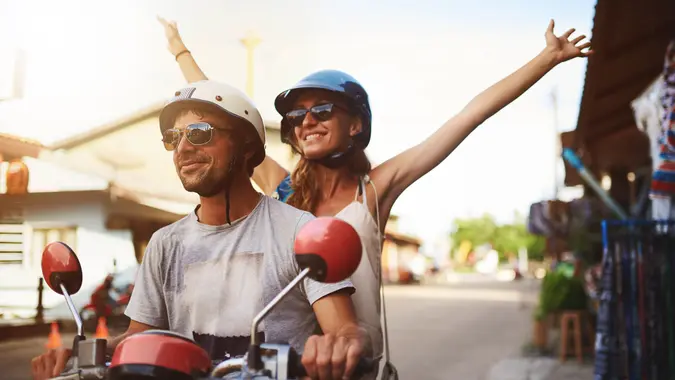 Peopleimages / Getty Images
Pack your bags. Board your flight. And double check to make sure you have everything you need when you set out for an international trip. If you are missing something? Not to worry, because you are ready to buy it.
Only what is the best method of payment when you are traveling internationally: cash, credit cards, or a mixture of the two? Traveling internationally can be fun and stressful at the same time, so you want to make sure you are adequately prepared for anything that might pop up along your route. This is particularly true when it comes to how you pay for goods and services on your trip.
GOBankingRates asked some travel experts about what the right payment method is for international travel. Here's what they recommend you keep in your wallet when you're out of the country.
Credit Cards
To no one's surprise, credit cards are an easy, portable and borderless way to buy what you need when you are on the go. They are accepted everywhere…well, almost.
"Credit cards provide a higher degree of safety compared to cash since they can be easily canceled if lost or stolen," says Hans Mast, a travel expert from Golden Rule Travel. "Plus, many offer travel-related rewards and insurance benefits that can come in handy." 
However, most credit cards usually have a catch — fees, which are pretty steep when you start using your little piece of plastic outside the country.
Make Your Money Work for You
"It's best to bring a Visa or Mastercard that has no foreign transaction fee," recommends Scott Lieberman, founder of Touchdown Money. "Visa and Mastercard are the most-accepted credit cards. Check your card terms, because many cards charge you around 3% when you use your card outside the US. Capital One cards don't charge a foreign transaction fee."
Beyond the additional costs of using your credit card, you might encounter businesses on your travels that simply do not accept payment in the form of plastic. Mast cautions that "…not every place accepts credit cards and foreign transaction fees can add up. So check with your credit card company about their international policies before you travel."
Cash
There's nothing like cold, hard green in your hands. Or red. Or blue. No matter what the color of money is where you are jet setting off to, it's always good to have tangible currency to rely on without any strings attached.
"Cash is universal," notes Mast. "It's handy for tipping, small merchants, and off-the-beaten-path locations where credit cards may not be accepted."
"It's good to have cash for emergencies," notes Lieberman. "The worst exchange rate is usually at the airport. You can order foreign currency from your bank so you have it before you go."
Make Your Money Work for You
Of course, with the ease and accessibility that cash provides also comes the heightened threat of losing it. Unlike a credit card, once cash is gone, you are most likely never going to see it again.
"Carrying large amounts of cash poses a security risk and getting the best exchange rate can be a challenge," Mast warns.
50/50: Credit Cards + Cash
Like most instances of needing to use money, it's best to have a mixture of methods. Combining a healthy amount of cash on hand with the convenience and compactability of a credit card might be your best bet.
"In my view, a mix of both is usually the best approach," Mast shares. "Use a credit card for major expenses like hotels and restaurants, and keep a reasonable amount of cash for smaller purchases or emergencies. Do some research before you leave to understand the norms and security situation in your visiting countries. It's all about being prepared and flexible."
There is an alternate option, too, which blends many of the features associated with cash and credit cards together: debit cards. "We also recommend bringing a debit card that does not charge ATM fees AND reimburses other bank ATM fees," suggests Steven Kreimendahl of Travel to Blank.
"It is important to notify your bank before traveling internationally to avoid any access issues," Kreimendahl continues. "The upside of using an ATM versus exchanging cash to local currency is you get the true exchange rate, rather than losing several percent or more at a money exchange. The one thing to watch out for is some ATMs offer to do the currency exchange for you, but charge exorbitant rates, make sure to be charged in the local currency."
Make Your Money Work for You
More From GOBankingRates