I'm a Disney Annual Pass Holder: Here's Why It's a Great Investment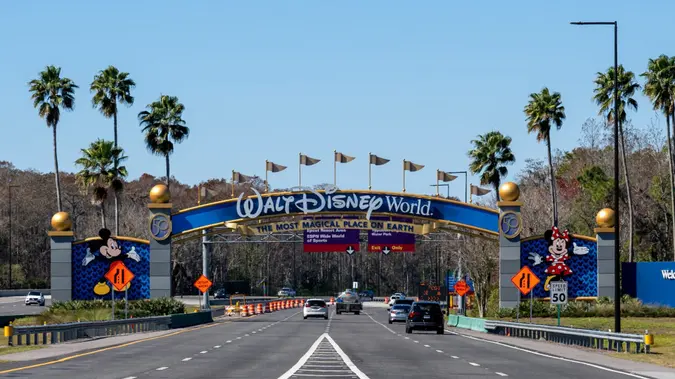 JHVEPhoto / Getty Images
If you meet a Disney fan who visits Walt Disney World Resort or Disneyland several times a year, it's likely the fan has an annual pass. 
Annual passes, priced much higher than standard tickets, come with a variety of benefits. You can receive discounts on merchandise, complimentary parking and add-on options like unlimited Disney PhotoPass downloads, depending on the type of annual pass you purchase.
Is the magic of these perks worth the price tag? GOBankingRates spoke to Donna Malik, owner at Destination Magic, about why she chooses to purchase an annual pass despite being eligible for free and discounted Disney tickets. Here's what makes Disney's annual pass a great investment.
Investing in the Disney Sorcerer Pass
For over 20 years, Malik has been a regular visitor at Disney World. Malik is a member of the Disney Vacation Club and took her love of Disney travel to the next level in 2018 when she started working as a travel agent. Now, Malik is the owner of Destination Magic, a boutique travel agency specializing in Disney destinations. 
Mailk, who has had all types of Disney tickets over the years, has the Disney Sorcerer Pass, which is priced at $969 plus tax online. (Malik purchased her pass for $899 using Disney Vacation Club benefits.) 
While the pass does have a few blackout dates around Easter and Christmas, Malik doesn't mind because these are typically the busiest times of year at the parks. However, if she ever changes her mind and wants to visit with her family during these peak seasons, she can upgrade the Disney Sorcerer Pass and gain access. 
Make Your Money Work for You
"It's like having the best of both worlds," she said.
Magical Perks of a Disney Annual Pass
Aside from the ability to gain access to the park during its peak season, Malik said there are even more great perks she receives with her annual pass. Some include discounts on rooms, restaurants and Disney merchandise, plus early access to special events. 
The greatest annual pass incentive, however, tends to go largely unspoken. It gives parkgoers like Malik their freedom.
"We no longer feel like we have to spend every waking moment at the park to make the most of a single day ticket," Malik said. "With our pass, we have the flexibility to come and go as we please. Sometimes we'll pop into a park just for an hour or two, or maybe we'll visit a specific park for a restaurant we've been craving. It's all about savoring the experience and not feeling like we're wasting a precious ticket."
Because of the Sorcerer Pass, she finds herself visiting Disney World more than she would have without it. Malik, who lives with her family in New Jersey, sometimes will plan shorter trips to the parks for just a few days. She calculates that as long as she and her family visit at least 10 times each year, they will have gotten their money's worth. 
"The great thing about the annual pass is it gives us the lowest cost per day compared to individual park tickets," Malik said. "It's like unlocking a magical budget-friendly option for extended Disney adventures!"
The Renewal Price Advantage
Over the last 20 years, Malik said there have been years when she and her family have bought the annual pass and others when they have not. This decision is typically made when evaluating the family travel plans for the year ahead. 
Make Your Money Work for You
Despite the expense of an annual pass, Malik still chooses to purchase it over standard tickets for a few reasons. The first is she believes the benefits, including the flexibility in visiting and sense of freedom, far outweigh the expense. The second is the unbeatable renewal price, which Malik said is even better than the initial purchase.
Is an Annual Pass Right for You?
As a travel agent, Malik said she often speaks with visitors who are taking a once-in-a-lifetime Disney trip or who visit the parks every few years. In these situations, it might not make sense to invest in an annual pass. However, parkgoers who plan to visit even just once a year may find an annual pass is a fantastic option. 
Having an annual pass, she said, allows them to spread out the cost and make their visit truly worthwhile. This is also true of any parkgoers who may find they can benefit from an annual pass and make the most of their vacation.
Those still uncertain whether an annual pass is right for them are recommended by Malik to get in touch with a Disney travel specialist. But for Malik and her family, having the Disney Sorcerer Pass — and being members of the Disney Vacation Club — has been the best decision.
"The flexibility, perks and sense of freedom it offers are truly priceless," Malik said. "It is a magical investment."
More From GOBankingRates
Make Your Money Work for You