These Luxe Dome 'Hotels' Are Out of This World — and Under $100 a Night

6 min Read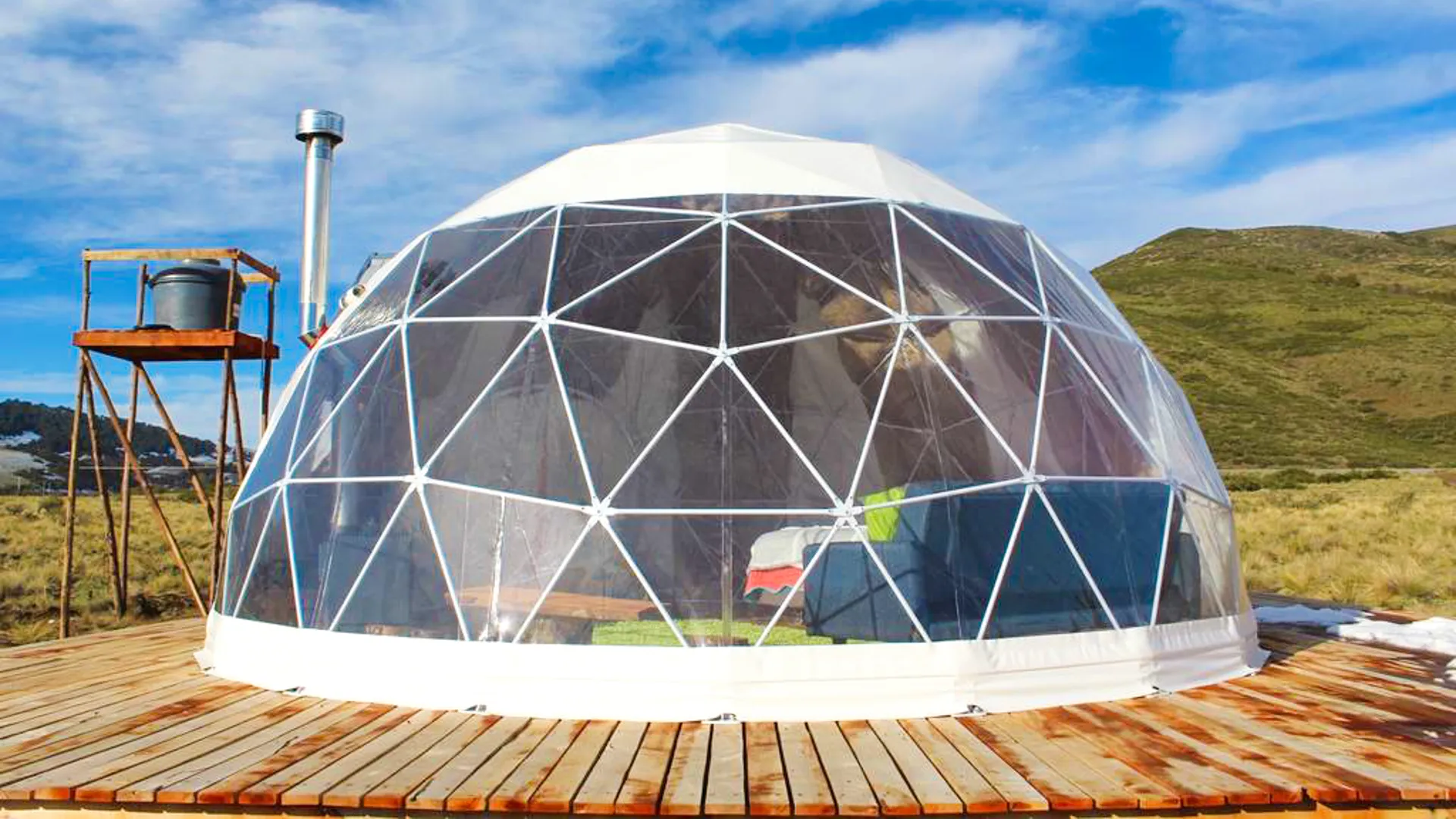 Sometimes life can leave you feeling boxed in, but you can change up your scene and ditch your usual four walls with an unforgettable vacation in a futuristic dome. These unique lodgings are all over the world, from the beaches of Thailand to the mountains of Chile — and right here in the U.S., too.
GOBankingRates collaborated with Glamping Hub to find the best dome glamping rentals around the globe — and you can rent them all for less than $100 a night.
Pricing is accurate as of August 28, 2019, and is subject to change.
Make Your Money Work for You
Bubble Tent With Resort Amenities in Playa del Carmen, Quintana Roo, Mexico
Sleep in a Japanese bubble tent in Mexico with this unique luxury camping rental. The tent sleeps two in a king-size bed, and it's just moments away from the beaches of Playa del Carmen. The tent is located at a resort, so guests also have the option to use the on-site communal swimming pool.
Luxury Camping Dome in Ischia, Italy
You'll have panoramic bay views when you stay at this unique Italian dome. It can accommodate two guests, with a king-size bed and a full bathroom. The main living space looks out over the Bay of San Francesco and is equipped with a sofa and refrigerator, as well as Wi-Fi and air conditioning.
Suspended Dome in Huelva, Spain
This suspended sphere is made out of breathable, waterproof material, so it's comfortable in all weather conditions. The dome can sleep two, with a double bed inside. Outside, guests can enjoy a communal outdoor swimming pool and playground and will have access to an on-site snack bar and restaurant. And if you venture just a bit off-site, you can easily experience the nearby beaches.
Garden Dome in Ko Pha-Ngan, Thailand
Enjoy the surrounding woods and private garden in this one-of-a-kind dome rental located just two minutes away from the beach on Ko Pha-Ngan Island. The dome — which sleeps two — is Alexa-enabled and includes a queen-size bed, private bathroom and dining area. Outside, there's plenty of furniture for relaxing, including a hammock.
Geodesic Dome in Punta del Diablo, Uruguay
This eco-friendly dome is located on a beachside glamping site and can accommodate up to two guests. Inside the dome, you'll find a queen-size bed as well as a private full bathroom. Amenities include Wi-Fi, free parking, complimentary breakfast and easy access to a smoothie bar.
Make Your Money Work for You
Custom-Built Dome Near Coimbra, Portugal
Your pet can come along for the trip when you stay at this custom-built dome in Portugal, located among oak trees that provide both shade and privacy. The dome can sleep up to two, with your choice of two single beds or one double bed, and guests have access to outdoor showers and compost toilets. There's also a shared kitchen, dining area and living area on-site.
Studio-Style Dome Near Roanoke, Virginia
This cozy dome can sleep up to four guests, with a queen-size bed and a full-size air mattress. There's also a full bathroom and a kitchenette, complete with a minifridge, microwave, coffee maker and water cooler. Outside, you'll have access to a barbecue, picnic table, chairs and a fire pit — the ideal setting for roasting marshmallows or stargazing.
Remote Dome Near Rabat, Malta
If you want to go off-the-grid, this is the place to do it. This remote dome is set on a permaculture farm, just steps away from stunning cliff-top views. It sleeps two, with a double bed, heating and Wi-Fi. Bathroom facilities are shared and include a composting toilet and an outdoor shower with a view.
Light-Filled Dome Near Concepción, Chile
Half of this dome rental is windows, so there's no shortage of natural light in this Andes Mountains escape. The dome can sleep up to four guests, with a double bed and pullout sofa. The accommodations also include a full bathroom, kitchenette and a living area with a woodburning stove and seating. Enjoy limitless mountain views from the dome and deck, or venture out to enjoy nearby hiking and biking trails.
Make Your Money Work for You
Rainforest Dome Near Manzanillo, Limón, Costa Rica
This romantic dome is located in the Costa Rican rainforest and is just steps away from beautiful sandy beaches. The studio-style space can accommodate two guests and has a full bathroom, queen-size bed and a small table and chairs. Wi-Fi, washer and dryer access and breakfast are all included with your stay.
Mountainside Dome Near Ute Mountain, Colorado
This luxurious, studio-style dome can sleep up to four guests, with a twin bed and a futon that converts into an additional twin bed and a full-size bed. There's also a dining table, small desk, kitchenette and full bathroom, plus a bookshelf stocked with books of the host's choice. Amenities include parking, Wi-Fi, central heating and a flat-screen TV.
Romantic Dome Near Woodstock, New York
Located in the Catskill Mountains, this romantic glamping dome can sleep four, with a double bed on the ground floor and a double-size mattress in the loft area. Guests have access to an RV toilet and a kitchenette equipped with a refrigerator, microwave, coffee maker and electric water kettle. You can relax inside at the birch dining table, bench or loveseat, or go outside to enjoy the spacious backyard, complete with a barbecue. Wi-Fi and cable TV are among the amenities offered.
A Dome With a View in Lanzarote, Canary Islands, Spain
Wake up to a beautiful view in this cheerfully decorated dome, where a bed for two faces a transparent wall that looks out onto the island's natural landscape. Amenities include air conditioning, television, parking and a kitchen area with a sink, stove, coffee maker and refrigerator.
More on Travel
About the Author