Don't Book Hotel Stays on These Days of the Week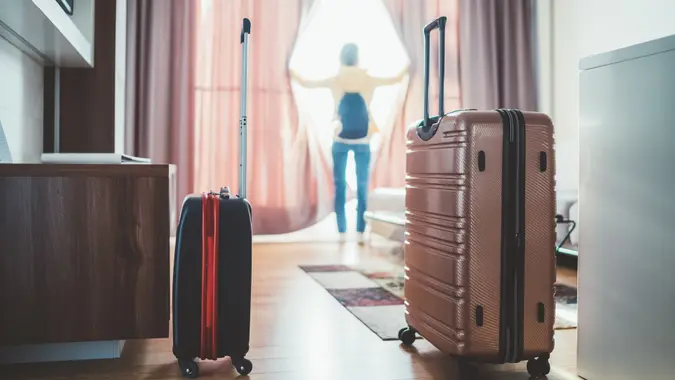 martin-dm / Getty Images
Frequent travelers know that hotel stays are typically much more costly over the weekend and cheapest in the middle of the week, but does the day of the week you book affect the price you get?
GOBankingRates spoke to travel experts about how much prices can vary based on when you book, and the days of the week to avoid booking your hotel stay.
Don't Book on Sundays, Mondays or Tuesdays
Jeremy Albelda, a travel blogger at TheWorldorBust.com, said that travelers looking for a bargain should avoid booking hotel rooms on Tuesdays.
"The worst day of the week to book a hotel stay due to higher prices is typically Tuesday for both domestic and international travel," he said. "This can be attributed to the fact that on Tuesdays, hotels often analyze their weekend bookings and adjust their rates accordingly, leading to higher prices."
Although weekends are the pricier days to stay at a hotel, you may be able to find better rates when you book on Friday or Saturday, he said.
"Searching for a hotel on a certain day of the week can show you higher rates than other days because hotel prices are dynamic and fluctuate based on supply and demand," Albelda said. "Booking on a less favorable day, like Tuesday, might result in higher rates compared to booking on days like Friday for international travel or Saturday for domestic travel."
Another day to avoid is Sunday, said Will Hatton, founder of Broke Backpacker.
"I have personally found that the worst day of the week to book a hotel room is on a Sunday," he said. "This may seem odd, as many would expect the weekend — the days when people are likely to be off work and actually staying in the hotel — to be cheaper, but this is one of the main reasons why prices are so high. People are likely to book a room on the weekend for the same day, so the prices are higher for this reason.
Make Your Money Work for You
"In addition, the weekend is also when families are together to discuss vacations," he continued. "A lot of holidaymakers expect to be at their destination on Monday and stay throughout the weekdays, so many will discuss travel plans during the weekend, book the hotel and then travel."
Philip Ballard, chief communications officer at HotelPlanner, said to avoid booking on Mondays as well.
"The worst time and day to book a hotel is probably Monday morning when business travelers often book their upcoming trips," he said. "Hotels set rates in a dynamic way using supply and demand algorithms, similar to airlines, so you are likely to see the highest hotel rates on Monday mornings as hotels look to book corporate travelers who tend to be less price sensitive or cost-conscious because their company is paying for it."
How Much Can You Save By Booking on Other Days of the Week?
Avoiding making your hotel reservations on a Sunday, Monday or Tuesday may save you a bit, but the actual amount will depend on a number of variables.
"The amount you can save by booking on other days varies depending on factors such as location, demand and time of the year," Albelda said. "However, choosing the right day to book could potentially save you a significant percentage on your hotel stay. To maximize savings, it's essential to be flexible with your booking dates and monitor hotel rates closely."
James Kinsella, travel expert at Turtle Trip, said that the other variables mentioned — location, demand and time of the year — matter way more than the day of the week, and that the savings differences between days will be minimal.
Make Your Money Work for You
"The day of the week you choose to book your hotel doesn't really make a huge difference to the price you'll pay," he said. "A comprehensive study by Expedia and the Airlines Reporting Corporation found that hotel prices aren't consistently higher or lower on any specific day of the week. Instead, they found that prices tend to bob up and down more based on the time of year and demand. Various studies in the industry show that the difference between the cheapest and most expensive days to book a hotel is usually just a few dollars."
How Early or Late You Book May Have More of an Impact Than the Day of the Week
Jasmine Cheng, founder of the travel blog The Wandering Girl, said that how far out you book is what really matters when trying to save on your hotel stay.
"There's no specific day of the week that is always going to be the worst day of the week to book hotels. However, one thing that's for sure is hotels tend to decrease their prices as they near the check-in date," she said. "This typically happens within 15 days before the check-in date.
"My best advice is to not book right away," she said. "Keep an eye on the hotel rates for at least one week to see if it fluctuates."
More From GOBankingRates
Make Your Money Work for You