Don't Buy These 9 Things at the Airport: They're Overpriced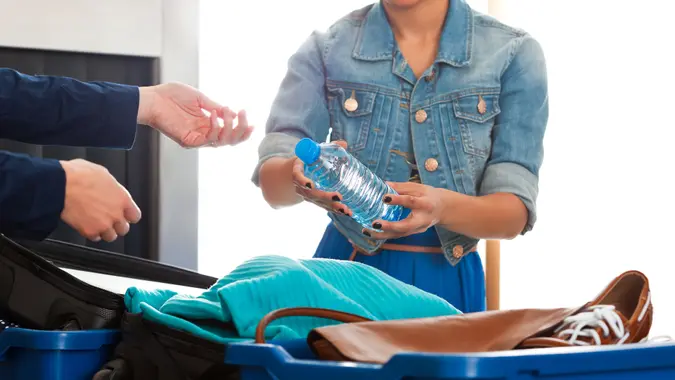 izusek / Getty Images/iStockphoto
Whether you travel for business or leisure, chances are you're going to find yourself at the airport at some point. And when you do, you might be tempted to spend money there. After all, you'll likely have several hours to kill, and airports are notorious for selling overpriced goods and services.
But if you're not careful, you could end up spending more than you're prepared for — potentially on things you didn't need in the first place. Some of the most common overpriced things people buy at the airport include food, water, electronics and internet.
If you're looking for ways to save money on your next trip, here are the top things to avoid buying at the airport.
Bottled Water
Bottled water is one of the more common — and more expensive — items to buy at an airport. A big reason for this is customer demand.
"Anything that you would use on the plane is going to be extremely expensive in the airport, because the retailers know that you have no choice and that flying without the product could be miserable," said Jack Prenter, CEO at DollarWise.
Make Your Money Work for You
A bottle of water at the airport can cost double or triple the amount it costs at a grocery store. This is partly because of the restrictions placed on bringing liquids through security.
The TSA limits your liquids, gels and aerosols to 3.4-ounce containers — or 100 milliliters. But this doesn't go very far when you're waiting for your flight or taking a multi-hour trip.
But what some people don't know is that many airports have free refill stations strategically located throughout the facility. As long as you bring an empty bottle, you can avoid the 3.4-ounce limit. Once you pass through security, you can fill up that bottle with water and avoid the hefty price tag.
Find Out: 6 Vacation Splurges You'll Almost Always Regret
Food
Many airports, especially international ones, have restaurants and shops that sell anything from snacks to full meals. A lot of travelers end up buying food at the airport, especially if they're on a long layover or their flight is going to make them miss a mealtime.
But airport food tends to be far more expensive than what you'd pay for a similar item at a grocery store. For example, a couple of simple sandwiches at the airport can cost you $10 to $20.
Make Your Money Work for You
To get around the high cost of snacks and other food, consider packing your own. The TSA has a list of approved food items you can bring through security. This includes things like dried fruit, bread, cereal, candy and nuts. Pack it separately in case of additional screenings or bag checks.
Electronics and Accessories
Chargers, headphones, earbuds and other electronics also tend to be overpriced at airports. But many travelers still buy them — often because they forgot to pack theirs or because they can't find it in their luggage.
One way to avoid spending money on these things is to bring at least two of whatever items you might need. Pack one item in your checked bag, and the other in your carry-on. That way, you'll have it when you need it.
And, if you're not taking a long flight, see if you can wait until you reach your destination to buy what you're missing. Many stores and gas stations sell simple items like chargers or earbuds at a much cheaper price.
Make Your Money Work for You
Sleeping Aids
Even if you're flying business or first class, chances are you're going to want something to help you sleep. And while some airlines offer basic pillows or blankets, they're not always the most comfortable option.
But as with food and electronics, sleeping aids are usually expensive at the airport. Oftentimes, the quality of these airport items is also poor or average.
"The most overpriced products in airports are those related to flying like neck pillows, ear plugs, eye masks and headphones," said Prenter. "I paid over $40 for a very basic neck pillow in Chicago O'Hare when a similar pillow is $11 on Amazon."
If you fly a lot, you could end up saving a lot of money by packing your own sleeping accessories. This can also include things like memory foam pillows, earbuds or Advil. Look for things that are foldable or highly portable since these tend to be the easiest to fit in your carry-on.
Wi-Fi
Many airports offer free internet access, but it can be spotty and unreliable. If you want better internet, you might need to pay for it.
Sometimes, you can also get Wi-Fi on the airplane — but for a fee. In-flight Wi-Fi usually works by using either a satellite or an Air-to-Ground (A2G) network. The cost and coverage can vary depending on the airline. For example, Alaska Airlines charges between $8 and $24.99 for in-flight internet.
Make Your Money Work for You
Other Overpriced Airport Items To Avoid
Here are a few more things to avoid paying for at the airport:
Books: Hudson Booksellers is a popular bookstore at airports, but a hardcover book can easily cost $5 or $10 more than what you'd find outside of the airport.
Parking: On-site airport parking can be very expensive. The closer you park to the terminal, the more expensive it tends to be. Look for off-site parking or get a ride to avoid overspending.
Currency exchange: If you're traveling internationally, you might need to exchange some currency. However, airports often charge higher fees and offer worse exchange rates than other options.
Souvenirs: You can find things like magnets, mugs and small figurines at the airport, but these are also usually much more expensive.
The next time you head out for a flight, check what the restrictions or limitations are. You might be pleasantly surprised at what you're allowed to bring through security and onto the plane.
More From GOBankingRates
Make Your Money Work for You
Make Your Money Work for You