Escape to One of These Affordable Warm Weather Destinations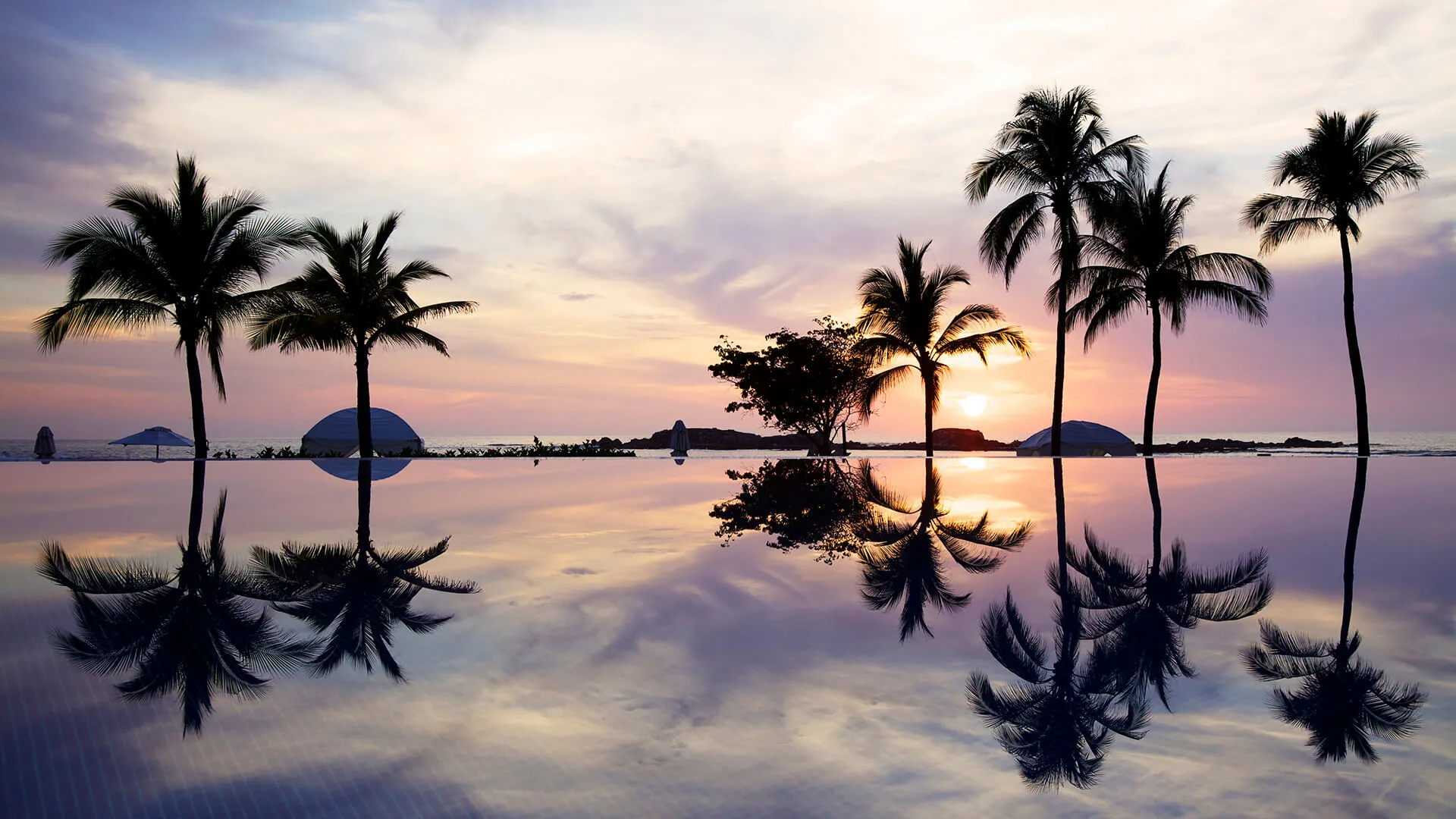 If you're tired of bitter cold and snowy weather, there's no better time to head to a warmer climate.
Although you might be dreaming of Hawaii or the beaches of the Florida Keys, both destinations come with an average cost of $170 per day, according to travel planning site Budget Your Trip. A lower cost per day would mean you can stay longer in the warm sun, so we checked out some of the best places to thaw out without breaking your wallet.
Click through to discover the best warm destinations to visit right now.
Tucson, Ariz.
Average daily cost: $122
Tucson's warm desert climate is ideal if you want to get out and hike among towering saguaro cacti or hit a few balls on one of the city's many golf courses. Explore the city's history with a visit to 19th-century mansions in the El Presidio Historic District or more humble adobe abodes in the Barrio Historico.
Nassau, Bahamas
Average daily cost: $120
Pack your shorts and swimsuit and head off to weather in the upper 70s in Nassau. Dive deep into pirate history in this former buccaneer stronghold, or plunge into the turquoise waters to snorkel colorful reefs. Shop for local goods at the Straw Market, and grab a bite at a seaside conch shack.
Make Your Money Work for You
Cancun, Mexico
Average daily cost: $111
Not just for spring-break partiers, Cancun rolls out an ideal mix of vacation value and warm weather.
Savor temperatures in the mid-70s while relaxing on a sandy beachfront in the Zona Hotelera tourist district, visit Mayan ruins or snorkel along the Mesoamerican Reef.
Singapore
Average daily cost: $110
You should visit this country before it gets too expensive. Singapore's tropical climate delivers weather in the low 80s, making it ideal for a winter getaway.
Take your taste buds on a tour of Singapore's famous street food scene, or get a panoramic view of the city from the world's largest infinity pool 57 stories above ground level at Marina Bay Sands Skypark.
Corpus Christi, Texas
Average daily cost: $100
Weather in the 70s is just right for strolling down long stretches of beach along the Padre Island National Seashore near Corpus Christi. Padre Island's 70 miles of coastline between the Gulf of Mexico and Laguna Madre make it the world's longest stretch of undeveloped barrier island.
Sanibel, Fla.
Average daily cost: $81
Snowbirds aren't the only creatures that head to Sanibel for winter getaways. Hundreds of species of birds flock to the area. The city is a hotbed for water sports, and you can discover some of the country's best places to pick up seashells along its shoreline.
Lima, Peru
Average daily cost: $63
Escape winter and go on a life-changing getaway to Lima. Visit during the height of summerin Peru when temperatures are in the mid-70s. The balmy weather makes for a great time to stroll along the clifftop Malecón promenade or savor ceviche — the national dish — or the catch of the day in an open-air restaurant.
Make Your Money Work for You
Puerto Viejo, Costa Rica
Average daily cost: $60
This year, treat yourself to a Caribbean vacation and visit Puerto Viejo de Talamanca, tucked along the west end of the Caribbean Sea.
Sun yourself on the warm black sands of Playa Negra, or surf the waves at Salsa Brava. Take a hike in a national park or wildlife refuge, or snorkel colorful coral reefs.
Huntington Beach, Calif.
Average daily cost: $55
Catch a wave in "Surf City USA," commonly known as Huntington Beach. Rent a wetsuit and board, take a lesson or bask in the warm California sun while watching surfers challenge the waves. Take a stroll down the Huntington Beach Pier, or check out surfing history at the International Surfing Museum.
Colombo, Sri Lanka
Average daily cost: $50
Chase away winter chill in Colombo, with daily temperatures in the low 80s. Sri Lanka's capital city serves up architecture and art with Portuguese, Dutch and British influence. Shop in a busy bazaar, have a picnic on a green oceanside promenade, or just relax on a sandy beach.
Ho Chi Minh City, Vietnam
Average daily cost: $47
Pho fans need look no further than a trip to Ho Chi Minh City, home of the famous Vietnamese noodle soup. It's not a beach town, but that'll help you save on the cost. Plus, it's still plenty warm, averaging in the low 80s.
There are plenty of exhilarating things to do in the fast-paced city, from visiting bustling bazaars to trying adventurous cuisine like scorpion wine.
Make Your Money Work for You
Chiang Mai, Thailand
Average daily cost: $40
Beach destinations in Thailand such as Bangkok and Phuket are typical warm vacation spots, but you'll find balmy weather inland too.
Head to mountainous Chiang Mai to explore culture and architecture dating back to the 1200s while enjoying weather in the upper 70s.
Kuala Lumpur, Malaysia
Average daily cost: $36
The record-low temperature in Kuala Lumpur is just 66 degrees, but days average in the low 80s year-round.
Don't forget to check out the Batu Caves, where 272 stone steps lead into soaring limestone caverns housing ornate Hindu temples. Or get a bird's-eye view of the city from the Petronas Twin Towers.
Puerto Vallarta, Mexico
Average daily cost: $35
Mexico's warm weather is perfect for winter getaways, and Puerto Vallarta rolls out one of the most affordable beachside resort areas in the country.
Dry weather in the mid-80s is perfect for snorkeling, surfing or just soaking in the warm sunshine along one of the area's many long stretches of beach.
Siem Reap, Cambodia
Average daily cost: $32
If sunny weather in the mid-80s warms you to your toes, plan a trip to an affordable warm vacation spot like Siem Reap.
The exotic getaway sits on the northern shoreline of the 100-mile Tonle Sap Lake, where you can take boat tours to floating villages, explore ancient ruins or take a break from the sun inside modern museums.
Luang Prabang, Laos
Average daily cost: $29
Trade your snow shovel for sunshine and daily highs in the mid- to upper 70s when you treat yourself to a getaway in Luang Prabang. Tucked at the juncture of the Mekong and Nam Khan rivers, the charming city features Buddhist temples, French colonial buildings and traditional wooden Lao houses.
Make Your Money Work for You
Sharm el-Sheikh, Egypt
Average daily cost: $27
Wiggle your toes in the sand as you enjoy a warm, dry winter climate in the upper 60s along the coast of the Red Sea at Sharm el-Sheikh.
Snorkel and scuba dive in Ras Muhammad National Park to enjoy underwater views of reefs and a shipwreck, or sip cool drinks along the palm-strewn promenade at Naama Bay.
Saint-Louis, Senegal
Average daily cost: $25
The UNESCO World Heritage Site of Saint-Louis rolls out temperatures in the upper 70s to upper 80s when much of the U.S. is shivering in below-freezing weather. The picturesque seaside town is ideal for days spent exploring historic sites, sunning on a sultry beach or releasing your inner plein-air artist.
Kerala, India
Average daily cost: $21
Savor sunny days in the mid-80s when you take a trip to Kerala. Stretch out on more than 373 miles of palm-lined beaches bordering the Arabian Sea, rent a houseboat or other watercraft to explore the region's backwaters in leisurely fashion, or visit a national park to check out the local wildlife.
Mendoza, Argentina
Average daily cost: $15
Winter temperatures in the mid-70s are perfect for a visit to Mendoza, famous for malbecs and other red wines. Art deco buildings rise against the backdrop of the Andes Mountains, where picturesque vineyards sprawl across the foothills. Sample vintages at a bodega in town, or head out on a winery tour.
Average daily cost of each location was determined using information provided by Budget Your Trip. Destinations were selected based on an average daily temperature in the mid-60s or above during the months of February and March with little to moderate rainfall and travel advisory levels of two or below, according to the Bureau of Consular Affairs.
Editorial Note: This content is not provided by Chase. Any opinions, analyses, reviews, ratings or recommendations expressed in this article are those of the author alone and have not been reviewed, approved or otherwise endorsed by Chase.