40 Free Things to Do on Your European Vacation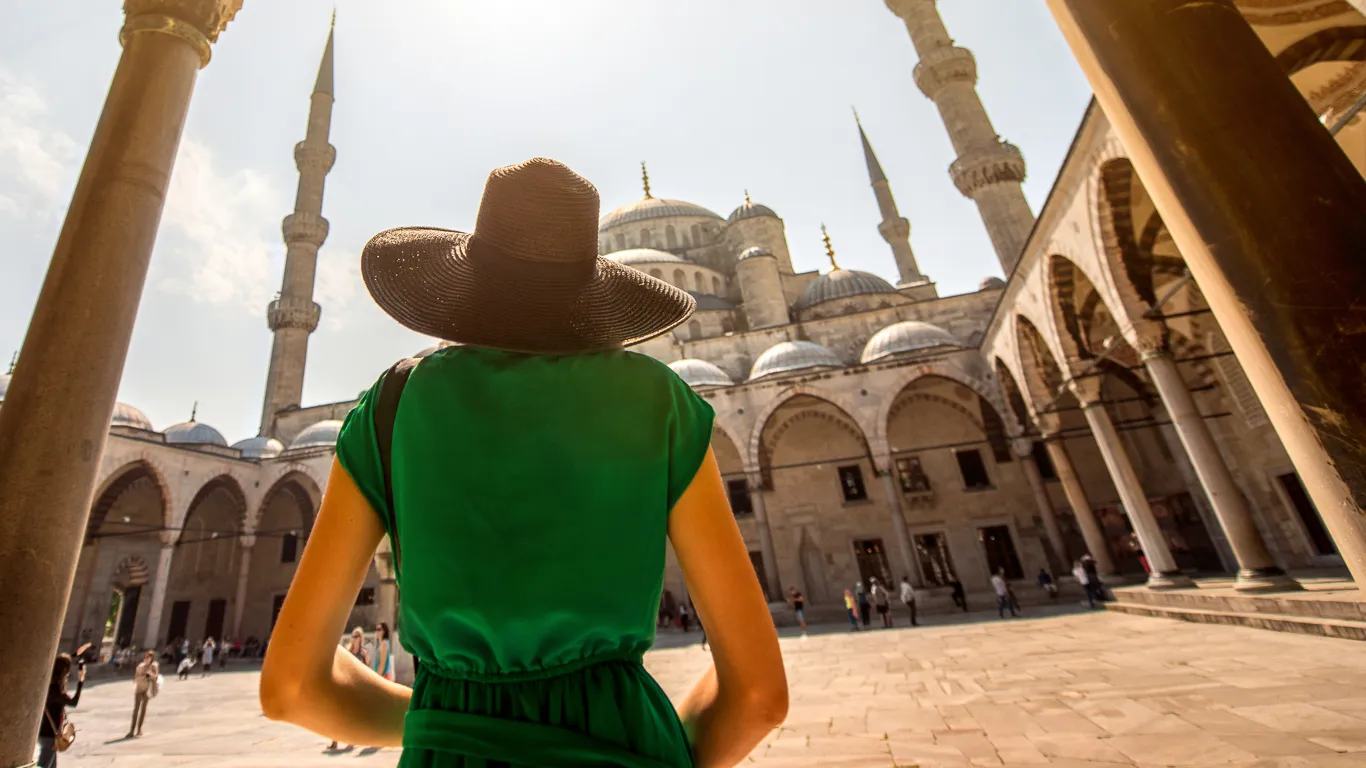 WiFi, shampoo and daily housekeeping aren't the only free things to enjoy during a trip to Europe. As pricey as the continent can be, there are many ways to liven up your vacation with fun, free activities.
From the museums of Britain to the ruins of Greece, you can have adventures in the Old World without breaking your budget. Check out these free vacation activities to enjoy on your next getaway.
Appian Way: Italy
Kicking off this free spending guide to Europe is the Appian Way, a true highway of antiquity and the origin of the phrase, "All roads lead to Rome." Start at the San Sebastian Gate and stroll past a series of ancient relics and catacombs before arriving at the Circus of Maxentius, which hosted chariot races in the days of the Roman Empire.
Amsterdam Cheese Museum: The Netherlands
Like flowers, cheese is a major component of Dutch culture. Learn more about this favorite food and dietary staple at the Amsterdam Cheese Museum, which offers free samples on top of daily free admission.
Aubes Musicales: Switzerland
Experience a blast from the past at the Aubes Musicales, a spectacular free music festival in Geneva. Featuring vintage 1930s swimming baths, this attraction garners a lively crowd every morning during the summer months. Enjoy tons of music, including jazz, Latin and classical, as well as free coffee.
Make Your Money Work for You
Barcelona's Waterfront and Beaches: Spain
Barcelona is a beautiful Spanish city with a Mediterranean location that makes it a hot spot for beach enthusiasts. You don't need to visit an expensive island like Ibiza to experience these calming waters — make your own fun for free on the city's waterfront.

Berlin Wall Memorial: Germany
Even if you're not a history buff, you'll likely appreciate seeing what life was like in Berlin during the Cold War. Dividing the city and its inhabitants for decades, the Berlin Wall is free to visit and even features a "recreated death strip."
Bloemenmarkt: The Netherlands
The Netherlands is world-renowned for its tulips and other flowers. An historic 150-year-old flower market, the Bloemenmarkt in Amsterdam features several florists and flower shops situated on barges in the Singel canal. According to Time Out, admission to the world's only floating flower market is always free.
Blue Mosque: Turkey
One of the most famous mosques in the world, the Blue Mosque is a cultural icon of Istanbul and the Islamic religion. The 400-year-old holy site features more than 200,000 blue tiles, which give the mosque its name. It's free to visit, provided that you observe proper etiquette and avoid prayer times.
British Museum: United Kingdom
If you love museums, you can't miss out on a trip to the British Museum in London. The site houses artifacts, artwork and objects spanning the globe and historical periods. Check out a wide array of pieces from mechanical clocks and watches to ornamental Chinese jade.
Cemetery of Pleasures: Portugal
The Cemetery of Pleasures houses many of Lisbon's most influential former residents, as well as impressive statues and chapels. With incredible views of the river and Alcantara Valley, this site offers one of the most breathtaking views in the world.
CERN Laboratory: Switzerland
If you find yourself in Geneva, visit one of the most groundbreaking laboratories in the world — for free. The CERN Laboratory developed the World Wide Web in 1989 and the Hadron Collider, a giant particle accelerator used to engineer new matter, in 2008.
City of a Thousand Welcomes: Ireland
Make Your Money Work for You
Clarchens Ballhaus: Germany
The Clarchens Ballhaus is a beautiful venue that offers visitors a look into Berlin during the Golden Twenties. You can check out the site for free, though you might want to part with a little cash in exchange for dance lessons.
Fiestas de San Isidro: Spain
The residents of Madrid hold an annual celebration on May 15 in honor of the city's patron saint, San Isidro. Packed with parties, parades and tons of free concerts, the event is a must for springtime visitors.
Fireworks Finale for Fetes de Geneve: Switzerland
If you want to visit cheaper destinations in Europe, the Fetes de Geneve is an ideal choice. A summer celebration along the shores of Lake Geneva, the event boasts great cultural events, free concerts and a spectacular fireworks display, all for free.
Free Summer Activities at Rathausplatz: Austria
You'll have to travel to Vienna during the summer to experience all the free activities in the city hall square, Rathausplatz. In July and August, the site hosts food festivals, free concerts and operas, as well as the unmissable Musikfilm Festival.
Free Sundays in Oslo: Norway
On Sundays in Norway, all national culture museums are free. Hit up hot spots like the National Museum – Architecture, the Museum of Decorative Arts and Design, the Museum of Contemporary Art and the National Gallery, which houses Munch's famous painting "The Scream," as well as works by Cezanne and Manet.
Free Sundays in Rome: Italy
Visitors pay a pretty penny to see many of Rome's ancient ruins. However, on the first Sunday of the month, several of Rome's greatest monuments offer free admission, including the Colosseum, Palatine Hill and Roman Forum. Be sure to arrive early to beat the crowds.
Grand Bazaar: Turkey
There's no shortage of spectacular sites to see in Istanbul. Consider visiting the Grand Bazaar around the New Year, as hotel prices are cheaper at this time in the city.
An incredible relic from the past, this historic marketplace is 600 years old and filled with colorful scenery. Hundreds of thousands of people visit daily. In fact, it's one of the world's biggest and busiest markets.
Make Your Money Work for You
Gran Paradiso: Italy
A free national park that offers an ideal setting for mountain climbing, hiking and skiing, Gran Paradiso is also home to wild ibex. And it happens to be located on the highest peak in Italy.
Kavouri Beach: Greece
Greece is known for its ancient ruins, but it's also a great place to relax and catch some rays. You can kick back and enjoy the beautiful views at Kavouri Beach, a free tourist attraction located near Athens.
Margaret Island: Hungary
One of Budapest's many natural attractions, Margaret Island is situated right in the middle of the Danube River. Bars, cafes and swimming pools cost money, but visiting the island's gardens, fountains, medieval ruins and playgrounds is completely free.
More London Free Festival: United Kingdom
If you visit the mother country during the summer months, be sure to check out More London Free. A complimentary festival spanning four months, the event is situated along the Thames and offers live music, theater performances and movie screenings at the Scoop, a large amphitheater near the famous Tower Bridge.
Musee d'Art Moderne de la Ville de Paris: France
Paris is home to many famous museums, but visiting them often means enduring long lines. The Musee d'Art Moderne de la Ville de Paris is a lesser-known museum, which means visitors can spend more hours enjoying the art. See 10,000 pieces of artwork from the 20th and 21st centuries, including art deco furniture and sculptures, and modern paintings like Raoul Dufy's "La Fee Electricite," a giant mural depicting the discovery of electricity.
Museu Picasso: Spain
Another great Barcelona venue, the Museu Picasso offers tourists hours of educational entertainment. You can see more than 3,500 paintings by Pablo Picasso for free if you visit the first Sunday of the month or any Sunday after 3 p.m. The museum also houses a research library, which is free to use if you make an appointment in advance.
Olympus: Greece
Make Your Money Work for You
Parque del Buen Retiro: Spain
The Prado: Spain
One of the world's most famous museums, the Prado offers an unrivaled collection of Goya, Velazquez, Raphael and Rubens works, along with eerie pieces by Bosch. You can see the art for free by going to the museum between 6 p.m. and 8 p.m. Monday through Saturday or 5 p.m. and 8 p.m. on Sunday.
Red Square: Russia
St. Peter's Basilica: Italy
A stunning church in the heart of Vatican City, St. Peter's Basilica is built upon Vatican Hill. It can hold more than 60,000 visitors and ranks among the world's largest churches. You'll have to stand in line if you want to claim your free tour, but the wait is worth it. The site features art by the likes of Bramante, Bernini and Michelangelo.
The Tate: United Kingdom
You'll find interesting, experimental galleries at the Tate, which consists of four free venues. Two of these sites, the Tate Britain and the Tate Modern, are located right in London. The Tate Britain focuses on older art, from 1500 onward, while the Tate Modern includes pieces created after 1900.
Trinity College: Ireland
Ireland's top university, Trinity College was founded in 1592. Today, it's home to priceless artifacts, including the Book of Kells. The school also boasts many famous alumni, including "Dracula" author Bram Stoker, "Gulliver's Travels" novelist Jonathan Swift and playwrights Oscar Wilde and Samuel Beckett.
VDNKh: Russia
Moscow's Red Square shows one side of Russia's communist past, while VDNKh shows another aspect entirely. The Exhibition of Achievements of National Economy (VDNKh) is a surreal Soviet-era theme park containing massive structures, including a titanium statue of a rocket celebrating the launch of Sputnik 1. The park also features huge fountains, pavilions and the Cosmonautics Museum.

Make Your Money Work for You
The Victoria and Albert Museum: United Kingdom
The Victoria and Albert Museum houses an incredible amount of art. The 145 galleries feature 4.5 million pieces dating from 5,000 years ago to today. Regarded as the "world's greatest art-and-design museum," the Victoria and Albert also hosts the Museum of Childhood.
Sintra-Cascais Natural Park: Portugal
Marking the western-most point of mainland Europe, Portugal's Sintra-Cascais Natural Park offers views of the magnificent cliffs of Cabo da Roca and the Cabo da Roca lighthouse. Plus, you can visit the incredible fossil dunes.
Yildiz Park: Turkey
Palace gardens can be great places to visit if you want to save money while abroad. Once frequented by Ottoman sultans, today Yildiz Park is open to the public. Visit this picturesque site in the middle of Istanbul for free.
Temppeliaukion: Finland
Architecture nerds could get a kick out of this travel site. An unusual modern church, the Temppeliaukion features a beautiful copper dome, skylights carved into bedrock and massive organs. Check out the free concerts or just tour the site gratis.
Tempelhof Airport: Germany
Berlin's iconic Tempelhof Airport was converted into a massive park. Today, visitors can barbecue, skate, bike and even windsurf on the tarmac. Admission is free unless you opt to take a guided tour.
Vatnajokull: Iceland
Europe's largest national park, Vatnajokull covers a shocking 12 percent of the country's surface. Worth seeing for Europe's most powerful waterfall alone, the site also offers glacier hiking and ice-caving.
Versailles Gardens: France
The Wallace Collection: United Kingdom
The Wallace Collection isn't the only museum on this list, but it offers a lot more than your average art gallery. Here, you'll find an assortment of heavy equipment, including weapons and armor dating back to the Middle Ages. Plus, you can see French furniture from the days of King Louis XV and Marie Antoinette.