Gen Z Is Relying On Parents' Money To Go Home for the Holidays, Study Finds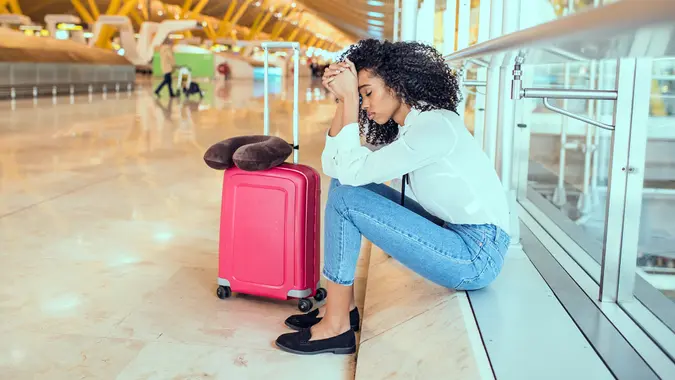 David-Prado / Getty Images/iStockphoto
It's peak travel season, with droves of Americans headed home for the holidays. Gen Zers will be among those Americans. About half of the demographic plans to travel home this yuletide, according to a new study by Credit Karma. But many members of this particular population won't be bearing the brunt of those travel costs. The same study by Credit Karma found that approximately 41% of Gen Zers expect their parents or other family members to pay for their travel accommodations.
The Future of Finances: Gen Z & How They Relate to Money
Find Out: 3 Easy Tips To Turn Your Credit Woes Into Wows
It's easy, especially if you're of an older generation, to hear this news and frown — or smirk. "Those spoiled Gen Zers," one may think. "They just expect a free ride!" 
Though there's some truth to the concept that, as adults, Gen Z shouldn't be relying on mom and dad (or anyone else) to foot their travel expenses, not being able to afford travel right now isn't entirely their fault. Gen Z is up against a lot of financial stressors and pressures, some of which didn't exist for older gens when they were young.
Make Your Money Work for You
Inflation 
"At the moment, the biggest economic issue facing Gen Z is inflation," said Gabriel Lalonde, CEO of MDL Financial Group Ltd. "Lower-income households are most affected by inflation, considering that they spend much of their earnings on accommodation, food and energy. In general, Gen Z earns far below their senior colleagues, and lower salaries are much more prevalent among this group."
Take Our Poll: How Has Inflation Impacted Your Holiday Shopping Plans?
Housing Instability 
"In addition to dealing with regular financial worries such as daily expenses and college loans, there is a rise in residential destabilization as a result of increasing rent," said Carl Jensen, founder of Compare Banks. "Gen Z is also having difficulty finding affordable housing."
COVID During College 
"The economy's state and the pandemic's effects have been hard for everyone, but Gen Z has had it rougher compared to millennials," said Bill Ryze, a certified chartered financial consultant (ChFC) from Tennessee, and a board advisor at Fiona. "Their college schooling period was interfered with by the coronavirus pandemic."
This particular issue caused many students to miss out on valuable networking and internship opportunities that often help launch a career. In addition, Gen Zers who were already working were more susceptible to layoffs, as many rely on retail or food service jobs, as well as gig work.
Make Your Money Work for You
Student Loans 
"Student loans are one of the most [common] financial troubles for Gen Z," said Leona Bass, marketing director at LoanAdvisor. "You might need [a loan] to advance in your current job or to make a career change. And it's difficult to pay for college while also managing other expenses on a tight budget. However, there is no guarantee of a job or an attractive compensation package after college. [Gen Z's] mental health and finances suffer as a result of the stress of repayment. Furthermore, it is a long-term loan, so the stress will last for years until the income is sufficient to comfortably manage the installments."
Anxiety 
"And finally, I think it's worth it to note that this is a generation plagued by anxiety," said CJ Ahlquist of Olive the Money. "That issue hits Gen Z two-fold: One because of the cost of healthcare, and two, because our workplaces are extremely anxiety-provoking, so I don't think we're set up in a way to help this generation thrive."
Make Your Money Work for You
Part of what Ahlquist refers to — the cost of healthcare — is made especially difficult when those who need it can't afford mental healthcare. This makes anxiety even more unmanageable, and combined with the rapidly rising cost of living and college education, it's easy to see why Gen Z is an anxiety-ridden generation.
What Gen Z Can Do About It 
So what can Gen Z do in order to boost their financial health and eventually cover their travel expenses home?
Improve financial literacy. "In order to get ahead, Gen Zers need to focus on financial literacy," said Professor Michael Collins, CFA of Endicott College in Beverly, Massachusetts. "Learning how to budget, save and invest is essential for this generation. Additionally, they should consider freelancing and side hustles to supplement their income."
Know financial aid options. "It is also important for them to be aware of the financial aid options available to them, such as grants, scholarships and loan forgiveness programs to help reduce the financial burden of higher education," said Michael Ryan, a financial coach.
Connect with financially like-minded Gen Zers. "Gen Zers should engage in online communities that advocate for financial literacy to become better at handling their money," said Adam Garcia, founder and CEO of The Stock Dork. "This allows them to socialize with people who have similar goals and a willingness to resist impulse buying. It also lets them encounter licensed financial advisors and planners with the proper knowledge to guide them in making wise financial decisions."
Stay motivated and open-minded. "Gen Z is highly motivated and ambitious," said Ryze. "Most of them recognize they don't need formal employment to earn and are willing to find alternative and creative ways to earn additional income and overcome these challenges. Gen Z should keep looking out for different opportunities and keep an open mind."
More From GOBankingRates
Make Your Money Work for You