Here's How to Eat for Free at 30 Airport Restaurants, Every Time You Fly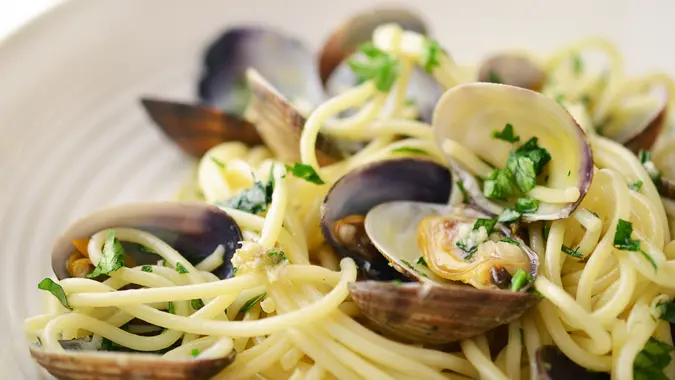 ©Shutterstock.com
Whenever you travel, you have to make a choice. Do you eat at home and risk arriving at your destination hungry? Or perhaps you pay the inflated prices for airport food before departure, or maybe you try the overpriced, poor quality food served onboard.
Thankfully, I don't have to make these choices anymore due to a key benefit of one of my credit cards. This benefit, Priority Pass Select, offers me and my traveling companions $28 worth of credit at 30 different airport restaurants around the country. And you can enjoy this perk too.
Check Out: Surprising Uses for Your Credit Card Rewards

How the Priority Pass Select Restaurant Benefit Works
Priority Pass Select is a program that offers members access to over 1,200 different airport business lounges around the world. But you can also use your Priority Pass Select membership at a growing list of airport restaurants. When you show your membership card at a qualifying airport restaurant, you'll typically receive a $28 credit per person toward the menu price of your meal — some offer $30 credits while another offers just $15 per guest.
There are now 30 participating airport restaurants in the U.S., and the number is increasing almost every week. There are also 16 participating airport restaurants outside of the U.S., with seven of them in the Sydney, Australia, airport. Better yet, the ones that are participating are some of the top airport restaurants in the country, not the typical fast food that many settle for. For example, you can eat at the Timberline Steaks & Grill at Denver International Airport, Bobby Van's Steakhouse at John F. Kennedy International Airport or Chef Geoff's at Washington Dulles International Airport.
Take Advantage: Getting a Travel Rewards Credit Card Is the Best Money Move I Ever Made
When you arrive at one of these restaurants, it's a good idea to let your server know that you will be paying using your Priority Pass Select card. Just note that some restaurants will require that you present a same-day boarding pass for departure, while others accept all guests, arriving or departing. You can find those requirements when you search for a restaurant at the Priority Pass Select website.
Make Your Money Work for You
When you use your card, your server will likely inform you that the card only covers your meal cost, not any gratuities. And although you won't have to pay tax on the food covered by the Priority Pass Select card, I recommend that you tip your server on the full menu price of what you ordered.

How to Get a Priority Pass Select Membership
This lounge club membership is available for $429 per year directly from Priority Pass. However, I've never heard of anyone purchasing a membership in this way. Instead, Priority Pass Select memberships are typically received as a benefit through several U.S. credit cards including:
The American Express Platinum
The American Express Business Platinum
Chase Sapphire Reserve
Citi Prestige
Hilton Honors American Express Aspire (Limited to 10 free visits)
Marriott Bonvoy Brilliant American Express Card
Luxury Gold Card
Luxury Black Card
The Hilton Honors American Express Business (Limited to 10 free visits)
Hilton Honors American Express Ascend Card (Limited to 10 free visits)
U.S. Bank Altitude™ Reserve Visa Infinite®  Card (Limited to your first four visits and four individual accompanying guest visits)
See: The Top 10 Most Exclusive Black Cards You Don't Know About
These are all premium travel rewards cards, and all of the cards that include unlimited memberships will cost at least $450 per year. Furthermore, most of these cards will limit you to the cardmember plus up to two guests. When it comes to most restaurants, that means that you can receive a credit for up to $84 for your party. When it comes to accessing lounges, it means that you will usually have to pay $32 for each additional guest beyond yourself and your two included guests. Check your individual credit card for its exact terms.
Make Your Money Work for You
If you have one of these cards, you can't simply present it to an airport lounge or restaurant. Instead, you must first order your Priority Pass Select card. You may also register for the Priority Pass Select mobile app, although some qualifying locations don't accept the mobile app.
Using Priority Pass Select at Airport Lounges
The airport restaurant benefits are relatively new to the Priority Pass Select program, which has been traditionally known for its airport business lounge network. The Priority Pass Select program now has over 1,000 lounges in more than 140 countries. In fact, the vast majority of these lounges are outside the U.S., which makes it ideal for people who travel internationally. There are many small airports around the world with very poor facilities where your Priority Pass Select card can get you into its only lounge. Lounges vary vastly in quality: Some offer full buffet meals and free drinks, but others are more austere locations where you can expect some light refreshments and a slightly less hectic atmosphere than the rest of the terminal.
Enjoy: VIP Access to Luxe Airport Lounges Can Now Be Yours
Using Priority Pass Select at Minute Suites
Another more recent addition to the Priority Pass Select program is the Minute Suite lounges in airports like Atlanta, Charlotte, Dallas, and Philadelphia. At these spots, your Priority Pass Select card can get you a free hour of work or relaxation in a private suite, followed by additional hours for $28 per hour. Discounted shower facilities might also be available.
Make Your Money Work for You
Spending time at an airport can often be stressful and expensive, but it doesn't have to be. By having a credit card that offers you a Priority Pass Select membership, you can relax and enjoy a free meal or a visit to a lounge at locations all over the world.
Click through to read more about how to use travel points to book (almost) free flights.
More on Money