Tulum and Other Underrated Tourist Destinations You Need to Visit

7 min Read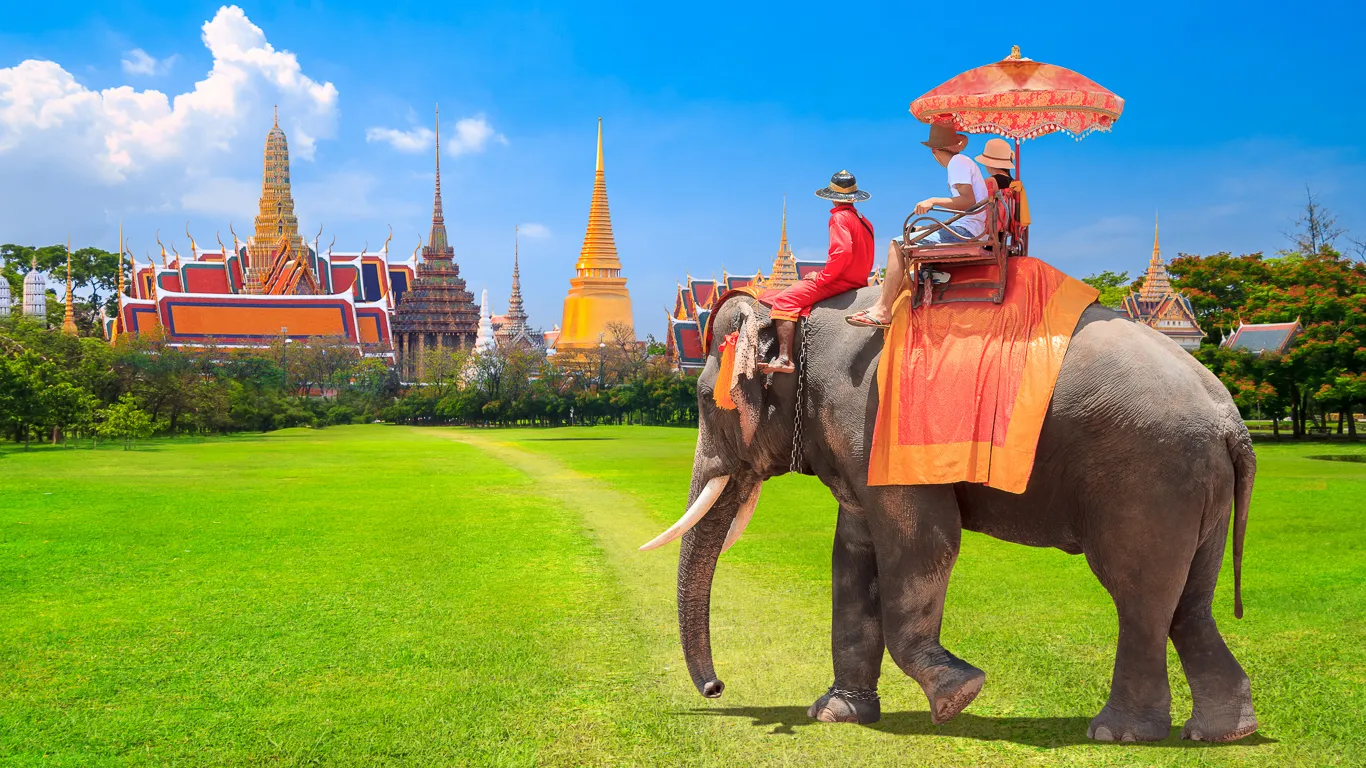 Finding the right adventure can transform an ordinary vacation into an unforgettable experience. Although it's great to see the world's most famous destinations, crowded tourist attractions can make for a lackluster trip. Meanwhile, the world's lesser-known gems have so much to offer.
To help you plan your visit to some of these special destinations, GOBankingRates sourced travel costs for July 9 to July 16, 2017. Read on to find out which of these underrated destinations could be your next life-changing trip.
Make Your Money Work for You
1. Chester, England
Estimated airfare: $1,459
When you think of England, London likely comes to mind. Big Ben, Buckingham Palace and the London Eye Ferris wheel are iconic, but often busy and packed with sightseers. England is a big country, with plenty of places where you can beat the tourist crowds.
Instead of traveling to London, set your sights on the smaller and greatly underrated city of Chester, where you can explore rows of quaint shops and pubs, and spend a day at horse races. Choose from among numerous lodging options under $100 per night.
2. Bogotá, Colombia
Estimated airfare: $616
Despite being one of the largest cities in South America, Bogota is only just now beginning to catch on as a tourist destination. So if you want to see this gem before it gets too crowded, you'd better do it soon.
You can easily find a three-star hotel room at this underrated destination for $30 and under per night. Once there, you'll discover a rich arts and culture scene, sprawling mountains and authentic Latin cuisine.
3. Prague
Estimated airfare: $1,340
A beautiful alternative to Europe's more touristy cities like Venice, Prague is home to centuries of elegant architecture, including colorful baroque buildings and enough churches to earn it the nickname, "City of a Hundred Spires." Hotel rooms range from $50 to $100 per night, but you can save more by hosteling around the country.
Once in Prague, take a cruise on Vltava River, tour the Prague Castle and stroll through Old Town and the Jewish Quarter.
4. Letchworth State Park, New York
Estimated airfare: $570
Niagara Falls is beautiful, no question. Unfortunately, it's also one of the most expensive and overrated destinations in the world. Luckily, it's not the only place in town when it comes to waterfalls.
Opt instead for the nearby Letchworth State Park. It offers three magnificent waterfalls that tumble through a rugged gorge known as the "Grand Canyon of the East." In a 2015 USA Today ranking of the best state parks, Letchworth State Park came first. It offers 66 miles of hiking trails, plus kayaking, rafting and hot air ballooning opportunities. Accommodations in nearby Castile, N.Y., on Airbnb start at $60 per night. Hotels start at $145.
Make Your Money Work for You
5. Similan Islands, Thailand
Estimated airfare: $601
When you think Thailand, you probably think Bangkok, and you're far from alone. Bangkok drew more than 21 million international visitors in 2016, according to a MasterCard study, making it a hard place to get away from the crowds. Instead, set your sights on the Similan Islands, a secluded and ravishing archipelago in the Andaman Sea. Plan accordingly: The Similan Islands are closed to visitors from May to October because of monsoon season.
Surrounded by aquamarine waters and coral reefs, the islands are perfect for snorkeling and scuba diving. Hotels and resorts in Khao Lak, on the nearby Thai mainland, start as low as $30 in November.
6. Tulum, Mexico
Estimated airfare: $418
Where Cancún is the first stop for spring breakers, Tulum is the only stop for vacationers looking for a luxurious stay at a resort. Eighty miles south of Cancún, Tulum is home to powdery white sand, turquoise waters, ancient ruins and unpretentious beachside restaurants and cabanas. Stay in a hostel for under $20 per night, or choose from among numerous hotels starting at $30.
7. County Kerry, Ireland
Estimated airfare: $1,188
Dublin is a popular tourist spot for international travelers, but you might be better off heading to County Kerry. The region is home to Killarney National Park, where you'll see Ireland's highest mountain and other breathtaking sights you can't miss, including Ross Castle and Innisfallen Island.
Golf enthusiasts will also enjoy the country's finest courses. Lodging options cost under $100 per night in the area, so you'll be able to stay within your vacation budget.
8. Pago Pago, American Samoa
Estimated airfare: $1,448
When you think of an island paradise, Hawaii probably comes to mind. It's a beautiful place, no doubt about it, but its beaches draw in crowds from around the world. And with high demand comes high prices.
Spend a little more on your flight and you'll save big at Pago Pago, the capital of American Samoa. Located east of Fiji, the city has hotel costs teetering around $150. Even better, it's near the National Park of American Samoa, a free-to-enter national park home to coral reefs, whales, sea turtles and fruit bats.
Make Your Money Work for You
9. Kraków, Poland
Estimated airfare: $1,475
Not only is Poland one of the cheapest countries to live in, it's also a great hidden European vacation spot.
Kraków is a southern city with a rich history. It was the central site of the Nazis in the Second World War, but also has its medieval roots. Visit Wawel Castle or learn about medieval times at the Cracow Historical Museum. To offset the high cost of airfare, stay at a hotel for around $23 a night.
10. St. Augustine, Fla.
Estimated airfare: $523
Headed to Florida? Skip Miami, which is not only crowded — but also overpriced. At $186 per night on average, a hotel stay in Miami will blow your travel budget. Instead, head further north to the often overlooked coastal city of St. Augustine.
Founded in 1565, St. Augustine offers beautiful beaches, brick-lined streets and the oldest masonry fort in the continental U.S. Numerous hotels are available for $90 or less, but plan to spend at least $400 on airfare.
11. Montreal
Estimated airfare: $522
Montreal is arguably the most European city this side of the Atlantic Ocean. Hotel rooms start at around $80 per night, and a favorable exchange rate with the U.S. helps you stretch your dollar even further in Canada.
On your trip to Montreal, visit the Notre-Dame Basilica, which hosts concert performances. The Montreal Biodome also makes for a great visit — it's home to over 4,500 animals and more than 500 plant species.
12. Budapest, Hungary
Estimated airfare: $1,348
Hungary is well off most tourists' radar. But it also has a rich history that's often under appreciated. Satisfy your inner history buff by visiting Budapest, where hotel rooms start at less than $50, but round-trip airfare can cost more than $1,000. Must-see sights include the towering monuments of Heroes' Square and the sprawling Buda Castle.
Don't Miss: Get the Royal Treatment at These Castle Hotels
Make Your Money Work for You
13. Christchurch, New Zealand
Estimated airfare: $1,471
Not only is New Zealand home to geeky vacation destinations like the original sets for Hobbiton from "The Lord of the Rings," it's also home to hidden travel destinations, like Christchurch. A vibrant city surrounded by mountains and beaches, Christchurch hotel rooms start at around $50. Round-trip airfare, however, will likely cost you more than $1,000.
14. Gothenburg, Sweden
Estimated airfare: $1,128
Tucked on the south coast of Sweden, Gothenburg offers a little bit of everything: a science center complete with a rainforest zone, the Liseberg amusement park and an archipelago. Flights will cost you a pretty penny, but you'll find Airbnb rentals around the city from as little as $40. Hotels can be pricier, but you can find rooms starting around $100 if you check around.
15. Taipei, Taiwan
Estimated airfare: $892
Taiwan's capital city of Taipei is another underrated Asian destination. Although airfare can be pricey, you'll find hotels as low as $40. Attractions include the National Palace Museum, Chiang Kai-shek Memorial Hall and the vast Shilin Night Market, where you'll find a dizzying array of local foods and goods.
Up Next: Travel Adventures You Can Buy Around the World for $100 or Less
Methodology: Estimated round-trip airfare starting at Los Angeles International Airport was sourced from Google Flights for July 9 to July 16, 2017. The costs for three-star hotel rooms were sourced from Google for the same dates, unless date, source or accommodation type were otherwise noted. Costs are current as of June 2, 2017.
About the Author