15 Hidden Expenses to Watch Out for When Vacationing in Yellowstone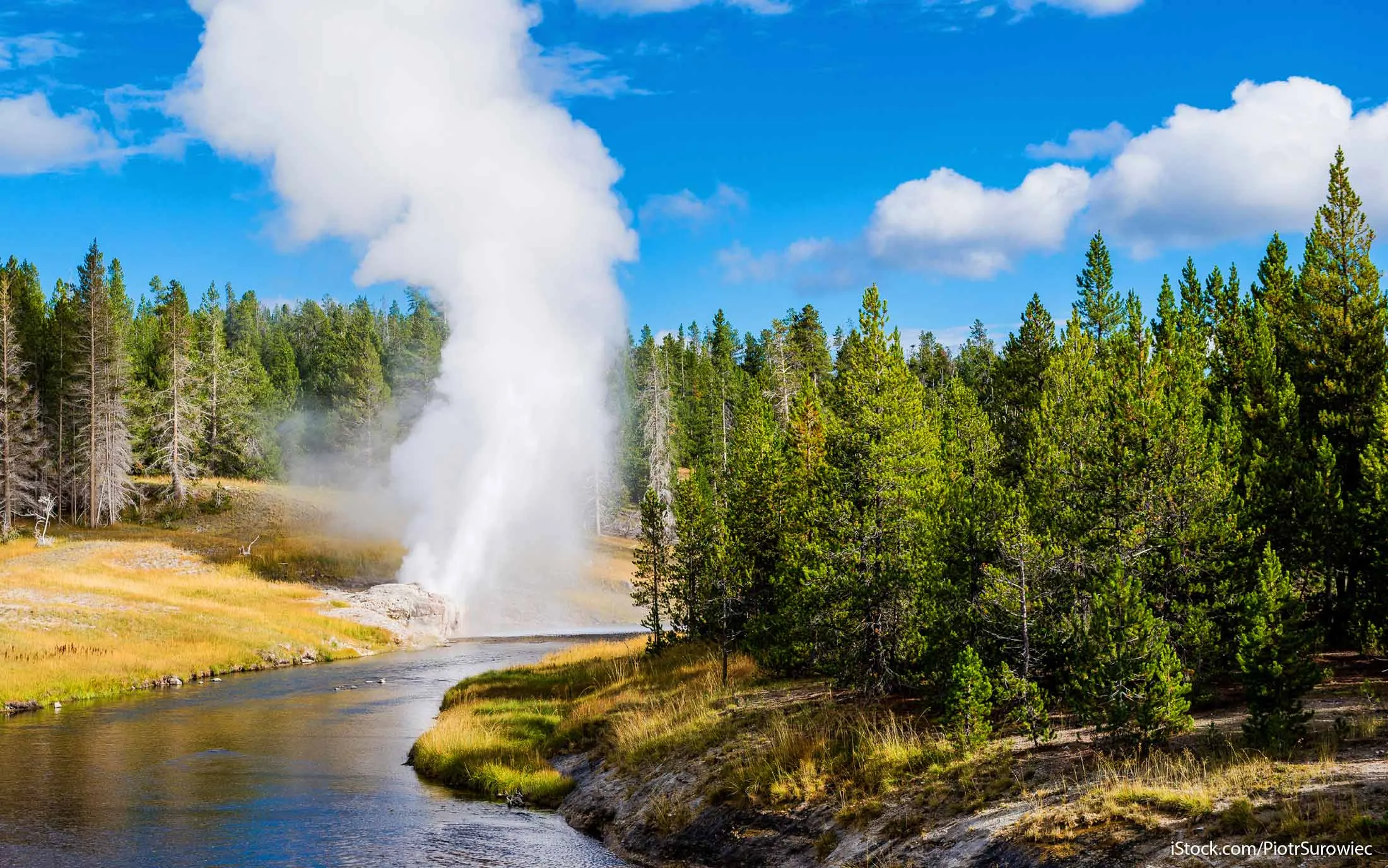 Every year, around 4 million people visit Yellowstone National Park in Wyoming. They visit the park for its wide open spaces, natural geysers, abundant wildlife, various outdoor activities and amazing photo opportunities.
But with the majesty of an exploding Old Faithful come the many expenses of vacationing in a popular wilderness destination — even some you wouldn't expect to have to pay and some that will cost more than you would think.
"There are a bunch of fees to be aware of, and costs will vary depending on what you do in the park," said Becky Lomax, author of "Moon Handbook: Yellowstone and Grand Teton." "These types of things can add up a little bit, especially if you're not expecting to pay them." Before you go, plan ahead for added and hidden expenses at Yellowstone.
1. Entrance Fees
Before you even step foot in the park — or drive through the front gates — you'll have to pay a fee. Depending on the kind of vehicle you're in, you could pay anywhere from $30 per standard carload to $15 per person over 16 years old or if you come by large bus.
Although you likely won't be able to avoid this fee, there are a few special programs that allow free entrance. One, a White House initiative, allows all fourth graders and their families free entrance to any national park. Veterans are always given free access, and the park offers several free days throughout the year to make the parks accessible to more people.
If the entrance price seems steep, rest assured: 80 percent of the money paid in fees, about $8.8 million per year, funds critical projects within the park, including road patching, increased monitoring of resources and campground upgrades.
Make Your Money Work for You
2. Backcountry Hiking Fees
There are no fees for day hikes in the park, but to go backpacking and stay overnight in the backcountry, you'll need a permit. You can make a backcountry permit reservation, which costs a nonrefundable $25 fee and is based on a lottery system. But if you're feeling lucky, you could get a permit within 48 hours of your trip by going to a ranger's office for less money, a cost of $3 per person per night for backpackers.
"You can walk up and give it a shot in a district ranger's office, just ask if there are any backcountry sites available to reserve that day, but it's a little bit more challenging," said Kurt Repanshek, editor of National Parks Traveler. "I'm a big planner, so I like to know in advance that those plans are in place."
3. Boating Permits
Boating is allowed on most of Yellowstone's lakes. But if you plan to use a watercraft of any kind while visiting the park, plan also to pay for a boating permit to use during your time there.
You can take a motorized boat out on most of Yellowstone Lake and on Lewis Lake for a $10 fee per seven-day permit or $20 for the season. Visitors can take non-motorized boats, including canoes, kayaks and paddle boats, onto most other lakes in the park. This requires a $5 fee per seven-day permit or $10 for the season.
4. Fishing Licenses
Anglers ages 16 and older are required to purchase fishing permits for fishing within the park. These cost $18 for a three-day permit, $25 for a seven-day permit or $40 for a season permit. They can be obtained at any ranger office or visitor center in the park.
Fishing licenses for other states don't qualify anyone to fish inside Yellowstone, since the park is a federal reserve and not technically part of any state — even Wyoming, which is home to much of the park, Repanshek said.
"It's a little bit different, so if people are fishing [in Yellowstone], they may not know that they need that license," he said.
Make Your Money Work for You
5. Bear Spray
Bears are a known risk of visiting Yellowstone, particularly if visitors are camping or hiking. Carrying bear spray can mean the difference between a safe visit and disaster. But bear spray also can be cost prohibitive.
"It used to be a huge deterrent for people because they need it, but chances are they're never going to use it," Lomax said. "It costs $50 a can, and then you can't fly home with it, so people were just deciding they wouldn't go hiking because they didn't want to buy it."
Now bear spray rentals are available at Canyon Village Visitor Center in the park. For $9.25 a day or $28 a week, visitors can rent large cans of bear spray. The rental company takes a deposit of $49.99, but as long as the canister is returned unsprayed and undamaged, the deposit is refunded.
6. Camping Fees
If you need a place to stay when visiting Yellowstone, there are more than 2,000 campsites. Per-night fees range from $15 all the way up to $47.75, with those available for reservation costing more than those available on a first-come, first-served basis.
"It's not free camping at all, and if you want one of those $15 campsites, you really do have to beeline straight for it first thing in the morning in order to camp there," Lomax said. "You can't go dillydallying around and expect to find a cheap campsite — they fill up really fast, by 9 most mornings."
Even the campsites available for reservation take planning — those reservations open 13 months in advance and fill quickly. If you don't make a reservation or plan to get to the park early, you might end up in an expensive hotel outside the park instead of in your tent, Lomax said.
Make Your Money Work for You
7. Outdoor Equipment Rentals
If you're flying into Yellowstone from afar, packing all the equipment necessary to camp might not be feasible. Luckily, you can rent camping, hiking and other outdoor equipment in surrounding communities, Repanshek said. You can rent things like daypacks, tents, camping coolers and bear-proof storage bins.
"You can rent anything from snowshoes to a canoe," he said. "But not inside the park." And because most of the rental places are outside the park, but near airports that service many tourists, you might pay a premium for that equipment rental, Lomax added.
8. Showers and Laundry
Although a relatively low expense compared to other fees at Yellowstone, if you're camping for several days or even more than a week, you'll probably want to take a shower at some point. A few campsites in the park include shower vouchers, but everyone else has to pay a few dollars for the privilege of getting clean, Lomax said.
You might also want to do some laundry during an extended stay. There are pay laundry facilities at many of the same campgrounds as the showers.
9. Cabins, Hotels and Other Lodging
If you prefer to enjoy the great outdoors only by the light of day, Yellowstone offers thousands of rooms for rent in cabins and hotels run by Xanterra Parks and Resorts. Depending on the time of year — with summer being by far the most expensive — rooms run from about $85 per night for the least expensive cabin with shared bathrooms, to a guest suite in one of the iconic lodges for almost $700 per night. You'll most likely end up in something that costs between $150 to $300 per night, Lomax said.
"The cheapest cabins are really tiny and very rustic, and if you're in this cabin, you have to march outside in the middle of the night to the shared bathrooms. That's not for everybody," she said. "If you get one of the cheaper hotel rooms, it's at least inside so you don't have to worry about the bears."
Like everything else at Yellowstone, indoor lodging is in high demand, so preparation will save you money. Reservations open up 13 months in advance and go fast.
Make Your Money Work for You
10. Meals and Snacks
Yellowstone might have a lot of cabins and hotel rooms, but those rooms are all missing one thing: kitchens. Although plenty of grocery stores and convenience stores in the park's main areas offer food for snacks and drinks during the day, pricing reflects the fact that it's a contained, remote area, Lomax said. She suggests stocking up on these snack essentials at a grocery store in a major city before entering the park.
And unless you plan to eat only peanut-butter sandwiches for the duration of your stay, you'll likely have to visit one of the park's many restaurants for your heartier meals. These meals can range in price from modest ($7 per person at the Lake Lodge Cafeteria) to not-so-modest ($40 for an entrée alone in Lake Yellowstone Hotel's dining room).
"The way to save is to go to the little cafeteria-type places all around the park," all of which also have lower-priced kids' menus, Lomax said.
11. Gasoline
Gas stations are spread across Yellowstone, making them easily accessible. Because driving tours are popular ways to see the expansive park, many visitors will make use of those stations — and lots of gas, said Margo Schafer Pelak, who worked at the park several years ago as a desk clerk at Canyon Lodge.
"Sure, there are park fees, permits and other expenses you might not consider, but those would not add up to as much as the cost of traveling from one area to another in the park," Schafer Pelak said. "If a traveler is not familiar with the huge expanse — 3,400 [square] miles — that is Yellowstone, the budget can get shot quickly, especially if driving an SUV or camper."
Instead, try one of many walking tours to lower the gas bill.
Make Your Money Work for You
12. Tours and Tour Equipment
Companies offer hundreds of tours in Yellowstone — scenic tours, walking tours, wildlife tours, snowshoe tours — you name it, there's a tour of it, Lomax said. But people might not understand exactly what's included in their commercial tour fee.
Often, you'll have to pay your own park entrance fee and meals aren't included. You'll likely also have to provide some of your own equipment, like binoculars if you're on a bird-watching tour. To save money, Lomax suggested trying some of the many Ranger Program tours offered for free throughout the park at different times of the day and night.
13. Tips for Service
The Old Faithful Inn is an amazing, historic, iconic lodge, but parts of it are several stories tall, and there's no elevator. So if you're not up for schlepping your luggage up all those flights of stairs, you'll need a porter to get your belongings to your room. That porter deserves a tip.
Expect to tip any service providers, including porters, housekeepers, tour guides and drivers, Lomax said. "Carry a little cash to cover those little incidentals," she said — or plan to do everything for yourself to avoid owing anyone a tip.
14. Fines and Penalties
If you disobey any of the many federal rules and regulations at Yellowstone, you could face stiff fines and penalties. Avoiding these fines is easy: Don't camp outside permitted areas; don't throw anything into any body of water; don't approach wildlife; don't bring a drone with you. Don't break laws while you're inside the park, and you won't waste precious vacation money on costly fines.
15. Park Membership
One unexpected expense could actually save you money: A membership to the Yellowstone Association, which you can purchase online before you go. The Yellowstone Association is a nonprofit national park cooperating association, dedicated to providing educational and research programs, and producing educational materials for Yellowstone. Memberships start at $35.
"It will cost you a little bit of money, but the deal is, you pay to get this membership and then if you go to the park and stay in one of the lodges, they have a deal where you get 20 percent off," Repanshek said. "That can be a huge savings for the investment.