High Gas Prices & Summer Travel: Here's How To Keep Your Plans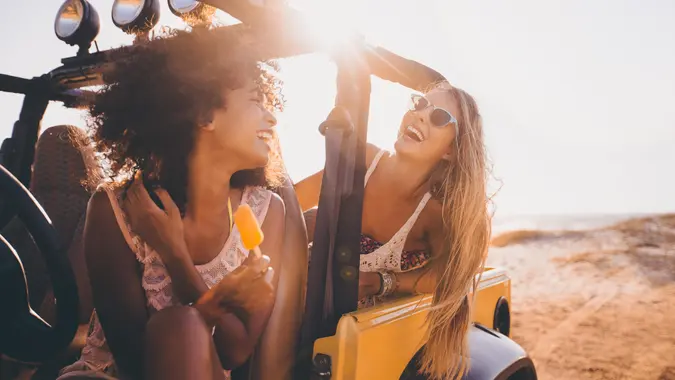 wundervisuals / Getty Images
Is summer vacation canceled? As inflation continues to skyrocket and gas prices reach record highs, going on vacation may sound like it could potentially drain bank accounts.
Findings in a GOBankingRates survey of 1,000 Americans reveal 47% have canceled trips due to rising gas prices — and 17% more are considering canceling their plans.
Despite the many issues making travel more challenging than it has been in the past, there are still ways to get out and make memories with loved ones without breaking the bank. Follow these tips to creatively reduce travel costs and keep your vacation plans.
Download Gas Apps
Travelers still planning to drive might benefit from downloading gas apps. Jessica Schmit, owner of Uprooted Traveler, said the Gas Buddy app is an awesome hack for road trips. 
"It helps you find gas stations and their prices in your area or along your route, so you can stop at the most affordable option," Schmit said. "You can also sign up for a free gas card through their app that provides a discount at most gas stations, up to 25 cents off per gallon."
Swap Cars for Buses and Trains
Those looking for a less expensive travel option than cars might consider saving money and getting around by bus or train. 
Intercity buses and luxury motorcoach lines ensure travelers can reach their destinations without sacrificing convenience or comfort along the way. Before you head out on vacation, check out intercity bus, motorcoach and train options in your area. 
Make Your Money Work for You
Reconsider Hotel Ratings
Those used to staying in 3- or 4-star hotels might benefit from broadening their lodging horizons. Travel blogger Tanya Taylor recommends keeping an open mind and looking at 2-star hotels. 
"The primary difference will be the amenities, such as no pool and no on-site restaurant," Taylor said. "The only thing you can expect is a clean and comfortable room."
No hotels in your area? Consider staying at a bed and breakfast, renting an Airbnb or even camping, or glamping, in an area that permits overnight camping. 
See Your Destination Through the Eyes of a Local
Rather than using your vacation to rush from one tourist hot spot to another, Candice Criscione, founder of Mom In Italy, recommends seeing the place you're staying through the eyes of a local.
Instead of going out to chain restaurants, visit a neighborhood cafe or hit up a food truck for coffee and lunch. Explore parks and any free outdoor spaces, head over to local art exhibitions and check out any other free activities being offered, such as walking tours or hikes, concerts or free museum days.
Criscione said this style of travel not only saves on costs — including museum fees, gas and tolls — it's also more relaxing and allows travelers to create lasting memories of the local places and people they visit.
Rent a Bike To Get Around
Instead of booking rides through rideshare apps or taking a tour bus, Taylor recommends renting a bike to see the sights in your destination. 
Make Your Money Work for You
"It will be a fraction of the cost, you can go at your own pace and you can stop and see what is most important to you," Taylor said.
For other attractions you'd like to check out that are less easy to walk to or get access to, consider using public transportation.
Avoid Shopping
Many often will shop for new clothes before their vacation starts. Instead of going out to buy new things, though, consider shopping in your own closet. You might find everything you need: your favorite swimsuit, hats, flip-flops, etc. 
In addition, try to avoid unnecessary shopping sprees while on vacation. Set a budget before the trip and stick to it so you avoid returning to a big credit card balance.
Adjust Instead of Canceling
The current economic climate aside, one of the best ways you can keep your vacation plans is not necessarily to cancel the vacation but to make some minor adjustments. 
Some small ways you can save money may include packing a few extra meals and snacks, reducing your stay by a night, driving an economy vehicle and staying closer to home. Even with these adjustments, you still can have a vacation experience that you'll cherish for a lifetime.
More From GOBankingRates
Make Your Money Work for You