What Are the Highest-Rated First-Class Airlines and the Costs?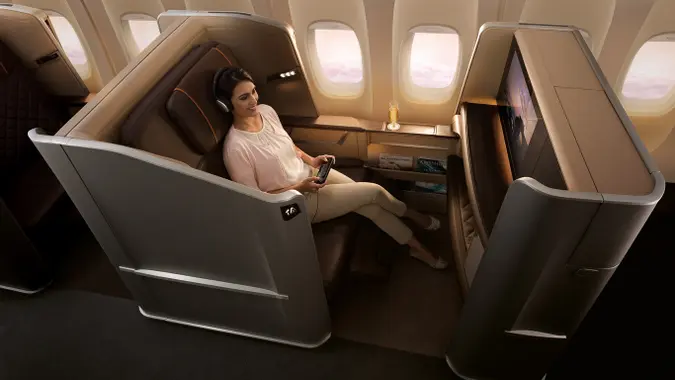 ©Singapore Airlines
Do you long for a life of luxury, where you live (and eat) like royalty? What if you could live the life of your dreams while cruising at 30,000 feet? That's what first-class airlines offer — with high-end suites and state-of-the-art entertainment systems.
But if you are looking for luxury airlines, you probably want the best of the best, especially if you expect to pay top dollar. On that note, let's take a look at how much these luxury airlines cost. So sit back, relax, and join us as we embark on a journey through the skies, discovering the best first-class airlines and their price tags.
Singapore Airlines
Several airlines are adding A380s to their fleets to offer luxury experiences, and Singapore Airlines is among them. Its first-class A380 is ranked first among first-class airlines by World Airline Awards and the Luxury Travel Expert.
The first-class A380 suites feature a bed that you can convert into a double bed, a chair that reclines, a TV and a full-size personal wardrobe. You also get specially designed carpeting and unlimited champagne to make it a first-class experience. It also comes with a first-class price tag that typically runs between $10,000 and $30,000 per ticket.
Make Your Money Work for You
Emirates Airlines
Emirates offers several premium products, but you will find its most luxurious experience on the Boeing 777. Everything from the airline's first-class lounge in Dubai to the lavatories for its first-class passengers feels high-end. One of the standout features of this suite is its floor-to-ceiling doors, offering you total privacy.
The suites also feature 32-inch TVs and a seat that can fully recline into a bed. The suites also have premium features like virtual windows, personal climate controls and fine dining. First-class flights on Emirates are over $3,000 per seat, though that is cheap compared to Singapore Airlines and others.
Air France
Air France rolls out the red carpet for customers with its La Première flights aboard the Boeing 777-300ER fleet. The first-class suite features four seats with a 1-2-1 layout. A few features set Air France apart, including delectable dishes and an on-the-ground experience that includes rides in luxury cars. You also have privacy curtains around your bed and a desk lamp for working and reading.
As is typical with these ultra-premium flight experiences, there is a sky-high fare price of about $16,000 per ticket. But flying on La Première has more barriers than price, as booking requires elite status with Air France/KLM Flying Blue. The luxurious experience on La Première earns it second-place rankings from Upgraded Points and One Mile at a Time.
Make Your Money Work for You
Etihad Airways
If you want a living experience that rivals that of a luxury apartment on the ground, the Etihad Residence on the A380 is one of the best choices you can make.
It features a living room, a bedroom, a shower room, and a vanity for each passenger. Yes, that's right — you can shower while in flight. The Residence features a single aisle configuration for its seats and a large bed. There is also a leather sofa and a 32-inch TV. Finally, you get a private butler with an on-demand menu.
The typical fare for The Residence is upwards of $20,000. However, Etihad grounded its A380s for a time, and they will return in July 2023. Etihad's spacious suites are good enough for a first-place ranking from Upgraded Points, plus fourth place from The Luxury Travel Expert.
All Nippon Airways
All Nippon Airways (ANA) has significantly upgraded its first-class experience in recent years. Its new-and-improved first-class flights are available on select 777-300ERs. If you can book one of those seats, prepare to be impressed. Its seats are spectacularly roomy and feature doors for better privacy. However, some say its seats are a little too private, which can make it difficult to communicate if you're traveling with someone.
Make Your Money Work for You
Still, that's a relatively minor drawback considering how great the overall experience is. The food and drinks are great, and passengers get complimentary high-speed Wi-Fi. These features are good enough for a third-place ranking from One Mile at a Time and a fifth-place ranking from World Airline Awards. As usual, there is a first-place price tag of around $15,000 and up.
Bottom Line
If you want to wine and dine in the sky and have some of the best privacy available, first-class airlines are the way to go. In some cases, the luxury begins as soon as you arrive at the airport.
These experiences won't come cheap, though, with most flights having five-figure price tags. But if that doesn't deter you, these airlines spare no expense to pamper you.
More From GOBankingRates
Make Your Money Work for You