3 Highest-Rated Luxury Cruises to Central America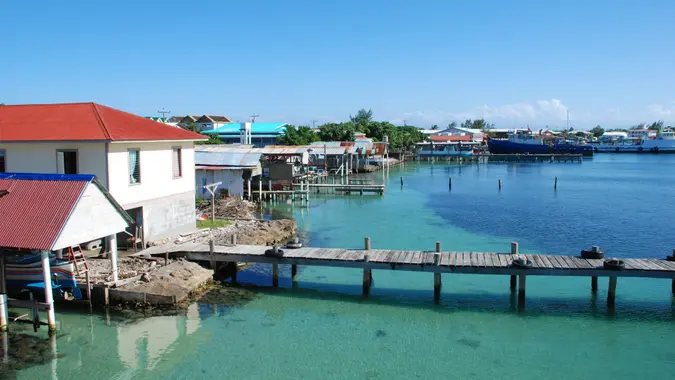 ©Shutterstock.com
The cruise industry was nearly decimated by the pandemic, and for a while it didn't look like this particular niche of the travel sector would ever get back to safe waters. Lately, however, consumer interest has been picking back up significantly, and it looks like business will return to pre-pandemic levels (or somewhere close to them) after all.
According to a survey from Cruiseline.com and Shipmate, 91.4 percent of respondents said they plan to take a cruise within the next year. Americans taking cruises may want to consider visiting Central America.
Situated between Mexico and South America, Central America is home to El Salvador, Nicaragua, Costa Rica, Panama, Guatemala, Honduras and Belize. The Spanish-speaking region is home to vast biodiversity and rich, varied cultural history. It's also no stranger to seriously luxurious cruises. 
Let's look at a few of the highest-rated luxury cruises to Central America.
Windstar Cruises 
"While many luxury cruise lines have itineraries in and around Central America, the one that comes to mind first and foremost is Windstar Cruises," said Scott Kertes, president of Ensemble Travel Group affiliate Vacations by Design. "Windstar has been sailing in and around Costa Rica, Panama, Columbia, the San Blas Islands probably longer than anyone. Their small ships are perfect for those lesser-visited harbors, and they are one of the few that brings on naturalists and environmentalists to provide guests with insight and information.
"They have a plethora of different voyages to choose from… ranging from cruises that start and end in Costa Rica, to longer ones that take in multiple countries, to even longer ones that start or end in Miami and combine Central American ports with Caribbean ports. The ships that Windstar uses in the region are their sailing vessels, which have the casual, seafaring ambiance that's perfect for the region."
Make Your Money Work for You
Kertes said that rates start from about $3,500 for cruise only — $4,300 for all inclusive. Learn more here.
The Cunard Line 
"One of our top-rated cruises that sail to Central America is Cunard Line," said Jope Mendoza, marketing specialist at Cruise Direct. "The cruise line offers a year-round sailing experience to the Panama Canal and other parts of Central America departing from different ports in the United States such as San Francisco and Los Angeles.
"Aboard the Queen Elizabeth ship, embark on a unique journey to Central America in style, and find yourself in awe of the ship's luxury amenities, elegant decors and evocative art pieces," Mendoza continued. "The ship is home to luxurious accommodations, specialty dining, fine entertainment in her Royal Court Theatre, and spacious decks and conservatory where one can linger and enjoy the scenic beauty of the sea. The trip is also filled with bespoke experiences such as Cunard's signature afternoon tea, the Gala dinner where guests are required to wear their finest best black tie ensembles, and sporting activities like paddle tennis and golf to name a few."
Guests can book Central American cruises aboard Cunard from $120/day to $150/day, Mendoza said. The sailings go for 10 days and more.
The Viking Mars 
"The Viking Mars, [Viking's] newest ship, has space for 930 guests and, as a result of its size, can visit locations that are inaccessible to bigger ocean-going cruise ships," said Mathew Bowley, marketing manager at Solmar Villas. "This ship, which made its debut in May 2022, features all-veranda cabins that are 270 and 1,148 square feet in size. Free Wi-Fi, flat-screen TVs, safes, minibars stocked with beverages and snacks, robes, slippers and 24-hour room service are all provided to guests.
"The ship features a spa, hair salon, yoga room, and fitness facility with state-of-the-art equipment, in addition to an outdoor fitness center. Find a comfortable space in The Living Room to relax in with a good book and a refreshing drink."
Make Your Money Work for You
Bowley added that the Viking Mars, like other Viking vessels, features onboard educational activities like lectures, culinary demonstrations, and more.
"Cruisers can also make use of the ship's main pool and hot tub, infinity pool, movie theater, jazz lounge and different bars," Bowley said. "Manfredi's Italian Restaurant, Aquavit Terrace, World Café, The Chef's Table and The Kitchen Table are just a few of the possibilities for dining aboard this ship.
"Recent cruisers had nothing but praise for the Viking Mars. Previous passengers raved about the ship's range of excursions, its delicious onboard cuisine, and its comfy rooms. While some patrons appreciated the helpfulness and friendliness of the personnel, others complained that they had hoped for more consistent quality given the cost."
Viking's Panama Canal & Central America cruise tour starts at $4,599 for 15 days. You can learn more here.
More From GOBankingRates