Family or Finance? Traveling Versus Staying Home for the Holidays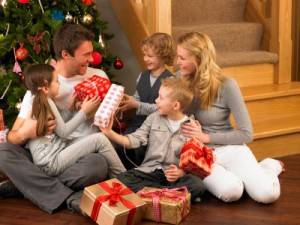 With the holidays quickly approaching, we have to start planning how and with whom we are going to spend our holiday season. Although I am from a small immediate family, my extended family stretches out to six aunts and uncles (along with their families) on my mother's side and four aunts and uncles on my dad's side of the family.
If we add in the fact that my parents are divorced and both remarried, it makes the holiday season a bit chaotic with tight schedules and very expensive with several holiday gifts to give.
Last year our family holidays did not go exactly as my mother had planned. She hosted a big, two-day event with over 20 guests. When it was all over, she made a comment that got me thinking about how complicated and exhausting the holiday season can actually be.
My mother said that next year, she is not hosting Christmas dinner because next year she is going on vacation during the holidays.
Christmas Travel Vs. Staying Home
My mother's comment made me think about my own holiday traditions. I have to admit that the thought of not having to cram in five different holiday dinners into three days of vacation is very tempting. However, on the other hand, are the holidays really a celebration without family?
I moved away from home when I was 18 years old and for the past 12 years, I have been traveling home for the holidays. The hassle of Christmas travel in the cold North Eastern winter is not something to look forward to doing. If we add in the potential transportation delays and the guaranteed inflated prices, the thought of going home for the holidays is almost tormenting.
However, the thought of going on vacation is very tempting. Transportation providers and travel companies definitely take advantage of the need for families to travel during the holidays by increasing their prices.
I personally don't like holiday travel with all of my gifts in my luggage. Therefore, on top of my expensive travel ticket, I also have to pay to mail all of the gifts home to my family for the holidays. If you come from a big family like I do, then the cost of giving gifts and traveling home for the holidays can definitely be a budget-breaker.
In an ideal world, my family would not spend thousands of dollars to exchange gifts and prepare holiday dinners. We would just all take our own money and go on vacation together.
Sit down and think about all the money you have spent so far on gifts. Now think about all the money you still have to spend on holiday travels and dinners; isn't it just cheaper to take a hassle free vacation?
Unfortunately, I don't know if my family members share the same idea. My aunts really enjoy the hustle and bustle of the holidays; I don't think that they would enjoy a week of relaxing on a beach in December.
Instead of incurring the cost of shipping gifts to my family and paying the high prices of holiday travel to see family, I would much rather just stay at home with my boyfriend and start our own traditions.
However, the thought of Christmas without my family seems a little bit sad. The holidays are supposed to be about spending quality time with our families, but as a young adult, when should we step away from our immediate families and start our own traditions with the new families we have created?
Tips for Saving Money on Holiday Travel
Whether you are going home for the holidays, traveling to a warmer climate or just staying at home to start some new traditions, here are some effective holiday travel money-saving tips:
Plan ahead: Many travel companies offer discounts for those traveling on a budget who book well in advance. Or if you are planning to stay home and cook a big dinner, it is best to make a shopping list and buy items throughout the upcoming weeks instead of all at once.
Book the vacation yourself: Travel agents have associated fees, so try to research and book your vacation on your own by shopping around, asking friends and searching online.
Ask for a group rate: You never know until you ask. Maybe you can get an upgrade or free transportation to and from the airport. Something for free is better than nothing.
Check prices online, but then call directly: I often search for cheap prices online, but then I call the hotels directly or visit their website to check for additional discounts and promotions.
Get free shipping: It's a big money saver to buy all of our gifts online at one store such as Amazon or Barnes & Noble. Then we can have them delivered to a different address for free if we meet the minimum order amount. This is hassle free and a big money saver.