9 Major Hotels Where Pets Stay for Free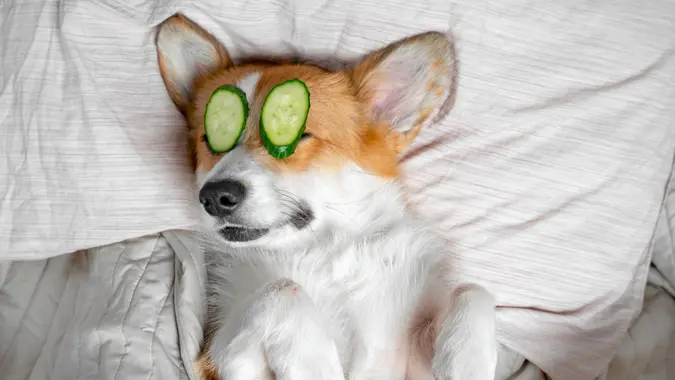 Ирина Мещерякова / iStock.com
If you've traveled with a furry friend, you know how high hotels' pet fees can be. Sometimes they can cost so much, It's like you rented an extra room. Added costs for pets can range from $25-$100 per night. Luckily, not every hotel charges those fees. Check out the top hotels where pets can stay with you for free.
Find: 30 Locations With the Priciest Vacation Rentals
More: Are Package Travel Deals Actually Deals?
Red Roof Inn
These hotels should be called Red Woof Inn because of their extra pet friendly policies for cats and dogs. Multiple pets can stay for free, provided you let the hotel know you're traveling with pets before you check in. One pet must be under 80 pounds while a second pet would need to be under 40 pounds. Like most hotel pet policies, animals cannot be left alone in the room and there is a charge for any damage caused by a pet. 
Kimpton Hotels
Surprisingly, this chain of upscale hotels welcomes cats and dogs with open arms. You won't be charged a fee or a deposit when you stay at a Kimpton Hotel with your pets of any size or breed. There is no limit on how many pets you can bring. Rooms will even have beds, bowls, waste bags and mats waiting for your pets. The concierge will also have a list of nearby pet-friendly restaurants, parks, groomers and pet boutiques, so it's a vacation for your pet as much as it is for you. 
Make Your Money Work for You
Freebies: 35 Things Your Hotel Will Give You for Free
Virgin Hotels
These swanky hotels in Chicago, Dallas, Las Vegas, Nashville and New Orleans accept dogs of all sizes and breeds for free. Dogs also get their own dog bed, treats, food bowls and a Virgin Hotel bandana so they can rep the pet-friendly establishment. Bonus tip: if you're staying in Chicago, you can get a complimentary cocktail when you take your dog to Miss Ricky's inside the hotel on Thursdays. 
Motel 6
Got big dogs? Bring them to Motel 6 for absolutely free. All dogs and cats under 150 pounds are welcome at the motel chain. You can keep two pets per room as long as you declare them when you check in. 
Important: Why You Should Consider a Travel Agent To Book Post-Pandemic Travel
The Standard Hotels
Pets of any size or breed stay free with you at these hotels. The Standard has locations in New York City, Miami Beach, Ibiza, Hua Hin, Bangkok, London and Maldives.
Make Your Money Work for You
Four Seasons 
Live the upscale life with your pet by your side. Two pets up to 15 pounds each can come with you on your vacation for no extra charge when you stay at the Four Seasons. You're not the only one treated to luxury at the hotel; dogs have their own room service menu, as well as their own dog bed, bowls, and treats made by the hotel chefs. Many rooms have an outdoor terrace where you can let your dog soak up the sun.
Get Ready: How To Get Back in the Habit of Budgeting for Travel
The LINE Hotel  
This upscale boutique hotel is a must-stay if you're visiting Los Angeles, especially if you're traveling with your dog. You can bring along two dogs under 34 pounds for no additional fee, but you will be charged a refundable deposit of $250, so make sure your fur babies are well-behaved. Unfortunately, cats are not able to stay at The LINE. 
Make Your Money Work for You
Sheraton Hotels — Varies by Location
Though most Sheraton hotels are pet-friendly, not all of them charge a fee for your dog. For example, the Sheraton Portland Airport Hotel, Sheraton Albuquerque Airport Hotel, Sheraton Jacksonville Hotel, Sheraton Pittsburgh Hotel at Station Square, and Sheraton Grand Chicago allow a dog or cat for under 40 pounds without any charges. However, this policy varies from location to location, so it's best to call ahead of time to confirm their pet policy.
Check Out: The Best and Worst Airlines for Cheap Flights
La Quinta Inn — Varies by Location
La Quinta is another chain where the pet policy varies between locations. Some will allow dogs and cats for free, like the locations in Las Vegas, Reno, Knoxville, Norfolk, Richmond, Galveston, Pigeon Forge, Savannah, and Orlando. Others will require that you pay a fee. All La Quinta locations that allow pets limit the amount to two pets. You also must provide a litter box if you're traveling with a cat. Service animals are always permitted for free.
More From GOBankingRates
Make Your Money Work for You