How Costs for Thanksgiving Travel Have Changed This Year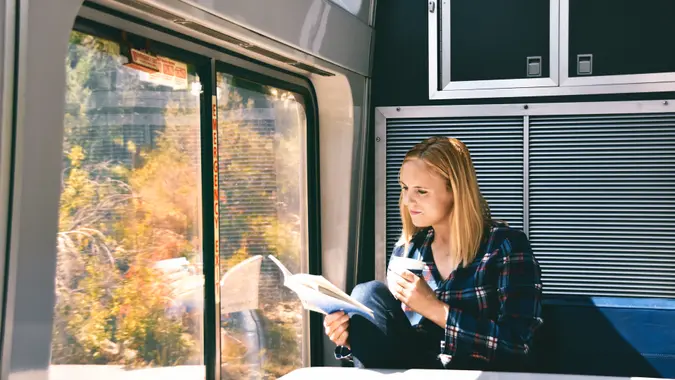 Liga Cerina / Shutterstock.com
No matter your transportation method, whether it's booking a flight, riding the train or renting a car, the price of Thanksgiving travel has increased significantly since last year.
Holiday Spending: Get Top Holiday Shopping and Savings Tips
Learn More: If Your Credit Score is Under 740, Make These 4 Moves Now
Let's take a look at the cost breakdown per mode of transportation.
Flights
If you're planning to book a flight home for Thanksgiving, don't wait until the last minute. In an Insider article, travel booking app Hopper said a round-trip flight during the Thanksgiving season is now 43% more expensive than it was in 2021. The average round-trip domestic airfare for trips between November 20 and November 24, according to Hopper, now costs $350.
Several factors are contributing to the rising cost in Thanksgiving travel, including expensive jet fuel prices and fewer scheduled flights. There is also pent-up travel demand in people who may not even be traveling for Thanksgiving purposes and opting instead to take vacations during the fall season, per The Wall Street Journal.
This being said, the cost for Thanksgiving travel will only get more expensive the longer you delay your flight. According to Hopper, airline tickets are expected to rise $10 each day starting November 1. 
Make Your Money Work for You
Car Rentals
There's some good news and bad news about car rentals in 2022. The good news, according to Forbes, is car rentals per day are actually cheaper in 2022 than they were in 2021. 
A cost breakdown provided by online travel agency Kayak details the average car rental across major U.S. metropolitan cities. In Los Angeles, California, for example, the average car rental price per day is $69, a 13% decline from 2021.
Take Our Poll: Do You Tip For Service?
The bad news, as some may already have guessed, is the savings in car rental expenses are going toward paying for gas. Fortunately, savvy travelers can keep their road trip plans and save on gas by downloading gas apps, like GasBuddy, to find affordable gas stations along your route and fill up your tank for less.
Train Rides
Travelers attempting to avoid crowded airports or long drives may decide to take the train for their Thanksgiving trip. 
Forbes reported the average coach ticket for an Amtrak round-trip train is creeping up in price as well. If you're traveling from Orlando to New York, expect to pay around $201. Some train rides may be a bit more affordable depending on your destination. Travelers in New York heading to Charlotte, North Carolina, for example, will average $126 for their ticket price.
Make Your Money Work for You
Amtrak is encouraging travelers to book their Thanksgiving travel via train and is offering 20% in savings for those who book early through their website. When booked at least seven days in advance, travelers can save up to 20% versus the standard coach fare. 
A coach ticket also includes additional perks that Amtrak cheekily alludes to airlines being unable to provide all passengers. These perks include free checked and carry-on bags, reclining seats, plenty of legroom, a big picture window and no middle seat.
More From GOBankingRates
Make Your Money Work for You