How To Make Every Trip You Take the Greatest, Even on a Budget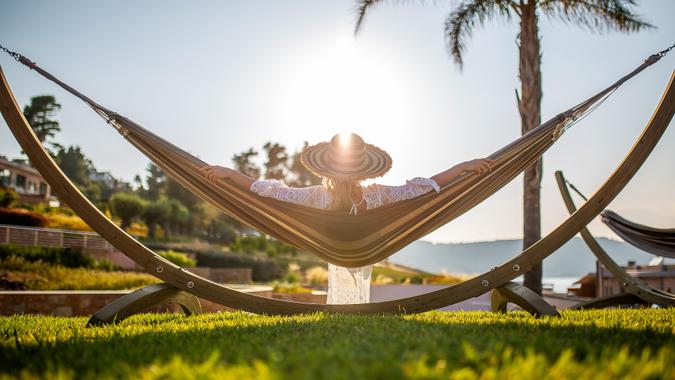 Jakovo / Getty Images
After taking a hiatus from traveling during the pandemic, many Americans are now looking to make up for lost time. According to Expedia's 2022 Travel Trends Report, more than two-thirds of Americans (68%) are planning to go big on their next trip, with a no-regrets, "GOAT" (Greatest of All Trips) mindset.
Find Out: 13 Best Items To Buy in Bulk at Sam's Club This Summer
Save More: 8 Best Food Products To Buy at Costco
While you may associate a "GOAT"-style trip with traveling on a private jet to a five-star resort, there are definitely budget-friendly ways to make your trip the greatest. GOBankingRates spoke to travel experts to get their advice on how to vacation luxuriously without overspending.
Pay More Attention to Reviews Than Star Ratings
Ashlea J. Russell, travel writer with She Roams About, said that you don't need to splurge for a five-star hotel to have a high-quality stay.
"One of the most common mistakes travelers make when researching luxury accommodations is looking at star ratings," she said. "Star ratings are greatly impacted by the number of amenities. A beautiful, boutique property steps from the main attractions may only rank as three-star, whereas a large, dated property outside of town may rank as four-star because it has a business center or a couple of treadmills."
Make Your Money Work for You
Traveler reviews are a much better indicator of the true experience, Russell said.
"Ruling out properties based on the star rating can cause travelers to miss superior options that are often more affordable, especially when locally owned and operated," she noted.
POLL: Do You Think People Should Invest in Crypto?
Choose Affordable Destinations
If you choose the right destination, luxury resorts and fine dining can fall well within your travel budget.
"Go to cheap countries with luxury amenities for less, like Istanbul, where you can stay in five-star hotels and eat at luxury restaurants affordably," said Sarah Simon, owner of the travel blog Mukikapup's Travels.
Samantha Hamilton, travel writer and founder of New England Wanderlust, recommends traveling to Southeast Asia.
"In places like Thailand, Bali and the Philippines, you can get luxury, beachfront hotels and villas for a fraction of the cost it would be in the Maldives, and the beaches will still be incredible," she said.
Plan Out Where You Will Splurge and Where You Will Save
Simon recommends taking a "mix-and-match" approach to your vacation spending.
"Take some days to see free sights and eat street food, and other days plan attractions and food that costs more money," she said.
Make Your Money Work for You
Or you can choose to splurge on one aspect of the trip but not others — for example, choosing an Airbnb with an amazing view and location that may cost a little more, but preparing most of your meals at home to save on dining costs.
Look For Free or Cheap Flight Upgrades
"There are websites like Fly Luxury for Less where you may look for cheap business class flights, or you can utilize your airline's loyalty program's air miles to upgrade," said Jenny Ly, professional travel blogger at Go Wanderly. "Purchasing additional flight miles to obtain that upgrade is frequently profitable. My favorite strategy is to check in late and then request a (paid) upgrade, allowing me to acquire last-minute upgrades for a fraction of the cost of booking early."
Book Mystery Hotels for Steep Discounts
"The easiest way that I have found to splurge without actually splurging is to use discount websites, such as Hotwire, to book a hotel," said Lanie van der Horst, founder of the family travel blog Make More Adventures. "In a major city, it is easy to find a luxury hotel at a discount if you are willing to take the risk of not knowing exactly where you will be staying ahead of time."
By booking a secret or mystery hotel, you can score discounts of 20% to 50%, according to the travel site Geeky Explorer.
Make Your Money Work for You
Book Early
The earlier you book, the more likely it is that you'll be able to score good deals.
"Hotel rooms are released on to the market 18 months in advance, and flights 11 months in advance," said Jeremy Clubb, founder of Rainforest Cruises, specialists in exotic riverboat and small ship cruise packages. "In general, the earlier you book the better, as this is when prices are lower, and the more choice of room and ticket categories you'll have. The same applies to the most coveted tours and experiences as well."
Dine Early
"If you have your heart set on a top-ranking restaurant and your budget won't stretch to dinner, consider dining there at lunchtime," Clubb said. "Many of the world's top restaurants offer a fixed-price lunch menu many times cheaper than their dinner menu."
Be Nice — You Never Know What You'll Get in Return
Kindness can go a long way when it comes to scoring free upgrades and other freebies on any trip.
"Desk agents, bartenders and hotel maids want what everyone else wants — to be treated with respect, appreciation and kindness. I make a point of being pleasant to service people because it's the right thing to do, and I've been rewarded with freebies, from flight upgrades to extra shrimp," said Leslie Carbone, founder of the travel blog Sancerres at Sunset.
More From GOBankingRates