How Much It Costs To Visit the Best (and Scariest) Haunted Houses in the US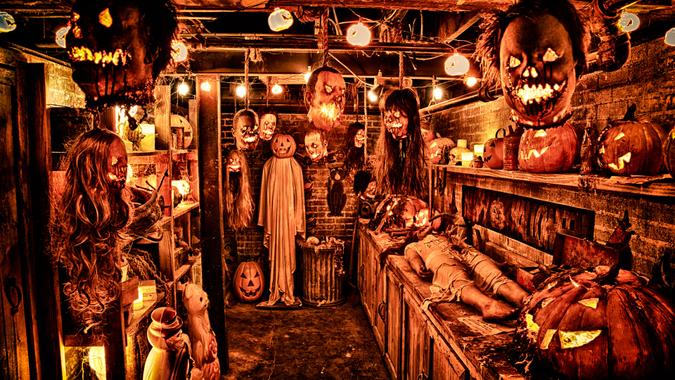 ©The Dent Schoolhouse
With Halloween happening on the 31st, October has kicked off the scariest month of the year — and Americans intend to spend generously to celebrate the ghoulish extravaganza.
Budget: Throw a Halloween Party on a Budget
Read: The Cost of Halloween in the US
According to the National Retail Federation, consumers will spend a record-breaking high of $10.14 billion on Halloween related-purchases, up from $8.05 billion in 2020. NRF's spending breakdown covers candy, costumes, decor and parties, but doesn't specify just how much Americans are dishing out for haunted houses and other Halloween attractions. But after a dreary Halloween last year during which most of these venues were shut down, it's likely that Halloween enthusiasts will be hitting up at least one haunted attraction, if able.  
Because these events generally don't run for much longer than a month, spots tend to sell out quickly, so it's best to purchase your tickets for haunted houses, mazes and other Halloween attractions ahead of time (which will also save you extra fees from buying at the door). 
Here's a look at some of the nation's best and scariest haunted houses and attractions — and how much they cost.  
Make Your Money Work for You
Check Out: 8 Affordable Fall Leaf-Peeping Trips
Erebus Haunted Attraction
Hyped as one of the best haunted houses in the nation (or at least in Michigan), the Erebus Haunted Attraction in Pontiac, Michigan, has varying "FEAR" thresholds and works to accommodate all its visitors' levels of what they can handle. On the site's FAQ, it says that "some things will grab you, bite you and fall on top of you! Then we're gonna throw you in a room, slam the door, and bury you alive! How long can you hold your breath?" 
This is surely an exaggeration, but guests might want to pay extra attention to the numerous emergency exits located throughout the four-story experience, which is not recommended for children under 13. 
Entry to this haunted house costs $20 and up.
See: Fall Family Fun: 11 Cheap and Cool Ideas
New Salem Corn Maze
Also in Michigan is not the scariest haunted house of the state, but perhaps the scariest labyrinth. The New Salem Corn Maze lets visitors access the "Witches Woods," where you can choose to navigate either the "Twisted" or the "Wicked" path; regardless of which you choose, you're sure to let out a yelp of fear at every turn. 
Make Your Money Work for You
Visitors can also level up their fear experience by going through the Haunted Corn Maze, which "will leave you out of breath as you crawl, walk or run your way through the twist and turns as you try to escape the crazy atmosphere," according to the site.  
If you have kids in tow, it's best to opt for the New Salem Corn Maze during the daytime when there are no ghouls present. 
Entry for the goblin-free daytime event costs $8, while nighttime adventures start at $25.  
Read More: 7 Pricey Popular Halloween Costumes and How To Create Them for Cheap

Halloween Nights at Eastern State Penitentiary
If you're looking for some real-life trauma embedded in the walls of a fake haunted estate, look no further than the Eastern State Penitentiary in Philadelphia. The event features 15 attractions, including an immersive walk-through experience; three live, interactive performances; and four themed bars and lounges. Guests can wander the penitentiary's cell blocks and learn of its history through narration by actor Steve Buscemi. This attraction will give adults a fright if it is wanted, but guests can also choose a milder, mostly educational experience. Still, this event is not recommended for children under the age of 12. 
Make Your Money Work for You
Tickets start at $34.
Enjoy: 10 of the Best Fall Attractions Across the US — And the Cost To Visit
Fright Factory
Also located in Philadelphia is the Fright Factory, an attraction that occurs inside the basement of a more than 100-year-old factory that sprawls over 25,000 square feet and is divided into three themes: Industrial Nightmare, South Side Sanatorium and Fright Factory UnHoly. 
This event is marketed as "high scare" and "high startle" and once you enter the haunt, you have to go the whole way through until it's over. As such, this event is recommended for only the most diehard fans of terror who aren't bringing children. 
General admission is $15, but you can snag an expedited experience by buying the $25 fast pass.
The Nevermore Haunt
Located in Baltimore, the Nevermore Haunt taps into inspiration from the city's eerie past. Set in the Victorian era, visitors will come across a cast of morbid characters including drowned sailors, tortured factory workers, unlicensed doctors and more disturbing faces. The attraction highlights an interactive performance and features immersive sets designed to impress elegant yet horrifying haunted house fanatics. 
Guests must be at least 4 feet tall to enter and children under 16 are required to attend with a parent or guardian. The attraction costs between $22 and $56. 
Find Out: Target or Walmart: Where Should You Shop This Halloween?
Hangman's House of Horrors
Hangman's House of Horrors is located in Ft Worth, Texas, on the site of a more than 100-year-old military base erected in the early 1910s. Folklore shrouds this destination, with many locals believing that the base was used as grounds for top-secret purposes. 
The event features several attractions including the 45-minute long walk through Hangman's House of Horrors; The Beauty of Horror, an interactive scary art exhibit; and OUTBREAK which sees zombies spring out from dark, cavernous spaces. 
Ticket price information is not clearly available on the event's site, but you can use promo code HANG10 to snag $10 off each ticket purchased, and use that $10 saved to put toward parking, which costs exactly that. 
Stock Up: 5 Bulk Food Items You Need To Be Buying at Costco This Fall

The Dent Schoolhouse
The Dent Schoolhouse in Cincinnati stands as one of the city's most popular Halloween attractions and is known to see visitors spending hours in line awaiting entry to the terrifying attraction, which is also the site of ghastly murders past. 
Once known as the Dent Public School, the red brick building is steeped in local lore. Between 1942 and 1955, dozens of schoolchildren went missing there. The school soon after shut down.    
Guests can roam the goblin-clad halls of The Dent Schoolhouse and the Queen City Slaughter Yard. There are no age limits to attend this attraction. Tickets start at $25. 
The Haunted Trail — Balboa Park
The Haunted Trail in San Diego's Balboa Park features two attractions: a mile-long outdoor trail through the woods and the 3,500 square foot eXperiment Maze. You might follow the boy without a face through Merlin's Forest, board the Ghoul Bus with spooky nuns, or be taunted and haunted by Pennywise, aka, the clown from Stephen King's "It." Whatever path you choose, you're sure to be absolutely terrified.  
Children under 10 are recommended to not attend this frightening event. Admission starts at $25.
More From GOBankingRates
Last updated: Oct. 8, 2021