How Much Is Travel Insurance in 2023?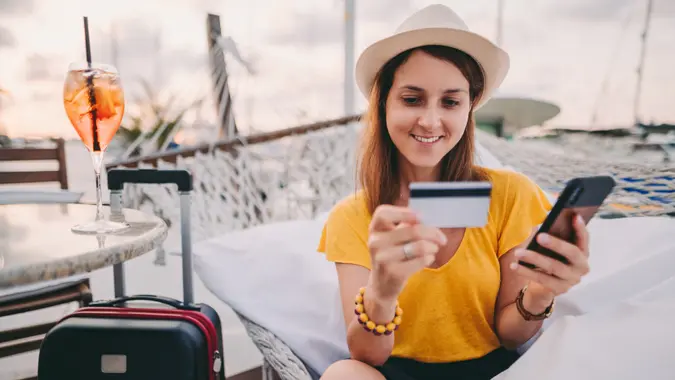 martin-dm / Getty Images/iStockphoto
There is always some level of uncertainty when booking travel. Plans change, people get sick, the weather intervenes — or other challenges derail your carefully planned itinerary. Last year, over 100,000 flights were canceled between January and August, Reuters reported, citing FlightAware data. That figure outpaced pre-pandemic cancelations by 11%. And over the holidays last month, Southwest Airlines canceled over 16,700 flights due to faulty scheduling software and staffing shortages.
Now more than ever, it's important to at least consider getting travel insurance.
What Is Travel Insurance?
Travel insurance is a kind of insurance that covers costs associated with traveling. Often, travel insurance is bundled or sold as an add-on when booking a trip with a travel agent.
What Travel Insurance Covers
The type of coverage depends on the policy you purchase. Here are some standard coverage options.
Trip Cancellation
Trip cancellation coverage protects you in case your trip is canceled. This coverage will reimburse any prepaid, nonrefundable expenses. Usually, there is a list of covered reasons in the policy, so be sure to check those before buying this type of policy. Typical reasons include illness, a death in the family, business conflicts or weather problems.
Interruption Coverage
This coverage is similar to trip cancellation coverage but protects you if your trip begins but is cut short by a covered circumstance. In this event, the insurance will reimburse you for any nonrefundable expenses. Be sure to check with your provider to verify that your destination is covered under this type of insurance.
Make Your Money Work for You
Baggage and Personal Effects
This coverage protects your belongings in case they are lost, stolen or damaged during your trip. This protection is above and beyond any limited coverage that an airline or other carrier provides if they lose your luggage. Lost baggage is a frequent problem for travelers, so it may be worth considering for your next trip.
Did You Know?

Lockdowns in 2020 caused many travelers to lose money because they didn't have travel insurance.
Medical Expenses
Travel medical insurance covers you by providing health insurance while you're on the trip. These plans may have exclusions for certain types of medical events or activities. For example, more dangerous activities like skydiving may not be covered.
This kind of coverage could be vital if you travel overseas or to a destination where your regular health insurance will not provide coverage.
Rental Car Coverage
This insurance protects you while you use a rental car. It covers events like accidents, theft or vandalism. Your regular car insurance may not cover rentals, so be sure to check before booking a rental car.
Accidental Death
This type of life insurance would pay out a lump sum cash benefit to your beneficiary if you die in an accident while traveling. There are also dismemberment options that protect you if you were to lose a limb.
How Much Does Travel Insurance Cost?
Travel insurance typically costs anywhere from 4% to 10% of total prepaid, nonrefundable travel costs, according to InsureMyTrip. For example, insurance for a trip that costs $1,000 total will run $40 to $100, while a trip costing $5,000 will have an insurance premium as high as $500. It's important to consider the cost of insurance when planning your budget for a trip so you aren't faced with unforeseen costs.
Make Your Money Work for You
The reality is that insurance rates vary widely, depending on the provider and various factors, including the following:
What Affects Insurance Rates?

Destination: Different destinations or places with higher medical costs may see more expensive insurance prices.
Length of the trip: The longer the trip, the higher the cost.
Cost of the travel: The more expensive the trip is, the higher the price will be.
The number of travelers: More travelers equate to more risk, so larger groups will have higher insurance costs.
Ages of travelers: Older travelers will generally see higher insurance prices compared with younger travelers.
What Kind of Insurance Is Best for Me?
With all the various travel insurance options, it can be challenging to know what to pick.
Here are a few things to look for, depending on your particular needs:
If you want reimbursement of all travel costs, no matter what, look for "cancel for any reason" coverage.
If you'd like medical expense coverage that your regular health insurance plan won't cover on your trip, look for a travel medical plan.
If you want protection from lost or stolen baggage, consider baggage and personal belongings coverage.
If your trip will take you on an airplane, consider flight accident coverage that will cover airline-related mishaps.
Key Takeaways
Travel insurance can help cover unexpected expenses related to travel.
Generally, the higher the risk, the more expensive the insurance will be.
Pick the most suitable option for you and your particular trip to get the most out of your policy.
It may be worth purchasing travel insurance for your next trip, given the uncertainties related to travel. The main types to consider include trip cancellation or interruption coverage. But before you purchase it, check your health, auto and homeowners or renters insurance policies as well as your credit card benefits to find out what coverage you might already have.
Daria Uhlig and Amber Barkley contributed to the reporting for this article.
Our in-house research team and on-site financial experts work together to create content that's accurate, impartial, and up to date. We fact-check every single statistic, quote and fact using trusted primary resources to make sure the information we provide is correct. You can learn more about GOBankingRates' processes and standards in our editorial policy.