How Much It Costs To Visit These 4 Alternatives to Disney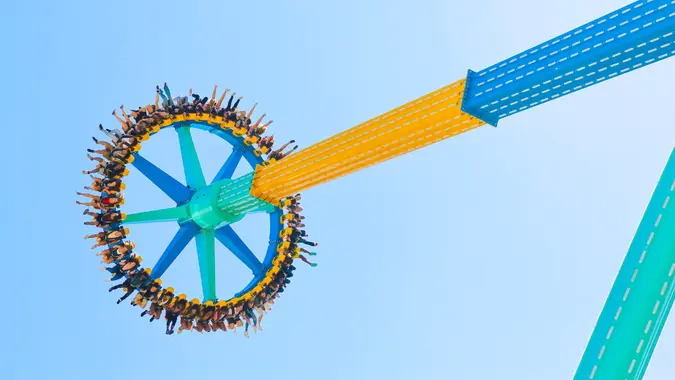 Greg Grudt/Mathew Imaging / Courtesy of Six Flags Over Georgia
Disney markets its theme parks such as Disneyland and Disney World as "The Happiest Place on Earth", but you certainly pay a premium for all that happiness.
Tips: How To Get Back in the Habit of Budgeting for Travel 
Find Out: Disneyland vs. Disney World: Where Can You Get More for Your Money?
A ticket to Disneyland or Disney World can cost $104, and that's if you're taking the bare-bones, single-day pass. To see more than one park or go more than one day, the costs can add up quickly, with a trip for a family of four ranging anywhere from $1,600 to $6,000, according to travel site ThePointsGuy.com.
Don't fret, however. Both Southern California and the Orlando, Florida, area have plenty of other attractions, and they won't put the same dent in your wallet.
Check out these four alternatives.
Knott's Berry Farm
Location: Buena Park, California
Ticket prices: Daily admission tickets start at $59
This theme park features 40 rides, including roller coasters, water rides and family rides. The park bills itself as California's first theme park, with theme areas such as Camp Snoopy and Ghost Town.
Knott's Berry Farm features a good combination of thrilling rides, such as the HangTime "infinity coaster", and throwback attractions such as the rock wall and rope ladder at The Boardwalk.
See: How Much It Costs To Run Disneyland for Just One Day
Legoland
Locations: Carlsbad, California, and Winter Haven, Florida
Ticket prices: A one-day pass to Legoland California is $89, and for Legoland Florida it costs $84.99 for advance purchase.
Make Your Money Work for You
Disney parks are built around the Walt Disney characters, whereas Legoland venues are oriented around something different: toys. There are parks in California and Florida, so they are good alternatives to the Disney destinations.
Legolands are geared toward younger kids, 15-years-old and below, with fewer crazy rollercoasters. Another difference is that Legolands have water parks, whereas Disneyland and Disney World do not.
Find Out: How Much It Cost To Go To Disney World the Year You Were Born
Six Flags Magic Mountain
Location: Valencia, California
Ticket prices: Packages start at just $45.
Six Flags Magic Mountain is the polar opposite of Legoland, with a heavy focus on the intense amusement park-style rides.
The theme park does feature plenty of "family rides" too, so it's not just wild rides. But the park advertises itself as the "extreme park" with its number of adult rides.
With 19 roller coasters, the park has the most in the world, Coasterpedia.net reports.
More: How Much Is Disney Worth?
Universal Studios
Locations: Hollywood, California, and Orlando, Florida
Ticket prices: Packages start at $109 for both parks.
The Universal Studios parks are just what you'd expect for a theme park built around blockbuster movies and characters: The rides are intense, the special effects are amazing, and everything is a sensory overload.
Both Universal Studios Hollywood and Universal Studios Orlando have ticket packages starting at $109, which seems like more than Disney parks, but the packages include access to additional areas such as The Wizarding World of Harry Potter and the Hollywood studio tour.
Both parks feature extravagant rides, such as "Jurassic World, the Ride."
Make Your Money Work for You
More From GOBankingRates