Summer Travel 2022: Nearly Two-Thirds of Americans Pay For Vacation With Savings — How To Build Your Fund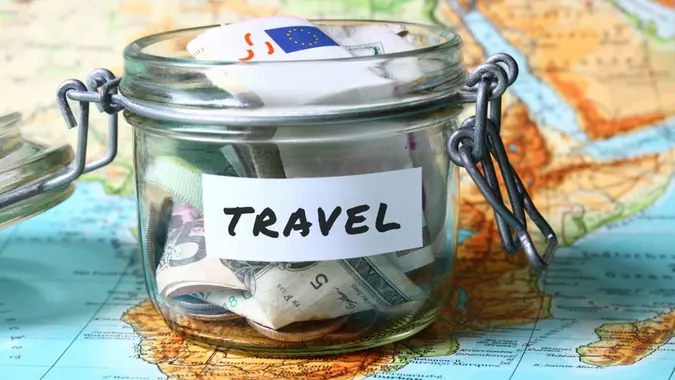 MissTuni / Getty Images/iStockphoto
In spite of constant news about Americans overspending on their credit cards, when it comes to travel, they seem to prefer using their savings. This is according to an April 2022 survey by GOBankingRates, in which 62% of respondents indicated they used savings instead of a credit card or other source of funding for their travel expenses. This is a smart move because going into debt just to go on vacation can lead to long-term financial consequences. If you're looking for some help with building up your own travel fund, take a look at these tips that can help you save for a good vacation while avoiding going into debt.
Find Out: 10 Things You Should Always Buy at Walmart
Important: 9 Bills You Should Never Put on Autopay
Set Up a Dedicated Travel Fund
Saving for travel is a good strategy, but the best way to ensure you save is to set up a separate account dedicated exclusively to your travel fund. Most Americans have multiple savings goals, from retirement to college funding to emergencies and more. If you keep all of that money in a single account, you're likely to dip into it for other purposes. You don't want to be in the position of "borrowing" from your retirement savings to fund a vacation, just like you don't want to take emergency funds out of your travel savings. Keeping your accounts separate is also a good way to keep track of how close you are to meeting each of your individual savings goals. 
Make Your Money Work for You
POLL: How Much Do You Expect To Spend on Travel This Summer?
Set Up Automatic Transfers
Saving is inherently difficult for most Americans. While most people desire to save as much as possible, the reality of day-to-day living often provides excuses that get in the way. If you're intent on building as large of a travel fund as possible, you should strongly consider setting up automatic transfers. With an automatic transfer, you don't have to worry about missing a deposit in any given week or month. Perhaps even more importantly, you'll protect your travel savings from impulse spending or using the money for other purposes since it will be automatically deducted from your checking account without you even thinking about it.
Deposit All Windfalls
A windfall payment is any type of money you receive that you either weren't expecting or that is somehow out of the ordinary. A year-end bonus, for example, qualifies as a windfall, as would an inheritance or a big tax refund. Any time you receive a windfall payment, divert it immediately to your travel fund before you have the temptation to spend it. Windfalls can be a great way to boost your vacation savings fund rapidly. 
Make Your Money Work for You
Use Round-Up Accounts
Another good way to funnel more money to your travel fund is to use an app that rounds up your purchases and deposits the extra amount into savings. Say you buy a cup of coffee for $3.69, for example. A round-up app will charge your card an even $4, with the extra 31 cents being deposited into your travel fund. While this might not seem like much, these small amounts can add up fast. Add in your other daily purchases and you might end up stashing away a few dollars every day. By the end of a year, you might be able to save $1,000 or more in your travel fund without you even noticing.
Make Your Travel Fund Larger Than You Expect To Need
One of the best ways to make sure you don't blow your travel budget is to make your savings goal larger than you think you need. Most travelers have a tendency to overspend while on holiday, so to avoid going into debt, add on at least 10% or 20% to what you think you'll need. You can accomplish this in a number of ways, from saving more every pay period to delaying your travel by a few months to further build up your savings. 
Make Your Money Work for You
The Bottom Line
Although there are many ways to fund a vacation, saving enough money before you travel can prevent stress and allow you to enjoy a guilt-free holiday. No one wants to come home from a vacation staring at a massive pile of debt, so put these specific processes into place ahead of time so that you're constantly refilling your travel fund.
More From GOBankingRates
Make Your Money Work for You