How To Find Travel Insurance That Covers COVID-19-Related Cancellations
Brought to you by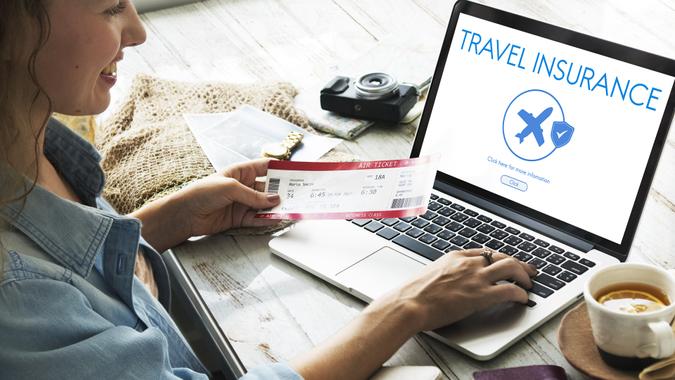 Rawpixel / Shutterstock
With summer quickly approaching, many people are making their travel plans now. But there's always a chance you may have to cancel, especially with the threat of the ongoing pandemic. While travel insurance often comes to mind as a solution for protecting your trip plans, not just any policy will do.
Get Ready: Travel Prep: 10 Financial To-Dos Before Going on a Trip
Here's everything you need to know to ensure you get the right kind of travel insurance in case of a COVID-19-related trip cancellation.
How to Find The Right COVID-19 Travel Insurance
When it comes to the right COVID-19 travel insurance, you'll want a place where you can compare and shop for many different providers at the same time. One of the best options is InsureMyTrip, where you can add your travel details and access competitive quotes offered by some of the top travel insurance providers in the industry.
Make Your Money Work for You
Getting a quote with InsureMyTrip is free and you'll be able to find plans that may cover COVID-19-related concerns, like cancellation due to diagnosed illness before traveling, emergency medical care if you become ill while traveling, and accommodation coverage if you're quarantined at your destination.
InsureMyTrip has award-winning customer service and offers guarantees that you'll get the right plan for your trip at the best price.
Options for COVID-19 Travel Insurance
There are a couple of options that can cover you if you have to cancel your trip for reasons due to COVID-19. You should also keep in mind potential costs that can arise if you get sick during your trip and consider insurance that offers emergency medical care while traveling and accommodation coverage if you're quarantined at your destination. Here's what you need to know.
Learn More: 40 Pandemic Airport Secrets Only Insiders Know
Cancel for Any Reason Travel Insurance (CFAR)
CFAR coverage is just what it sounds like: With it, you can cancel your trip for any reason, including fear of COVID-19. To get a CFAR insurance plan, you'll have to purchase a comprehensive travel insurance plan and add the optional CFAR coverage benefit, if available.
CFAR typically covers 50%-75% of your lost, prepaid travel expenses as long as you purchase it within 14-21 days of your first trip payment and cancel your trip by the specified deadline, which is typically 48 hours before your scheduled departure.
Make Your Money Work for You
Be advised that the window of time to purchase CFAR may vary by company and not all travel insurance companies offer it. Make sure to read the fine print of the CFAR policy to double-check cancellation deadlines. This benefit is time-sensitive and has other eligibility requirements, so not all travelers will qualify.
Trip Cancellation Insurance
If you are only concerned about contracting the virus and not being able to proceed with your travel plans, trip cancellation insurance may be the way to go.
Trip cancellation is a standard benefit offered with most travel insurance comprehensive plans. This travel insurance benefit provides reimbursement of your pre-paid, non-refundable expenses should you need to cancel your trip unexpectedly for a covered reason.
Out of State: Things You Can Get For Free in Every State
Cost of a Comprehensive Travel Insurance Plan
When planning for a trip and the costs of insurance, it can be helpful to know how much extra you may spend. Expect to pay 5%-10% of your total trip cost to add trip cancellation insurance. If you decide to add CFAR coverage, it will typically cost around 40% of your base travel insurance price. For example, if your trip costs $3,000, your travel insurance could cost $150-$300. Then, adding a CFAR plan could cost an additional $120, or a grand total of $270-$420.
Make Your Money Work for You
Should You Purchase COVID-19 Trip Insurance?
If you're only concerned about getting ill from COVID-19 or having a companion become ill, trip cancellation insurance may offer coverage under those circumstances. However, if you are concerned that travel to your destination may become unsafe or ill-advised due to COVID-19 or that you may become fearful to travel, you should seriously consider adding CFAR coverage because the trip cancellation insurance will not cover those circumstances.
And make sure your plan covers COVID-19-related trip complications outside of just cancellation, like emergency medical care if you become ill or accommodation coverage if you're quarantined while traveling.
More From GOBankingRates
Make Your Money Work for You