How To Plan a Last-Minute Holiday Vacation With Kids — Without Breaking the Bank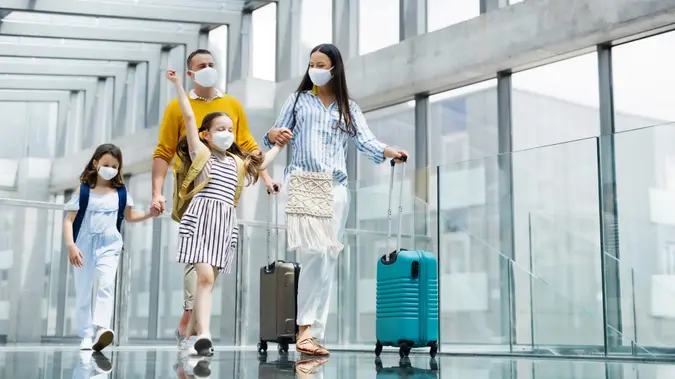 Halfpoint / Getty Images/iStockphoto
The holidays – and winter school break – are coming, and a trip could make a wonderful family gift. Maybe a surprise visit to the grandparents' house? Or maybe a spontaneous trip to a warm-weather spot if you live in the colder climates or a trip to see snow for the first time for the little ones?
More Savings: 13 Insider Secrets From Travel Agents That Will Save You Money
Find Out: Cheap Places To Travel On $100 a Day Or Less
But just how can you plan a last-minute trip that won't break the bank? Experienced travelers offered their take.
Determine Your Destination
If you don't have a set getaway and instead are looking for the cheapest destination, turn to the travel apps to help you pick an amazing – and affordable – place to visit.
"My favorite tool I use is the Skyscanner app," said Kim Swanson, who details her family's journeys on the website Traveling Swansons. "Sometimes I don't have a particular destination in mind, I just know I want to go somewhere. You put in your airport and it will bring up a list of destinations and the cheapest flight prices for whatever date range you put it. If you find a really good price on a destination book it!"
She also uses Skyscanner to help her find the cheapest dates to travel if she knows where her family of five is headed. "It's easy to see how adjusting your trip by plus or minus a day or so can save you so much money," she said.
Make Your Money Work for You
Read: Travel Prep: 10 Financial To-Dos Before Going on a Trip
Set the Budget
Before you make any plans, decide just how much money you can spend on the trip, from transportation costs to lodging to food to adventures. One place to look for deals on the latter: local and regional websites dedicated to helping you save money. One of them is the Martin County Office of Tourism & Marketing in South Florida.
"A great way to save money during a last-minute family vacation is to familiarize yourself with the destination's tourism office," said Ian Centrone, the tourism public relations and community liaison in Martin County. "Wherever you travel, chances are there's a localized visitors bureau or destination marketing organization (DMO) that exists to promote the area. In addition to containing valuable information and resources tailored to visitors, many DMOs can also help you score various deals and discounts."
Centrone said the website for his organization is filled with savings ideas.
"Potential visitors can find special offers and packages listed at various hotels in the area. To help with trip planning, there's also a section of the site with a collection of curated itineraries. One is specifically dedicated to budget-friendly trip ideas and highlights a bunch of free or low-cost experiences throughout Martin County. Lastly, people can reach out to the DMO directly to ask about any special cost-saving programs."
Another money-saving option, especially in big cities, is buying a discount pass that will give you entry to multiple attractions at a reduced cost. CityPASS, available in many big cities, is one of the choices. In San Diego, for example, you can visit SeaWorld San Diego or LEGOLAND California, plus three other attractions, for up to 40% off individual admission tickets.
Make Your Money Work for You
The budget involves much more than travel and hotel costs, and sticking with it involves a buy-in from the family, said Keri Baugh, who runs the family travel blog Bon Voyage With Kids.
"As a family, we all agree on our 'must-do' items, and book those first, and then have 'if we have money left over activities' we do if we have money left toward the end of the trip…By discussing it in advance, it keeps disappointment down or avoids the feeling that we missed out on something on our trip."
She also recommended having kids bring money they've saved to buy their own treats or souvenir. It takes that out of your family budget and teaches them responsibility at the same time, she said.
Learn More: Running Disneyland for Just One Day Costs an Insane Amount of Money
Consider Non-Hotels
Nicole Evert, a mother of four kids from age 3 to 11, said when she makes plans for family travel, she looks for lodging other than hotels. Her family of six needs two hotel rooms, and she's come up with alternatives.
"For parents open to staying outside the hotel, we definitely recommend looking at local campgrounds," said Evert, who runs the parenting website Creating Butterflies. "We love to camper/RV camp with our kids and generally spend $50 to $70 a night for accommodations for the whole family versus the cost of two hotel rooms. Many of these places also have mobile homes, cabins, and lodges available that are cheaper than multiple hotel rooms too. Plus they often have a full kitchen so you can save money on meals," she said.
Make Your Money Work for You
Or, she said, they'll rent through Airbnb or find a short-term home rental. While there might not be much savings in lodging, travelers with a big family like hers will spend way less on food because of the access to a full kitchen.
Find Out: 10 Credit Cards To Consider for Travel Rewards
Plan for Emergencies
Since you put the trip together at the last minute, you might not have thought of every contingency or possibility or saved for a trip emergency. That's why it's important to make sure you've got yourself covered.
Alex Simon, the CEO and co-founder of Elude, a budget-friendly travel app, said it's crucial to make sure you'll have cell phone service in the area where you're traveling and to monitor the weather forecast at your destination until you leave to make sure you have the essentials and won't have to buy anything. And, he said, if you're traveling internationally, call your credit card company to find out what international transaction fees you might incur. They can add up, so it's best to be prepared if you don't have a credit card designed for frequent travelers.
Discover: 30 Locations With the Priciest Vacation Rentals
Beth McCarter, who runs The Travel Fam website, said it's key to be prepared in case of a big emergency on a last-minute trip.
"Last-minute destinations are extremely tempting to families on a budget because they are often fantastic bargains," she said. "However, sometimes they can be a wolf in sheep's clothing and can actually end up costing more because of the limited time to budget.
"Before going on a last-minute trip, be sure that your finances are in order. You don't want to get to your destination and not be able to pay for your, say, rental car. This actually happened to us in New York."
Make Your Money Work for You
Finally, she said, it's important to have a good chunk of available credit on your card should an emergency arise.
"I can't tell you how many times that having an emergency stash of credit saved us while traveling," she said.
More From GOBankingRates