How To Save Money on Hotels Anywhere in the World, Any Time of Year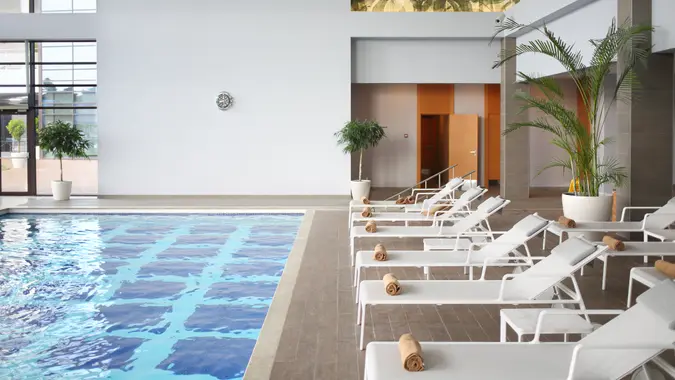 Pavel L Photo and Video / Shutterstock.com
If it seems like hotel prices have gone up — even from pre-pandemic times — it's because they have. Compared with the second half of 2019, the average daily rate of a hotel stay has increased by 5%, according to a Priceline analysis. And Priceline also predicts that as travel continues to rebound, hotel rates will likely continue to rise.
Fortunately, no matter where you want to travel and how long you plan to stay, there are ways to save on your hotel booking. Here, experts weigh in with some tips to help you get the best deals on hotels.
Helpful: The Top 10 Best Travel Hacks To Save the Most Money
Find Out: 35 Things Your Hotel Will Give You for Free
Choose Hotels With Free Meals
While you won't necessarily save money on the hotel itself, finding hotels that offer complimentary meals does save you money, said Shawn Richards, expedition coordinator at Ultimate Kilimanjaro.
"Many budget hotels offer free breakfasts to attract weary travelers," he said.
Take Advantage of Student Discounts
You can often get great deals if you are a student, according to Jeremy Scott Foster, CEO and founder of TravelFreak, a professional travel and adventure guide.
Make Your Money Work for You
"If you're a student, there are some specialty sites to browse accommodation at discounted rates with proof of student ID," he said. "Some providers offer a third night free or $30 off the total price."
Use Voucher Extensions or Cash-Back Plug-Ins
Foster also recommends checking out sites such as Honey or Pouch, which help you find promo codes quickly and earn credit at the same time.
"Even signing up for Groupon can help you earn vouchers, such as 25% off at a Hilton stay or a complimentary breakfast," he said.
Owain Powell, a consultant at UP Hotel Agency, said, "Use cash-back sites and install the Honey Chrome extension. Someone looking to book a stay can effectively earn cash back for landing to a website such as Holiday Inn, Accor Hotels and countless others."
Helpful: 13 Insider Secrets From Travel Agents That Will Save You Money
Book Direct Rather Than Through a Third Party
Powell also recommends that rather than booking a hotel through a third-party site such as Booking.com or Hotels.com, if you find a rate you like, call the hotel directly and ask if they will offer a better rate, or at the least, book directly to avoid paying fees.
Make Your Money Work for You
"The hotel will at least match the price, or offer an incentive to book direct," Powell said. "It's in the hotel's best interest to gain the booking direct."
Sign Up for Cards With Rewards and Bonuses
Another way to save money is to sign up for a credit card that is offering sign-up bonuses in the form of free cash, miles or points when you spend a certain amount of money, said Andrea Woroch, a consumer expert, writer and bestselling author.
"Plan ahead and open a new card before your trip so you can use those bonus rewards to cover your hotel stay," she said.
Woroch recommends comparing sign-up bonuses and cash-back programs through sites like CardRates.com.
Book Nonrefundable Rooms
Another little trick if you are pretty confident that nothing will throw your stay off track, Woroch said, is to book rooms that are nonrefundable, such as through a site called RoomerTravel.com.
Make Your Money Work for You
"[The site] enables people to book hotel rooms from travelers who can no longer use them, at a discount," she said. "Each hotel listing features user reviews from TripAdvisor, so you can select among properties with the highest reviews."
See: 30 Locations With the Priciest Vacation Rentals
Stay Off-Season
Perhaps the best way to snag a good deal is to stay off the usual travel dates.
"Hotels are typically more expensive during busy holiday seasons, so try to book a stay during slow times of the year," said Brian Donovan, CEO of Timeshatter. "Look for hotels with a free cancellation fee and consider booking a room way in advance to lock in that rate. If you end up finding something better, you can easily cancel."
Book Last Minute
If you're not a book-in-advance type, Woroch said that procrastinators can actually get major last-minute discounts on hotels and airfare through such sites as Priceline's "tonight-only deals." These are typically 35% less compared to published prices found elsewhere, she said.
"Meanwhile, the HotelTonight app will show you hotel options based on your location for up to 70% off on same-day reservations," Woroch added.
Use the Right Sites
Try to avoid the big-name booking sites such as Booking.com or Hotels.com, where the prices are probably going to be higher. If you're willing to put up with a little risk, Lanie Vanderhorst of Make-More-Adventures.com, recommends sites like Hotwire.com.
"Their hot rate hotels are often much cheaper, especially when I want to stay at a four- or five-star hotel that I would not normally be able to afford," she said.
These are not always refundable or transferable, however, but if you're looking for a good deal, that's what you'll find.
More From GOBankingRates
Gabrielle Olya contributed to the reporting for this article.
Make Your Money Work for You