How To Save Money on Rental Cars for Your Upcoming Trip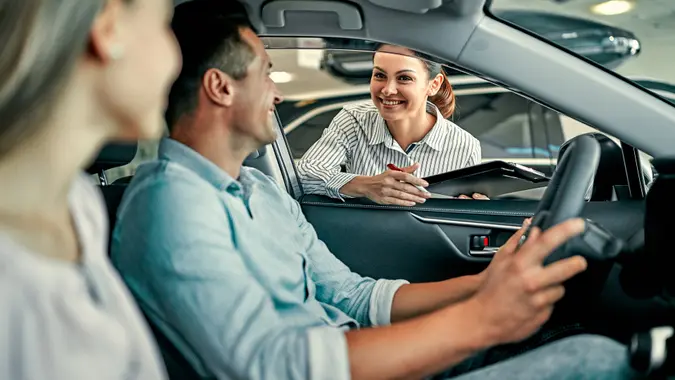 Valerii Apetroaiei / Getty Images/iStockphoto
So your family is vaccinated, you've got some cash in the bank and you're finally ready to start your post-COVID-19 life with a well-earned vacation. You and everybody else. 
Support: Don't Miss Out on Nominating Your Favorite Small Business To Be Featured on GOBankingRates — Ends May 31
If renting a car is part of that equation, you might want to tap the brakes. The auto rental market is so miserable in some places right now that people are actually renting U-Haul trucks instead. That's because they can't possibly afford to rent even an entry-level car, which can easily cost more than a hotel or airfare — and that's if there are even any cars available to rent at all.
Read: COVID-Safe Travel Plans To Make Now To Save Money
It's Rough Out There — Make Sure You're Sure
In many of the places worth visiting, high prices and low inventory define the current state of the car rental market. Travel experts are reporting that renting a car has become the most challenging and expensive logistical hurdle.
There are several powerful forces at work. 
See: What Travel Agents Say About Planning for Trips in 2021 and Beyond
Thanks to the lingering effects of COVID-19, many cautious travelers are still gobbling up rentals to avoid flying and mass transit. At the same time, mass vaccinations released a tsunami of pent-up demand. What makes it a perfect storm is that all this is happening while inventory is already critically low. Since so many rental companies were forced to sell off huge portions of their fleets to come up with the cash they needed to survive the pandemic, supply would have already been super tight even in a normal year.
Make Your Money Work for You
If renting a car is part of your upcoming travel plan, consider a contingency plan. If there's no other way, think about the following.
Avoid Renting in Lingering COVID-19 Hotspots
By the summer of 2020, claustrophobic New Yorkers wanted out of their tiny apartments but were still too afraid to get on trains or airplanes, according to the New York Times. Car rentals became the go-to compromise. Searches rose by 98% on Kayak and the average price for a rental soared to $279 per day — $900 for four days. 
Check Out: 10 Credit Cards To Consider for Travel Rewards
Already the most expensive rental market in America, New York City is, of course, an outlier, but the phenomenon is by no means limited to last summer in the Big Apple. COVID-19 fears are still pushing rental prices up in some markets where people are ready to travel but are still leery of flying and mass transit.  
Renting in Tourist Hotspots Is Even Worse
In April, the Minnesota Star Tribune reported that 18 out of 20 airports in Florida were completely sold out one weekend with no car rentals available whatsoever. In Phoenix, rentals were hovering around $200 per day. The Hawaii Tribune-Herald reported that rental companies all over Hawaii were sold out as mainlanders flooded the islands. Whatever inventory was left was going for $500 a day — $1,000 for upgrade models like BMWs. The San Francisco Gate reported in early April that demand was up 555% in Miami and 1,287% in Maui, where the most affordable daily rental was a Ford Fusion for $323 per day.
More: 25 Ways the Coronavirus Has Upended the Auto Industry Across the Globe
If you're planning on renting a car, visit Kayak.com or a similar site, search for areas where demand is unusually high and go somewhere else. There's no telling where the next travel hotspot might emerge, so plan well ahead and follow these tips: 
Rent as far in advance as possible:

If you treat renting a car as an afterthought that you can deal with when you land, it's very likely that you'll find long lines, lots of sold-out signs and single-day rental prices that look like they're for round-trip airfare. Renting far in advance is the single best way to avoid disaster.

Use AutoSlash:

It's not as familiar as big travel sites like Expedia, Kayak, Hotwire and Priceline, but AutoSlash remains the darling of bloggers and travelers industrywide. The car rental search engine has been disrupting the industry since 2010 and there is still no better service for finding hidden availability and better deals on existing rentals, securing refundable deals and getting alerts on real-time price drops.

Use a credit card with a primary damage waiver:

The Chase Sapphire Reserve and Chase Sapphire Preferred cards consistently rank at or near the top of the heap in terms of cards for saving money on rentals.

Cash in on your memberships:

You can save money and snag discounts — even during the worst of times — with memberships to organizations like AARP, AAA, BJ's, Costco and USAA.

Consider P2P rental services:

Just as Airbnb does with homes, there are sites that allow people to make some cash on the side by renting their cars directly to people who want to avoid Hertz, Enterprise and the rest. The biggest and best-known name in car-sharing is Turo, but there are competing services that also let renters save money by cutting out the corporate middleman.
Make Your Money Work for You
More From GOBankingRates
Last updated: May 3, 2021