How To Save on Travel Costs During Inflation as One-Third of Americans Overspend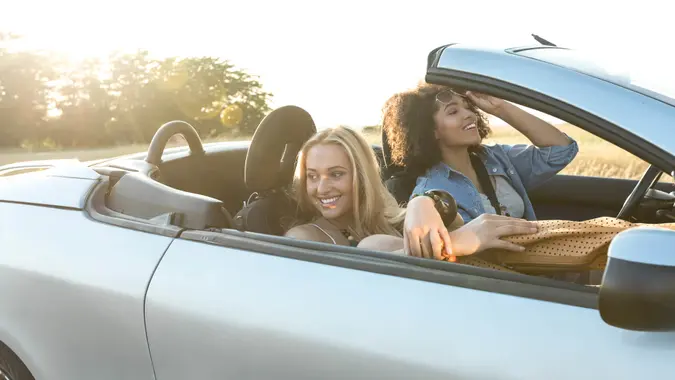 Vladimir Vladimirov / Getty Images
If you're planning a vacation in 2022, you're probably looking forward to your first real holiday since the coronavirus pandemic struck in early 2020. In your exuberance to travel, however, you should be cautious about the natural tendency to overspend while on vacation. This is particularly true if you feel pent-up after years of lockdowns and travel restrictions. According to an early April 2022 survey of 1,037 adults by GOBankingRates, you certainly wouldn't be alone if you felt this way. More than 33% of respondents indicated that they paid slightly or significantly more than they budgeted during their most recent vacation. Since it can take some real planning to overcome the double whammy of post-lockdown enthusiasm and natural vacation excitement, here are a few tips to help you save on flights, rental cars and more during your next trip.
See: 9 Bills You Should Never Put on Autopay
Find Out: 10 Things You Should Always Buy at Walmart
Flights
One thing you should prepare for when you start planning your trip is that flights will likely be more expensive than you might typically expect. In addition to trying to recoup lost revenue during the pandemic, airlines are reeling from skyrocketing fuel costs and lingering travel restrictions. However, there are still ways you can get the best deals, even if it's just on a relative basis:
Travel on off-peak days, typically Tuesday, Wednesday and Saturday.
Compare prices at low-cost airlines, but factor in all ancillary costs.
If your ticket is flexible, continually recheck prices for rebooking opportunities.
Consider flying into or out of alternate airports.
Take a redeye or fly at unpopular hours.
Use reward air miles, if possible.
Make Your Money Work for You
POLL: How Much Do You Expect To Spend on Travel This Summer?
Rental Cars
Rental car prices have similarly skyrocketed thanks to a combination of factors, including lingering supply chain issues that have both directly and indirectly resulted from the pandemic. While booking a cheap rental car used to be a relatively easy endeavor, you'll have to take some of these extra steps to keep costs low during your next vacation:
Book as far in advance as possible.
As most rental car reservations are flexible, continually check for lower prices.
Check all car sizes; sometimes larger cars are actually priced more inexpensively.
Choose a manual transmission if you can.
Book a flight/hotel/rental car bundle at an online travel agency.
Consider the combined cost of flights and rental cars; sometimes a nearby city is a cheaper option.
Accommodations
Accommodations were more expensive than about 33% of survey respondents expected, but it's also one of the categories in which it's easiest to avoid overspending if you can be flexible. Ideas to save money on lodging include:
Book a refundable reservation as early as possible; continually check for lower prices.
Check prices across a variety of online travel agencies, along with the accommodation itself.
Use hotel rewards points, if possible.
Check varying room types.
Look at accommodations outside of city centers or overly touristy areas.
Check alternative lodging sites like Airbnb or VRBO.
Make Your Money Work for You
Food
Food was the easiest category for survey respondents to overspend on, with almost 45% indicating they came in over budget on their most recent trip. This is likely to be true throughout 2022, as inflation is driving up costs across the board. There are some time-tested tips that can help you keep food costs down during a vacation, however, including the following:
Find lodging with free breakfast and/or evening social hours.
Splurge at lunch instead of dinner.
Take advantage of happy hour specials and senior or AAA discounts.
Drink water or, if possible, bring in your own beverages.
Eat like a local; consider street food vendors or restaurants away from touristy areas.
Fees & Ancillary Expenses
Fees and ancillary expenses are a relative newcomer to the field of vacation expenses, but they are rapidly becoming a sizable portion of a traveler's budget. Fees for Wi-Fi, facilities, baggage, seat selection, boarding passes, mini-bars and on and on can add up if you aren't paying attention. Here are some things to pay attention to:
Read the fine print when booking a hotel to avoid ancillary costs like "resort fees."
Choose lodging with free Wi-Fi.
See if your hotel or airline status gets you free food, Wi-Fi, baggage, lounge access or other perks in the air and/or in a hotel.
Make sure water bottles or items in your mini-fridge are free of charge.
Make Your Money Work for You
More From GOBankingRates
Make Your Money Work for You