How to Save Thousands as a Digital Nomad by Moving Abroad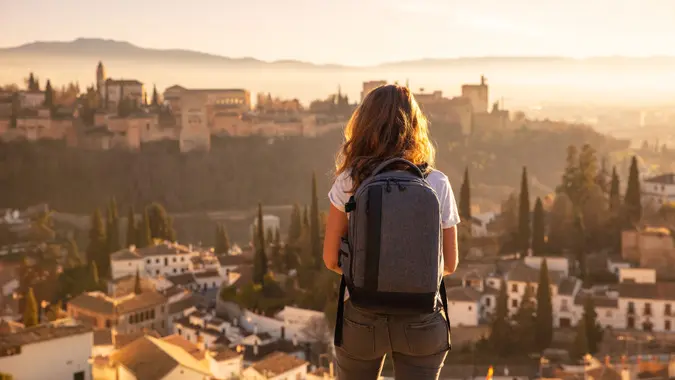 margouillatphotos / Getty Images/iStockphoto
America, long known as a country built on immigrants, is seeing a big flip of the switch lately as millions of people across the nation are now looking to emigrate elsewhere. According to the Association of Americans Resident Overseas, there are 8.7 million Americans now living abroad — and the number is growing, especially as Mexico becomes a huge spot for expats (1.6 million now live south of the border as of 2022 according to Bloomberg). 
In fact, the Washington Point points to recent Gallup polls that show that 15% of residents say they want to move permanently. There are many reasons – tenuous election cycles as of late, the overturning of Roe V. Wade and taxes are among the tops. Even Business Insider noted that many American millionaires are choosing to go international to "future proof their wealth" as instability in the U.S. (financially and otherwise) continues to be a problem.
But is it actually more affordable? Frankly, yes.
Make Your Money Work for You
As GOBankingRates.com recently reported, there are even 10 places across the globe that have such low costs of living, you could quit your job. Among them are Uruguay, Malta, Spain, Mexico, Portugal and Costa Rica.
The cost of living has been surging in the U.S. in recent years and has not been helped by the rampant inflation that has taken hold the past year and a half. According to Upwardli, the average monthly living expenses for a single individual tops $3,189 a month; for a family of four that goes up to $7,095. That's some people's salaries in other nations.
Of course, that's because America is one of the most developed countries in the world and living abroad won't always have the same comforts. But if you're willing to forgo some of the modern luxuries and live more simply, you can do so at a much more affordable cost. With the era of "digital nomading" — aka people that work remotely and can therefore lay roots anywhere, moving overseas has become much more commonplace. CBS and CNBC both recently spoke with several Americans who have done so.
Make Your Money Work for You
"I think with COVID, it accelerated everything. It's never been easier to be a nomad just because there's so many services catered to nomads," said one person CBS spoke to, who noted that, with remote work becoming more of a standard post-pandemic, people have been realizing they are not tethered to a certain location. The software engineer, David Tan, said he only pays $500 in rent now, compared to the $4,000 he used to pay to live in San Francisco, and has lived in 15 different countries since 2019.
Portugal in particular has become a hot spot for many with generous live/work visas, lost cost of living, reliable Wi-Fi and easy access to other European countries. GOBankingRates.com also reported that a large number of Americans now retiring to Portugal, citing the country's great healthcare system and tax incentives.
If you're ready to take the plunge, there are some things to consider first, according to those who've done it:
Do your research on visas. Every country operates differently, whether they allow 30- or 60-day visas or more permanent options for anyone planning to stay outside of a three-month window. You'll need to fill out the right paperwork, so leave some time to get it approved and be ready to pay a fee. Travel Noire says Australia's fee is the highest at $232 and they point to the Travisa site which has a helpful tool for figuring out the exact parameters for any country you're looking to go to.
Be ready to part with your stuff. Shipping internationally is not cheap and can cost more than $12,000 according to Travel Noire. Your best bet is to shed your belongings and live more minimalistic especially if you plan to be more nomadic and move from country to country. Invest in a good storage unit for anything you want to keep.
Rent, don't buy to start. Many expats have said that renting is the way to go when you first move to a place before entering into anything more permanent. This way you can get more of a feel of your new homeland and make sure it suits you before buying property. And don't sign any lease on an apartment before seeing it first as residences can be very different in other countries from what you might be used to in America.
Stay in one place for a bit. This will help you save money, says one digital nomad CNBC spoke to. "Slow travel, namely spending more time in one place, allows you to save a ton of money, because it's usually the transport (plane tickets) that dry out the bank account."
Find a smart side gig. Another international resident CNBC spoke to said she found a side gig that paid her well and gave her housing – pet sitting. "This is one of my favorite ways to travel as I get to spend time with animals. My only costs for that month are food, transport and any extra activities I want to do."
Avoid certain countries during specific times of year. For example, you probably don't want to be in Thailand during June-August when it's incredibly hot and subject to monsoons. Europe is also not the best during summer because prices are at a premium.
Make Your Money Work for You
More From GOBankingRates