I Wanted to See the World — So I Made Travel My Job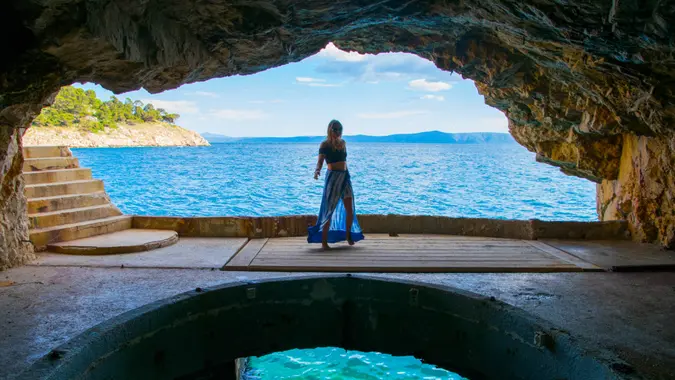 Kimmie Conner / Adventuresnsunsets.com
Good job benefits are very important — and should probably be a given — but they seem to be increasingly difficult to find in today's career culture. In a world where a lot of jobs are moving from full benefits to freelance, it seems that we will never actually get that much-anticipated 401k. And with talk of companies firing their employees and rehiring them through an agency, sometimes it's tough to even have hope to get solid health insurance through our jobs.
But before you throw in the towel completely, remember that there is actually a wide range of job benefits out there, depending on what you do. In fact, I was able to travel a lot of the world on the cheap because of benefits I received from working at a global travel company. I may not have a retirement plan or full-coverage insurance right now, but being able to both work and take tours in multiple continents has saved me tons of money on travel.
Click to read more about employee benefits to get amped about.
I worked as a tour guide on Croatia sailing tours for a few years, with a company that runs tours in six continents. Working as a tour guide in Croatia allowed me to earn money while living in and getting to know an absolutely beautiful part of the world with rich history. I worked most of the time but was able to spend a few weeks per season traveling around the area: Serbia, Bosnia, Slovenia, Italy, Montenegro and more.
Perhaps one of the best parts about working for this global company: While my crew card was still valid (as I was still a contractor of course), I was able to take other tours they ran at a whopping 70-75 percent off.
Make Your Money Work for You
More on Perks of the Job: Travel Stipends and Other Awesome Benefits from Top Companies
This is why I jumped at the chance to take a month-long bus tour of Australia and a six-week overland camping tour through seven countries in Africa. Accommodation, at least half of my meals, and many amazing activities and destinations are accounted for on long tours like this. So, I basically only had to pay 25-30 percent of the total cost, plus any optional activities, non-included meals or souvenirs I wanted — a mere fraction of the typical cost.
I would never have been able to afford to see many of the places I have seen if not for my seasonal job with that travel company. So, the moral of the story is: If you love to travel and may be in for a career change or something a bit different, look into jobs at travel companies.
There are many different companies that run tours all over the globe, with positions available in every field imaginable. I personally worked as a tour guide, but companies like this will also always have more permanent jobs available in everything from marketing, PR and social media, to finance and accounting. All of these would allow you the amazing benefit of world travel at a lower cost than you could ever manage even backpacking.
Make Your Money Work for You
There are also similar benefits for travel agents and airline employees, and even more travel-related fields, if you wanted to get a bit more creative with it. Travel agents may be able to test out the products they sell, while airline employees, of course, are able to save tons of money on flights.
There you have it! Working for a travel company really did enable me to travel the world for a fraction of the price, and maybe it could do the same for you.
Click through to read more about jobs that offer amazing benefits and don't require a degree.