How To Visit National Parks on a Budget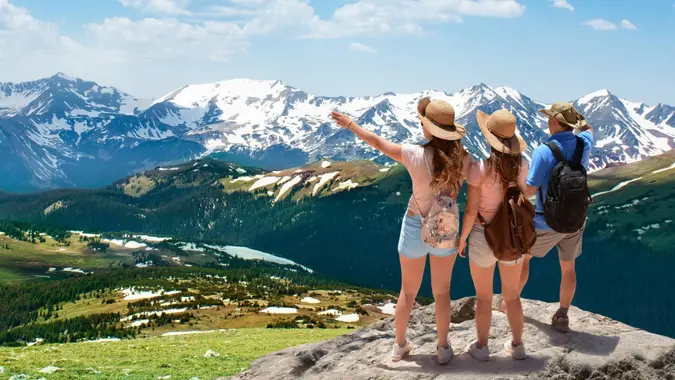 MargaretW / Getty Images/iStockphoto
The end of summer is approaching and many travelers are trying to squeeze in one last visit or two to national parks. Ideally, travelers will try to keep these visits within their budgets too.
The Future of Finances: Gen Z & How They Relate to Money
Explore: Your Biggest Money Etiquette Questions Answered
What are some of the best ways to save money while visiting national parks? Here's what to know before you go.
Look for National Parks Without Entrance Fees
While many national parks charge an entrance fee to enter, there are some that do not.
Morgan Overholt, editor at TheSmokies.com, recommends knowing ahead of time which national parks don't charge an entrance fee. Overholt offers a few examples, including the Great Smoky Mountains in North Carolina and Tennessee, North Cascades National Park in Washington and Redwood National Park in California.
While lesser fees, like those related to parking and camping, may still apply, Overholt said the lack of an entrance fee makes these national parks much more budget-friendly than other options. You can find information on which parks charge entrance fees on their websites.
Make Your Money Work for You
Purchase the 'America the Beautiful' Annual Pass
Frequent visitors to national parks may purchase the America the Beautiful annual pass. The National Parks & Federal Recreational Lands annual pass costs $80. Pass holders receive access to more than 2,000 recreation areas managed by five Federal agencies. Up to 100% of the proceeds are used to improve and enhance visitor recreation services.
Take Our Poll: How Do You Typically Split the Restaurant Bill?
You may purchase the pass if you are 16 years of age or older. Each annual pass can have up to two "owners" with children under 16 always admitted free. Before purchasing a pass, it is highly recommended that park visitors call a site to verify they are still issuing the passes prior to obtaining an annual pass. Passes are non-refundable and valid for one full year from the month of purchase.
Veterans: See if You Qualify for Free Lifetime Access
Military personnel and their families are invited to enjoy national parks for free. Gold Star Families and U.S. military veterans are eligible to receive free lifetime access to more than 2,000 federal recreation areas. These include forests, wildlife refuges and national parks through the free Military Pass.
As stated on the National Park Service (NPS) website, the Interagency Annual Military Pass provides free entrance to national parks and other federal recreation areas to current U.S. military members and their dependents, U.S. military veterans and Gold Star Families.
Make Your Money Work for You
A veteran, for the purposes of this program, is identified as an individual who has served in the U.S. Armed Forces. This includes the National Guard and Reserves. Gold Star Families are next of kin of a member of the U.S. Armed Forces who lost his or her life in a "qualifying situation," such as a war, while serving with the U.S. Armed Forces. 
There is also a Lifetime Pass available to veterans and Gold Star Families to national parks and other eligible federal recreation areas. For more information about the Interagency Military Pass Program or the Lifetime Pass, the NPS encourages visiting the USGS Pass Store and reviewing Military Pass Frequently Asked Questions.
Visit on Fee-Free Days and During the Offseason
Stick to your budget by planning a trip to a national park on its fee-free days! You can learn more about which days will offer free admission to everyone by visiting the NPS website for more information. These dates vary each year, so mark your calendar accordingly for entrance fee-free dates specific to the calendar year.
Make Your Money Work for You
Another helpful tip is to visit a national park during its offseason. Seasonal trips are usually packed with visitors and may have higher rates than usual for lodging, tours and restaurants. Traveling in offseasons, like spring and fall, allows you to save more money on transportation and food without sacrificing the beauty and enjoyment of the visit to these parks.
More From GOBankingRates
Make Your Money Work for You