How Your Hotel Stay Will Be Different When Traveling Post-Pandemic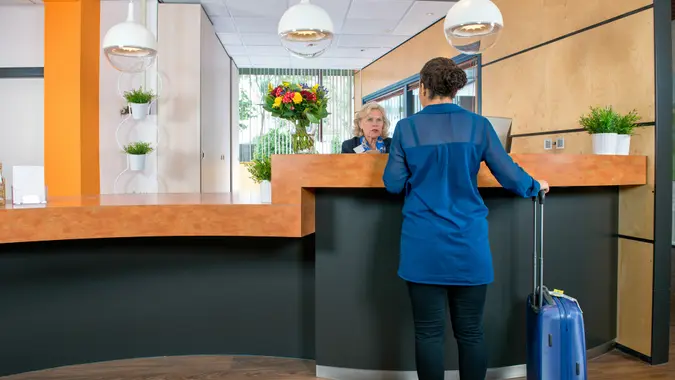 Corepics VOF / Shutterstock.com
More than 120 million Americans have received COVID-19 vaccinations, giving them the all-clear to travel, provided they adhere to the TSA's federal requirement that they continue to wear face masks at airports, as well as on buses, trains and commercial flights through Sept. 13 (at least). Now, after more than a year of being hunkered down to avoid catching and spreading the deadly virus, Americans are ready to enjoy travel, as we can ascertain from hotel reservations, which are spiking.
2021 Small Business Spotlight: Don't Miss Out on Nominating Your Favorite Small Business To Be Featured on GOBankingRates — Ends May 31
"We're seeing a significant surge in hotel bookings right now, from limited service to luxury accommodations, as we approach summer and people plan their domestic vacations or international travel plans," said Bruce Rosenberg, COO, HotelPlanner. 
While this is great news for the hospitality industry, it's not so great for the budget-conscious consumer. 
"Several headwinds are at play with respect to costs that travelers may not expect this year," said Rosenberg. "Many hotels are challenged with re-staffing to keep pace with increased demand. As a result, some are charging higher rates beyond normal summer rates."
Make Your Money Work for You
In order to stay afloat during the pandemic, as well as to survive beyond it, hotels have had to leave rooms empty to ensure social distancing and other costly COVID-19 protocol such as hand sanitizer stations. Guests could bear some of the burden of these investments. This could come in the form of "COVID surcharges" on your hotel bill. 
Read: How To Plan Future Travel Without Risking Your Deposits
"If you look closely at the cost breakdown of your next bill, be it at a restaurant or a hotel, you (may) see a 'COVID surcharge' of around 3%," said Monique Soltani, of wine, travel and lifestyle show Wine Oh TV. "Some of the hotels are going even higher. So look closely and do your homework and keep your expectations very low and you will have a good time. Forget about the idea that you get what you pay for or the customer is always right. Just know you will be paying way more than you should for the luxury of leaving your house and consider it a sunk cost or an opportunity cost of finally experiencing something new and different."
Travelers like Sandra McLemore have already suffered an increase in prices during their hotel stay. 
"Last week I stayed in a high-end suite/hotel in Honolulu," McLemore told GOBankingRates. "Our stay cost significantly more than in previous years. It seems that the pent-up desire to travel has created a supply-and-demand situation that has increased pricing."
See: Here's What Hotels Are Doing Now To Ensure Guests Can Book With Peace of Mind
McLemore observed other downsides to her recent hotel visit, such as unannounced closures of hotel restaurants and room service, long lines to access swimming pools, limited gym and spa access and exorbitant rental car prices, to name but a few. 
Make Your Money Work for You
Some hotels, like Domaine Madeleine in Port Angeles, Washington, have decided to implement cancellation fees that weren't already in place before the pandemic — a choice they were cornered into making by credit card companies. 
"Credit card companies killed us with fees both accepting credit cards and fees again to provide refunds during the pandemic," said Stephen Fofanoff, general manager of the luxury inn. "We couldn't survive without adding a cancellation fee to cover those new costs we were incurring for guests who didn't even end up staying with us."
Check Out: 10 Credit Cards To Consider for Travel Rewards
Respectful of the unpredictable nature of the time we're living in, Domaine Madeleine has also plugged in the ability for customers to reschedule their stay at no charge. 
"So our policy is much more flexible than it was in the past (with the ability to reschedule up to three days before check-in)," said Fofanoff. "I think we're going to see increased flexibility continue in cancellation policies, but we will see rates increase as demand for travel increases and hotels attempt to retain quality employees with higher wages and increased benefits than before."
Make Your Money Work for You
Other factors that could put an expensive dent in travelers' plans this summer include circumstances not directly related to the pandemic, such as soaring gas prices and the abrupt shortage of fuel in parts of the country due to the sudden shuttering of the Colonial Pipeline due to a ransomware attack.
More: 30 Locations With the Priciest Vacation Rentals
"The entire Southeast region just experienced a temporary, yet unexpected, supply shock at the gas pump due to the Colonial Pipeline ransomware attack which shut down about 45% of all energy to the region," said Rosenberg. "Potential fuel insecurity concerns could not only affect supply chains but summer travel and related hotel bookings. We're watching this closely."
Another potential thorn in the side of travelers is the fact of inflation as the economy is rejuvenated. 
Learn: What Is Inflation and What Does It Mean When It Goes Up or Down?
"U.S. consumer prices jumped 4.2% this year, the highest annual inflation rate in 13 years," said Rosenberg. "People will still take their vacation, but will look for additional cost savings and cost-conscious travel and accommodation options."
More From GOBankingRates
Last updated: May 18, 2021
Make Your Money Work for You