I Moved to Mexico: Here Are 7 Money-Saving Tips for Living Comfortably Abroad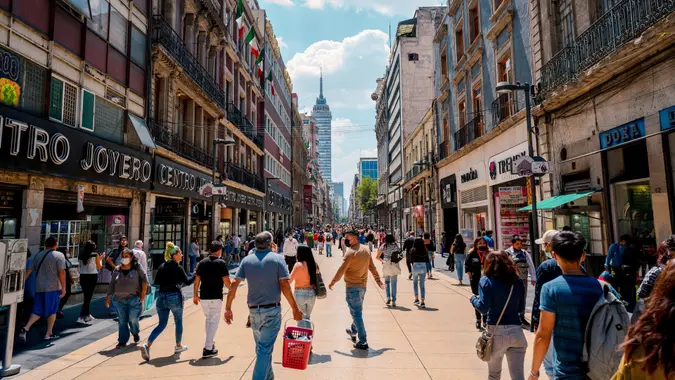 Victor Segura Garcia / iStock.com
James Taylor's song lyrics go: "Oh, Mexico. I've never really been, but I'd sure like to go." Wouldn't we all? Mexico remains one of the hottest destinations in the world. From its beautiful landscapes, rich history and culture, and fantastic food scene, there are many reasons to visit Mexico.
Could you ever imagine yourself living in Mexico? Lots of expats take the leap and leave their homes abroad to settle into cities, villages and towns all over Mexico. When you go as a visitor, there's plenty of ways to save money on your trip for a short period of time. However, it's a different story when you uproot your entire life and need ways to save.
GOBankingRates spoke with Anna Koval, the co-founder and CMO at Tarotoo, who moved to Mexico City in 2018 to "experience a different culture and lifestyle, as well as to save money and enjoy a better quality of life." Here are some of her best money saving tips for living comfortably abroad in Mexico.
Rent an Apartment or a Room in a Local Neighborhood
Koval said she rents "a one-bedroom apartment in Roma Norte, a trendy and artistic neighborhood in the center of the city, for about $650 per month, which is much lower than what I used to spend in the U.S."
Make Your Money Work for You
She recommends living somewhere that's really a part of the community as opposed to a touristy or expat area. "You can find cheaper and more authentic options on websites like Airbnb, Facebook Marketplace or local classifieds," Koval said. "You can also negotiate the rent and utilities with the landlord or the host, especially if you plan to stay for a longer period."
Use Public Transportation or Ridesharing Apps
Skip taxis or rental cars. "Mexico City has [an] extensive and affordable public transportation system, including metro, bus, tram and bike," Koval shared. "You can also use apps like Uber, Didi or Beat, which are cheaper and safer than taxis. Avoid renting a car, as it can be expensive and stressful to drive and park in the city."
Eat at Local Markets or Street Stalls
If you are going to live in Mexico, you should get used to eating real, authentic Mexican cuisine, which can be found literally outside your door.
"You can find delicious and cheap food at local markets or street stalls, where you can try a variety of dishes and snacks, such as tacos, tortas, quesadillas, tamales, elotes, etc.," said Koval. "You can also buy fresh fruits, vegetables and other groceries at these places. Avoid eating at restaurants or fast food chains, as they can be overpriced and unhealthy."
Shop at Local Stores or Flea Markets
Malls? Supermarkets? Forget the big stores and go little, as well as local.
"You can find unique and affordable items at local stores or flea markets, where you can bargain and haggle with the sellers," explained Koval. "You can also find souvenirs, handicrafts, clothing, accessories and other things at these places. Avoid shopping at malls or supermarkets, as they can be expensive and generic."
Make Your Money Work for You
Learn Some Spanish
Then use it — with your neighbors, your friends and everyone in the community. It will not only enhance your experience, but save you money in the long run.
"You can find free or cheap online courses or apps to learn Spanish, such as Duolingo, Memrise or Busuu," suggested Koval. "You can also practice your Spanish with the locals, who are usually friendly and helpful."
Safety can also play a factor. "By speaking Spanish, you can avoid being scammed or overcharged by vendors or service providers who may take advantage of your lack of language skills," Koval said. "You can also make friends and connections with the locals, who may offer you discounts or tips on how to save money in Mexico."
Travel Within Mexico or to Nearby Countries
Though you might not be living at home, that doesn't mean you won't need a vacation or want to travel. Instead of going back to your country of origin, see what's around Mexico and nearby.
Koval explained that there are "amazing and affordable places to visit within Mexico or [in] nearby countries, such as Guatemala, Belize or Colombia. You can use Skyscanner or Kiwi to find cheap flights, or use buses or trains to travel by land. You can also use apps like Airbnb to find cheap accommodation, or use Couchsurfing or Workaway to stay with locals or volunteer in exchange for a place to stay."
Make Your Money Work for You
As an example, Koval shared, "I have traveled to Oaxaca, Guadalajara, Merida, Cancun and Tulum in Mexico, and to Antigua, Flores and Tikal in Guatemala, and I have spent less than $1,500 per trip, including transportation, accommodation, food and activities."
Take Advantage of the Free or Discounted Events and Attractions
There's a ton of free or discounted events and attractions in Mexico City and other cities, such as museums, parks, markets, festivals, concerts, etc. If you've exhausted those, Koval recommended turning to "apps like Groupon, Cuponeria or Promodescuentos to find deals and coupons for various services and products."
"I have visited the National Museum of Anthropology, the Chapultepec Castle, the Frida Kahlo Museum and the Zocalo for free," Koval shared. "I have attended the Day of the Dead parade, the Cervantino festival and the Corona Capital concert for a very low cost."
More From GOBankingRates