Is It Cheaper To Book Hotels Directly or Through Deal Sites?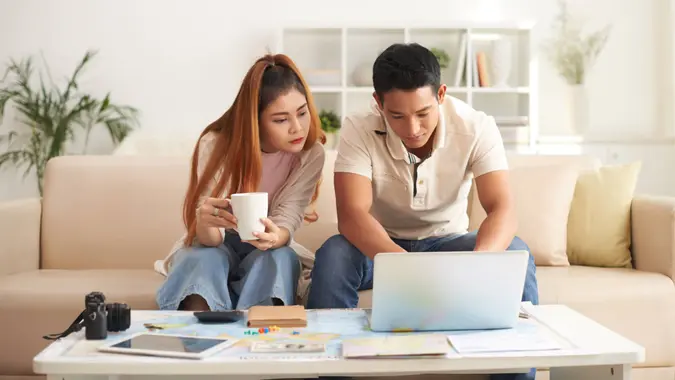 Dragon Images / Shutterstock.com
There are several different options available to travelers who are looking to book a hotel stay. Some may decide to book directly through the hotel while others may book through a hotel-based deal website. 
How do you know which option is the most affordable and provides the most benefits to travelers? When booking travel, is it cheaper to book hotels directly or through deal sites?
The Best Option? Booking Direct
Whether you're planning for an overnight stay or several days on a vacation, there are several reasons why travelers should skip the deal sites in favor of booking a stay directly through the hotel. 
Take Our Poll: Are You Concerned About the Safety of Your Money in Your Bank Accounts?
No Hidden Fees
Travelers who book directly are not subjected to paying hidden fees. Mark Simpson, founder of Boostly, said using online travel agents (OTAs) through third-party deal websites adds around 15% in guest service fees to the overall cost of a stay. 
Make Your Money Work for You
Booking directly is a win-win for guests and hotels. Simpson said guests can save up to 30% when booking their stay and hotels skip the expensive commission fees associated with OTAs and pocket their profits.
You Can't Earn Brand Rewards Points
Are you a hotel rewards member? If you're booking through an OTA, you won't be able to earn more points.
Jairah Ramirez, director of sales at Moxy Phoenix Downtown | Marriott Bonvoy, uses the example of a guest who is a Marriott Bonvoy Member. If they book a stay at a Marriott hotel through a deal website, they will not receive any Bonvoy points. 
The best option is to book directly through the website where members can receive their rewards points.
"The more you stay with the brand, the more points you can accumulate to be able to redeem toward a free night stay, and you can achieve higher statuses within the brand depending on how many nights you stay or money you spend within a given year," said Ramirez.
It's Harder To Get Help With Reservations and Cancellations
If you booked your stay through a third party, Ramirez said it will be much harder for front desk staff to help you with your reservation. This is also true of any cancellations you may request and payments or refunds you'd like to receive if you used an OTA.
Make Your Money Work for You
In many cases, Ramirez said the staff will be unable to help you and you'll need to go through the third-party website for assistance.
Booking Direct Offers Additional Incentives
There are several incentives, big and small, available to travelers who book directly with their hotel. Simpson said many hotels will price-match the big deal sites or even promise to discount by a certain amount. Additional perks may include a later checkout time, free Wi-Fi or a discounted rate on your next stay.
More From GOBankingRates
Make Your Money Work for You