JetBlue Vacations: Are They a Good Deal?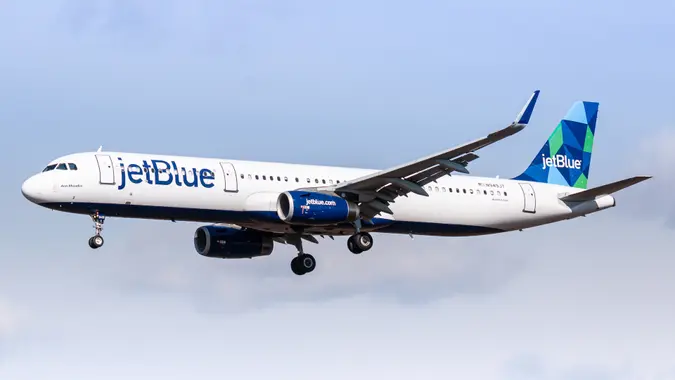 Lukas Wunderlich / Getty Images
Summer's here ⁠– a time for planning much-needed vacations. There are numerous ways to plan a trip this summer, including discount booking sites that can save a great deal on travel costs. One such bundling service is JetBlue Vacations, offering money-saving travel packages from the well-known cost-effective airline, JetBlue.
What Is a JetBlue Vacations Package?
JetBlue Vacations packages give customers personalized travel bundles that include flights, car rentals, hotel bookings and more. 
They also provide VIP travel incentives in the form of "Very Important Perks" and in-destination offerings known as "The Insider Experience" for eligible locations. Both unique benefits provide travelers with truly one-of-a-kind vacation experiences.
Is JetBlue Vacations Worth It?
While other sites may offer affordable options, JetBlue Vacations provide benefits and perks that aren't guaranteed anywhere else. Here's what JetBlue Vacations have to offer.
Easy Planning
The first is convenience. JetBlue Vacations are customizable packages with round-trip flights, cruise lodging or hotel rooms and car rentals. These packages make it easy for customers to plan and save on their next vacation. 
Standard Perks
JetBlue Vacations also give customers perks that come standard in the trip packages they provide. Consider these when comparing other booking sites: 
A Customer Assurance team ensures trips occur without complications and will reach out if any emerge.
No typical change fees for air travel for changing reservations up to seven days before departure.
Early boarding for JetBlue Vacations customers. 
A complimentary in-flight alcoholic beverage. 
"VIP" Treatment
Included with standard benefits, JetBlue Vacations packages offer Very Important Perks that are exclusive to JetBlue Vacations customers. These perks include: 
Discount prices on hotel rooms and restaurants
Free airport transfers
Guaranteed late checkout
Complimentary minibar access
Free resort credits
Make Your Money Work for You
Keep in mind that perks differ depending on vacation packages. They are marked with the "Very Important Perks" flag on the JetBlue Vacations website. 
The Insider Experience
JetBlue Vacations also come with "The Insider Experience" in select vacation packages, particularly for those in Aruba, Punta Cana and Cancún.
This experience involves customers receiving assistance directly from local experts — insiders trained to provide excellent hospitality and customer service — as soon as they arrive.
Are JetBlue Vacations a Good Deal? 
Considering everything that JetBlue Vacations provide, the question remains whether their travel package deals are worth it. They come with amazing perks that are standard for all packages. In addition, "The Insider Experience" benefits create local connections and unique vacation experiences for customers.
Overall, if a JetBlue Vacations package is lower in price than other sites, it is definitely worth it — although guaranteeing a great deal requires shopping around other sites.
How Do JetBlue Vacations Deals Compare to the Competition?
To see how much JetBlue Vacations packages are worth, let's compare a trip package to Cancún with another from Expedia.
JetBlue Vacations vs. Expedia: Fort Lauderdale, FL to Cancun, MX
If one were booking a five-day, four-night trip to Cancún between late August and early September, for example, JetBlue Vacations would be the better choice than Expedia.
In this case, JetBlue Vacations offers a similar package with better benefits than Expedia and at a lower price. Below is a chart that lays out the differences: 
Make Your Money Work for You
JetBlue Vacations
Expedia
Price for two travelers
$1,280.56
$1,557
Benefits
– Two round-trip flights from Fort Lauderdale to Cancún
– Early boarding and complimentary drink
– Four nights all-inclusive stay at Iberostar Quetzal
– Romantic dinner for two
– Hydrotherapy for two
– Complimentary bottle of wine
– Two round-trip flights from Fort Lauderdale to Cancún
– Airport shuttle
– Four nights all-inclusive stay at Sandos Cancún
– Two-hour cruise and ocean tour
JetBlue Vacations vs Expedia: New York, NY to Punta Cana, DR
Another comparison for a late August five-day, four-night vacation in Punta Cana, Dominican Republic, shows that a beach escape package from Expedia is slightly more expensive than a similar package from JetBlue Vacations.
Though this JetBlue Vacations package only costs $41.20 less than Expedia's, it comes with "Very Important Perks" that can make a significant difference. Here's another chart for comparison:
JetBlue Vacations
Expedia
Price for two travelers
$1,235.80
$1,277
Benefits
– Two round-trip flights from New York to Punta Cana
– Early boarding and complimentary drink
– Four nights at Dream Punta Cana Resort and Spa
– $100 resort credit 
– Hydrotherapy for two
– Complimentary bottle of wine
– Two round-trip flights from New York to Punta Cana
– Airport transportation
– Four nights at Coral Suites Beach Club and Spa
– Horseback riding
The Pros and Cons of JetBlue Vacations
JetBlue Vacations is a worthwhile way to book an upcoming trip, but it's important to understand its drawbacks. To make an informed decision, here are the advantages and disadvantages of JetBlue Vacations.
Pros
There are many benefits to booking through JetBlue Vacations, but here are a few to consider: 
Best vacation prices: Customers will get the best prices for their trip or receive the difference through credit. 
Assistance from travel experts: Trained experts are available 24/7 to discuss vacation plans down to the last detail.
No change or cancellation fees if upgrading: If they are upgrading their airfare to a JetBlue Vacations package, customers will not incur a change fee.
Make Your Money Work for You
Cons
JetBlue Vacations offer many great perks and benefits when booking trip packages through their service. However, here are some downsides to think about before booking: 
Limited number of destinations: Fewer destinations have deals than other travel sites.
Low chances of receiving "Very Important Perks": Only select hotels and resorts have Very Important Perks. 
Few opportunities for "The Insider Experience": Few locations include Insider Experience assistance from affiliated locals.
How Do I Book Through JetBlue Vacations?
Booking a JetBlue Vacations package is easy. Here's how it is completed online: 
Visit the JetBlue Vacations website.
Select a preferred vacation package.
Provide a departure and arrival destination, dates, rooms needed and the number of travelers. 
Search packages and select the best deal. 
Bookings can also be done over the phone anytime at 1-844-JB-VACAY (528-2229). Cases in which itineraries have more than one destination or more than seven travelers will require over-the-phone booking. These cannot be made within 72 hours of departure. 
What Are The Best Credit Cards for JetBlue Vacations?
Using the right credit card to book a trip through JetBlue Vacations can be rewarding. Of course, this depends on the particular perks that come with the card. To get the most out of booking through JetBlue Vacations, consider these credit cards:
Card
Benefits
Annual Fee
JetBlue Mastercard
– 3x points on eligible JetBlue purchases
– 2x points on restaurants and eligible grocery stores
– 1x points on all other purchases 
No annual fee
Chase Sapphire Reserve Card
– 3x points on every dollar spent on travel after the first $300 spent on annual travel purchases
– $300 annual travel credit for offsetting JetBlue flight purchases
– 60,000 bonus points after spending $4,000 on purchases in the first 3 months of opening an account
$550
Citi Premier Card 
– 3x points at restaurants, supermarkets, gas stations, airfare and hotel purchases
– No foreign transaction fees
– Access to Citi transfer partners
$95
Make Your Money Work for You
Takeaways
JetBlue Vacations is an excellent travel service to consider when booking a trip or getaway. Certain packages have incredible deals and savings that can transform a vacation experience entirely. However, they are limited. 
Overall, the best thing to do is keep JetBlue Vacations in mind with other booking sites when seeking the best deal possible.
Pricing and promotional information is accurate as of June 17, 2022.
Editorial Note: This content is not provided by JetBlue. Any opinions, analyses, reviews, ratings or recommendations expressed in this article are those of the author alone and have not been reviewed, approved or otherwise endorsed by JetBlue.