Take the Journey of a Lifetime With These Around-the-World Trips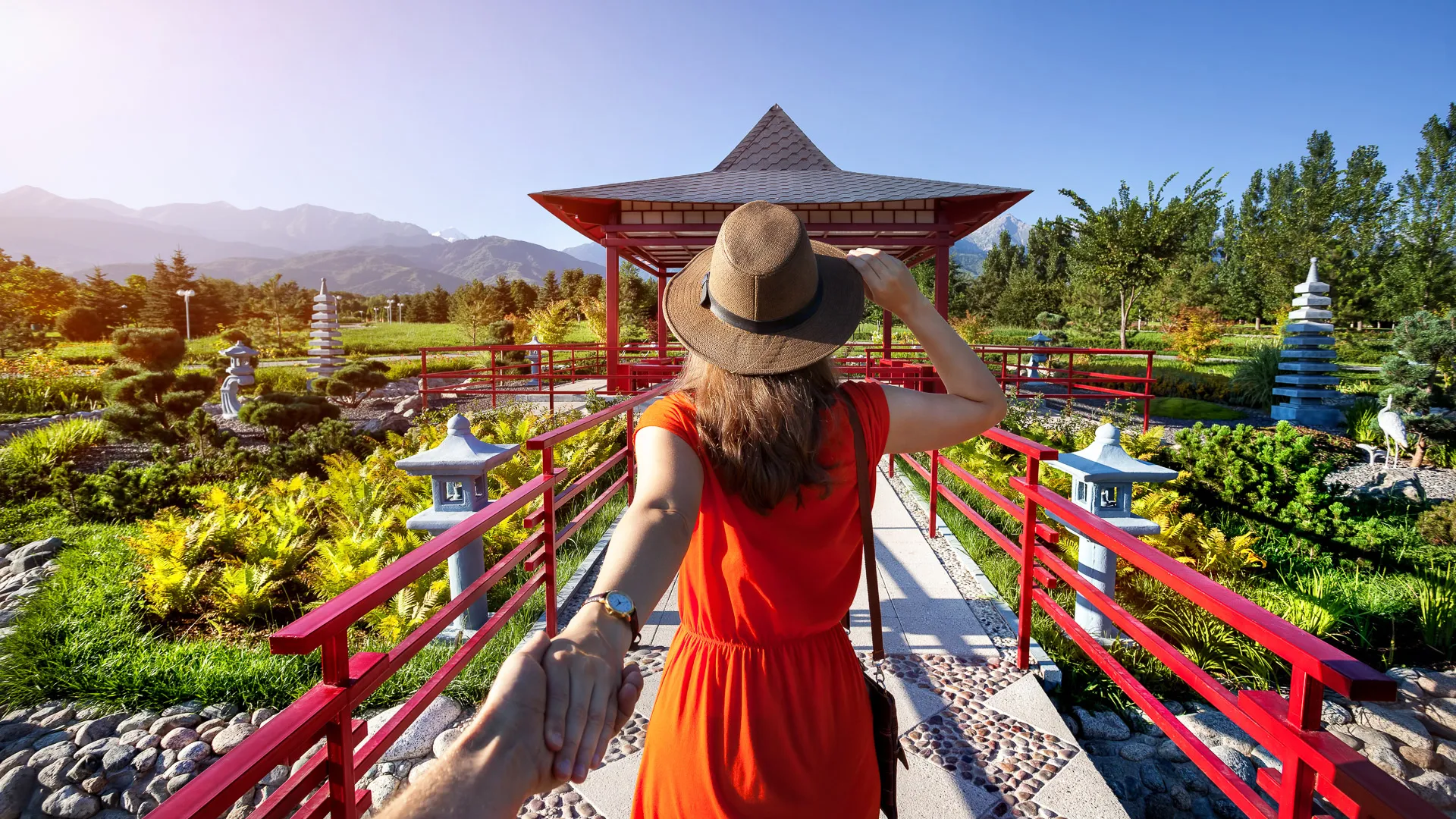 Traveling around the world costs real money — even apart from the inevitable chunk of time off you'll have to take. The travel planners at AirTreks estimate globe-spanning plane tickets usually cost around $2,500 to $3,500 per person, including taxes. Taking a whole year to explore the planet rings in at an average cost of $20,000 to $30,000.
Although it's wise and practical to put your money where it might gain interest, it might be better for the soul to see the world. Read on to see seven trip packages that can help you turn your money into a once-in-a-lifetime experience.
Mini Global 360 — Gap 360
Package Cost: Starting at around $4,769 per personDuration: 14 to 20 weeksWhat's Included: Most accommodations and most meals, cost of the key attractions and activities
Gap 360 pitches the Mini Global as a "perfect, pocket-sized" tour, especially for adventurers who want to travel the world on a budget. A handful of options let you customize your itinerary, but all trips start in Bangkok and Bali. To get the most out of the globe, opt for the package that jets over to Australia and then New Zealand before ending up with the quintessential American road trip throughout the Southwest.
Along the way, you'll make friends with elephants at the Khao Sok National Park, visit temples in Ko Pha Ngan and weave baskets and feed monkeys in Bali. Your Aussie visit takes you cave diving and dune surfing. Once you're back home in the States, you'll gamble and gawk at canyons from Las Vegas to San Francisco.
Estimated Total Cost: Round the World Tours recommended budgeting for about $50 daily per person for food costs and other expenses, and Statista found the most recent average nightly hotel rate to be $124. So adding a roughly estimated $400 for the food and lodging not included, plus about $962 for round-trip economy airfare from and to the U.S., this trip will cost you over $6,000.
Make Your Money Work for You
Travel the Seven World Wonders — Round the World Tours
Package Cost: Starting at $3,498 per person for airfare onlyDuration: Variable; 10-day minimum, one year maximumWhat's Included: Baseline costs only include your plane ticket
If traveling the globe is all about checking off your bucket list, Round the World Tours' Travel the Seven World Wonders package might just be your ticket (pun intended).
This option sees you hopping around Italy, England, Mexico, Brazil, Australia, China, India and Jordan. Day trips include visits to all seven majestic monuments, including the Colosseum in Rome, Chichen Itza, the Christ the Redeemer statue, Machu Picchu, the Great Wall of China, the Taj Mahal and the ancient city of Petra.
Estimated Total Cost: Round the World offers land services — including double room accommodations and all your tours — for an added $7,378. For food and other expenses, budget at least $500 per person for a 10-day trip. With these costs plus your airfare fee, expect to pay at least $11,376 per person.
Five Continents — World Travellers' Club
Package Cost: 2017 departures start at $8,139 (or $9,749 with more spacious hotels) per personDuration: 30 daysWhat's Included: Airfare, 23 days of accommodations, some meals, guided tours of all sites
The Five Continents package from World Travellers' Club is a well-balanced Goldilocks of global vacation packages — not too long, not too short, not over-the-top adventurous, but certainly not docile.
This around-the-world ticket sends you to Buenos Aires, Rome, Cape Town, Bali, Sydney, Queenstown, Auckland and Fiji — all in a month. The included activities encompass the global spectrum, too. From sipping wine and learning to tango in South America to taking in an opera in Sydney, or visiting the Sistine Chapel and riding cable cars in Cape Town, you'll definitely come back home with some broadened horizons.
Estimated Total Cost: With an estimated $1,500 per person budget for food and other expenses not covered, and $868 for the seven nights you'll have to cover your own hotels, your total estimated price is a minimum of $10,500.
Make Your Money Work for You
Around the World in 80 Days Tour — Travel Nation
Package Cost: Starting at $14,180 per personDuration: 80 days (obviously)What's Included: All flights, all necessary accommodation, all excursions
Just in case you're a sucker for themed trips and Jules Verne, Travel Nation has you covered. On a more practical note, they also have you covered if you prefer a longer trip, but can't quite spare an entire year.
Around the World in 80 Days — which spans nine countries, including South Africa, Australia, the U.S. and Thailand — gives you plenty of time to sip in the sights, and you have a lot of sipping to do. The itinerary includes South African safaris, relaxing on the beaches of the Cook Islands, volcano tours and stays at quaint B&Bs in New Zealand. It also offers a combination of guided and self-driven tours for travelers with an independent spirit.
Estimated Total Cost: Travel Nation's around-the-world trip keeps it nice and neat — throw in $4,000 for estimated daily food and other costs, and you're looking at 80 days for about $18,180.
World Cruise Roundtrip — Princess Cruises
Package Cost: Starting at $19,999 per personDuration: 111 daysWhat's Included: All lodging, dining and transportation (all via the boat), as well as excursions
Maybe you prefer to use your sea legs than rack up frequent flier miles. For an alternative to airplanes, Princess Cruises' World Cruise Roundtrip lets you travel around the world with one all-inclusive seafaring package.
During 111 gently paced days, you'll visit more than 20 countries. This includes off-the-beaten-path destinations like San Juan del Sur in Nicaragua, Pago Pago in American Samoa, Cochin in India and Positano in Italy — plus Australia, the United Arab Emirates and Great Britain.
When you're not being pampered in your interior stateroom onboard the Pacific Princess, you can set off on 44 shore excursions you won't forget. Get ready to see Tayrona National Park in Colombia, the tallest building in the world in Dubai, the Picasso Museum in Barcelona and the Azores Islands in Portugal.
Estimated Total Cost: Just about the only thing Princess doesn't cover is the estimated $2,450 for taxes, fees and port expenses. Nor does it include round-trip airfare to Fort Lauderdale, Fla., which starts at $226. This brings your minimum cost up to about $22,675.
Ultimate 365-Day Adventure — Intrepid Travel
Package Cost: About $75,000 per personDuration: 365 days, as the name impliesWhat's Included: All air and land travel, all accommodations, some meals and all activities
This is it — you're ready for a gap year. At $75,000, Intrepid's Ultimate 365-Day Adventure seems outlandish, but consider that the average American spends about $55,978 per year on regular expenses, according to the U.S. Bureau of Labor Statistics. And that's without getting to dance in Morocco, so consider the value you're getting.
Intrepid's not kidding around with that whole "ultimate" thing, either. This around-the-world ticket covers 34 countries — from Argentina to Zimbabwe — and 150 different activities, most of which are of the hiking and exploring variety. Not for the faint of heart, the accommodations include beach huts and bush camps alongside hotels, and you'll find yourself tooling around on trains, boats and rickshaws, too.
Total Estimated Cost: Intrepid covers 612 of your 1,095 meals; spending an average of $15 for each of the remaining meals adds an extra $7,245 to your budget. The package doesn't include flights from and to home. So for airfare to the starting point, Bangkok, and from the endpoint, Buenos Aires, expect to pay at least $1,100. These additional expenses bring the total estimated cost to $83,345.
Around the World by Private Jet 2018 — Smithsonian Journeys
Package Cost: 2018 packages cost about $91,900 for a single personDuration: 24 daysWhat's Included: All private jet flights, meals, accommodations and activities — plus some philanthropic contributions for good measure
Let's get dreamy. Sure, rickshaws and boats are cool, but traveling the globe by private jet is a whole lot cooler. That's exactly what Smithsonian Journeys offers — if you have the cash.
Racking up a bill of almost $4,000 per day, this trip is all about luxury. Accommodations include venues like infinity-pool equipped Ritz-Carlton hotels and seaside eco-spas in Chile. Your first-class style flights pack in leather seats, Bose headphones and in-flight educational lectures.
The itinerary focuses on the themes of treasures and legendary places across five continents, with highlights like diving the Great Barrier Reef, exploring the treasures of the Medina in Marrakech, visiting the moai statues of Easter Island and taking in the rays among the temples of Angkor Wat.
Total Estimated Cost: Smithsonian covers everything but your flight to and from Orlando, Fla., which will tack on about $258. But if you can swing $91,900, you can probably swing $92,158.
All round-trip airfare estimated at July 2017 prices via Skyscanner, at best-value economy rates departing and returning to the United States via John F. Kennedy International Airport in New York City. Prices were current as of June 27, 2017.

BEFORE YOU GO
See Today's Best
Banking Offers