How Much It Costs to Visit the Most Historic Sites in America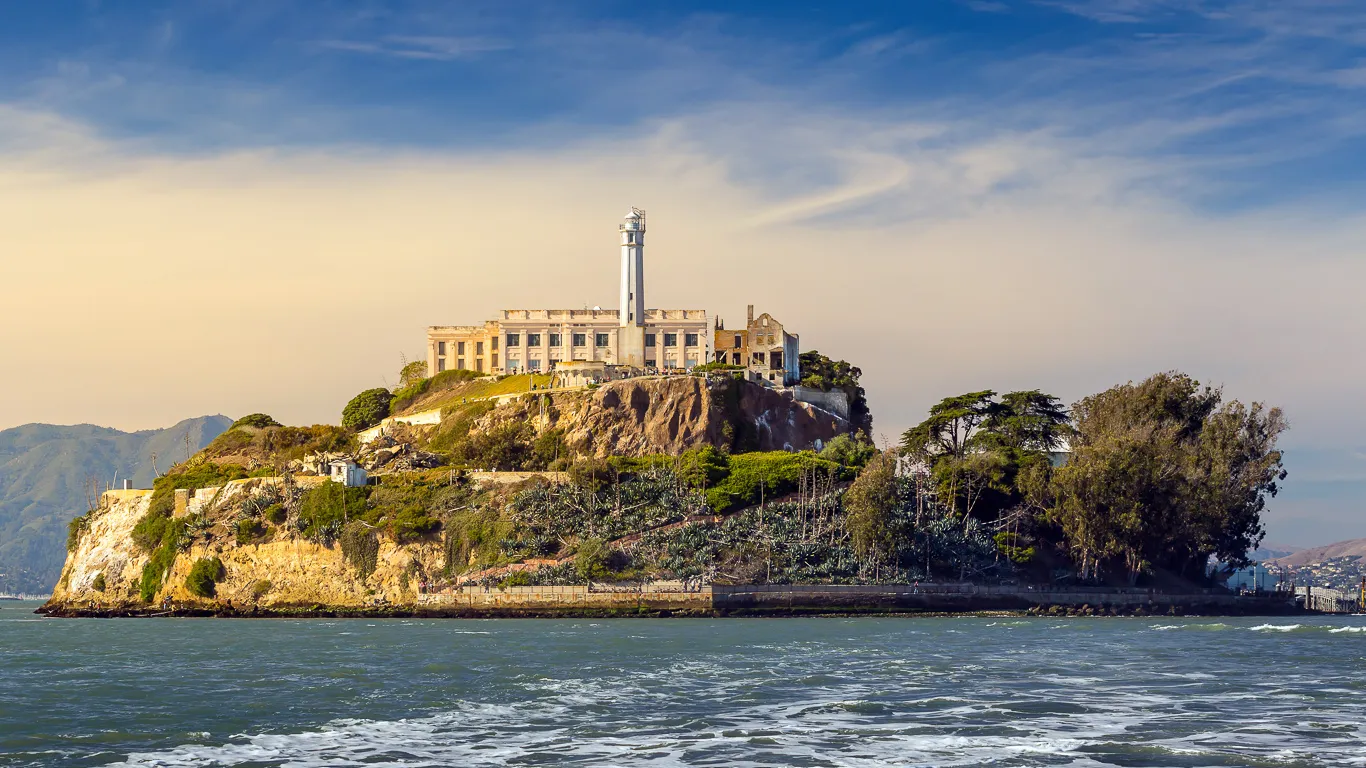 It's much more interesting to discover American history in person than reading about it in a book. You can walk in the footsteps of historic figures and touch artifacts and buildings from days gone by. Best of all, getting hands-on with historic sites can be some of the most affordable — and engaging — things you can do during your travels.
GOBankingRates scanned the country and found some of the most popular and significant historic sites to visit. Read on to see how to visit the most historic sites in America without spending a lot of cash.

1. Ellis Island
Cost to visit: Free admission + $18.50 ferry
There's one thing the 12 million people immigrating to the U.S. between 1892 and 1954 had in common. They embarked on the American dream at Ellis Island's immigration station in New York Harbor, near the feet of the Statue of Liberty. Today, you can visit this historic site, retrace your relatives' Ellis Island journey and see where detained immigrants slept 300 to a room.
There's no entrance fee, but you must arrive via ferry. Hospital tours cost $35, and access to the crown of the Statue of Liberty costs $3.
Discover More: Picture-Perfect Small Towns Across America
2. Lewis and Clark National Historic Trail
Cost to visit: Free
Follow in the footsteps of explorers Meriwether Lewis and William Clark along a trail that passes through 11 states. The trail starts at the Mississippi River in Wood River, Ill., and ends in Lewis and Clark National Historical Park in Oregon, where the Columbia River empties into the Pacific Ocean.
Although there's no fee for the trail, some sites along the way charge an entrance fee. Don't miss a thing by getting an America the Beautiful entrance pass, which gives you free admission to more than 2,000 federal recreation sites.
Make Your Money Work for You
3. Historic Jamestowne
Cost to visit: $14
Visit the site of the first permanent British colony on American soil at historic Jamestowne in Virginia. Retrace the grueling story of the settlers enduring cannibalism of some of their own residents and conflicts with Native Americans. Tickets to the attraction are valid for seven days and also admit you to Yorktown Battlefield.
4. White Horse Tavern
Cost to visit: Free + food and drinks
Go back to a time when government business and criminal court took place in a tavern. The White Horse Tavern in Newport, R.I., dates back to 1673. Sip suds in the same building once frequented by founding fathers, colonists, British soldiers, pirates and Hessian mercenaries. Better yet, make a reservation for lunch, dinner or Sunday brunch to savor time-tested treats like crispy heritage pork belly, duck Scotch egg or Rhode Island clam chowder.
5. Cahokia Mounds State Historic Site
Cost to visit: Free, but suggested donation
Once the largest prehistoric city north of Mexico, Cahokia Mounds — located in present-day Collinsville, Ill. — covered an area larger than London in 1250. People hauled more than 50 million cubic feet of earth in baskets to build the mounds, which rise 100 feet high. Wear comfy shoes to explore the extensive grounds.
6. The Alamo
Cost to visit: Free
You might remember the Alamo from history lessons on the Texas Revolution. The mission-turned-fort in San Antonio was the scene of just 186 Texians, Tejanos, Americans and Europeans fighting to the death to stop the advance of Mexico's President Santa Anna. A recent addition to the Alamo includes the Phil Collins Collection, which includes site artifacts collected by the famous musician over several decades.
7. The White House
Cost to visit: Free
Visit one of the most recognizable structures in the world on your trip to Washington, D.C. Take a free tour of the East Wing and residence of the White House. You must contact your member of Congress in either the House or Senate at least 21 days before you plan to visit. You can submit your request up to three months in advance to get the best chance of getting a ticket.
8. Union Oyster House
Cost to visit: Free + food and drinks
There's no cost to visit the Union Oyster House along the Freedom Trail in Boston, but you won't want to leave without trying some of their historic fare. Serving since 1826, the restaurant offers its namesake bivalve grilled, fried, on the half shell and Rockefeller. There's also a vast selection of other seafood as well as a few beef, pork and chicken dishes. Finish your visit to the city's oldest restaurant with hot Indian pudding, warm apple cobbler or homemade gingerbread.
Make Your Money Work for You
9. Aztec Ruins National Monument
Cost to visit: $5
Explore a half-mile trail leading through old ruins and see the 400-room Pueblo Great House at Aztec Ruins National Monument in Aztec, N.M. Overhead, 900-year-old timbers support the original roof, and the mortar walls show the fingerprints of the pueblo's original builders. Wander through the site's museum in the house of archaeologist Earl Morris and watch a 15-minute video about the site's original inhabitants.
This budget-friendly stop is a must-see ancient ruin you shouldn't miss.
10. Gettysburg National Military Park
Cost to visit: $9 and up
The famous Pennsylvania battlefield, also the site of Abraham Lincoln's Gettysburg Address, requires two full days if you want to see it all. Start at the visitor center to watch the film "A New Birth of Freedom" and the immersive Cyclorama painting with its sound and light show. Head to the museum to explore interactive exhibits and artifacts and take a guided tour of the battlefield.
On your second day, visit the Soldiers' National Cemetery, site of the Gettysburg Address and where many soldiers have been laid to rest. Continue on to see the Eisenhower National Historic Site and the David Wills House, where Lincoln polished his famous speech.
11. Wright Brothers National Memorial
Cost to visit: $7
Visit the location in Manteo, N.C., where the Wright Brothers forever changed the face of travel. See where they launched, follow their flight lines and see where they landed. Get hands-on in the sculpture garden, where the moment of the 1903 flight was captured in bronze. A redesigned visitor center with museum will open in 2018.
12. Lancaster Central Market
Cost to visit: Free
Head to the heart of Amish country to discover the country's oldest farmers market. Lancaster Central Market in Lancaster, Penn., is the go-to place for regional delights like Pennsylvania Dutch sausage and bread and butter pickles. The farmers market opens at 6 a.m. on Tuesday, Friday and Saturday. Try the scrapple, a breakfast melange of pork scraps and cornmeal. This is a fun way to enjoy your vacation without breaking your budget.
13. The Mark Twain House and Museum
Cost to visit: $20
Check out the home that Samuel Clemens — best known by his pen name, Mark Twain — and his wife, Livy, custom built for their family in Hartford, Conn. Discover the downstairs library where the famous author created nightly stories for his children and the window conservatory where the kids played jungle safari. Don't miss the upstairs billiard room where he wrote his books in a corner.
Don't have time for the entire tour? You can visit the museum only for $6.
Make Your Money Work for You
14. Alcatraz Island
Cost to visit: Free + $37.25 ferry
Explore what life was like on "The Rock" in the infamous penitentiary in the San Francisco Bay. Prisoners weren't the only ones living on the island. The Rock also has bird colonies, tide pools and gardens to explore.
Dig deeper with an Alcatraz Island "Behind the Scenes" tour for $89.25. The physically strenuous tour takes you to many areas closed to the public, like the Officers' Row Gardens, the citadel, the hospital and other sites. Be prepared for two hours of walking and a climb that equals 13 stories.
15. Castillo de San Marcos National Monument
Cost to visit: $10
Check out the oldest fort in America at Castillo de San Marcos National Monument in St. Augustine, Fla. The 17th-century military fort was constructed of a natural rock called coquina, a soft limestone that absorbed or repelled cannonballs rather than crumbling under their force. Meander through the fortress or watch a reenactment that uses historical weapons.
16. The Freedom Trail
Cost to visit: Free
There's no cost to follow the famous red line along the 2.5-mile Freedom Trail to uncover 16 of Boston's most historically significant sites. But like most historic places, you're sure to get the most out of it by taking a guided tour. Download an MP3 narrative tour for $15, or book a tour guide through the Freedom Trail Foundation for $12 online. A free guided tour, donation optional, is available through Free Tours by Foot.
17. Independence Hall
Cost to visit: No charge for walk-up tickets, but they are on a first-come, first-served basis. Reserved tickets have a fee of $1.50 each.
If you're an American history buff, Independence Hall — the birthplace of the Declaration of Independence and the U.S. Constitution — in Philadelphia should definitely be on your list.
Stand in the footsteps of our forefathers, where they declared independence from England in 1776 and later established our democratic government in 1787.
Entry to Independence Hall is timed by entry ticket from March through December. No tickets are needed in January and February.
Make Your Money Work for You
18. Arlington National Cemetery
Cost to visit: Free
Located across the Potomac River from Washington, D.C., Arlington National Cemetery was established in May 1864 during the Civil War. Visitors can walk among the graves and pay respects to more than 400,000 active duty service members. The cemetery is open year round and features the gravesites of some of the most prominent figures in American history, such as President John F. Kennedy and Supreme Court Justice Thurgood Marshall.
Make sure to witness the solemn Changing of the Guard ritual at the Tomb of the Unknown Soldier, where members of the elite 3rd U.S. Infantry Regiment stand guard 24 hours a day, 365 days a year.
19. Monticello
Cost to visit: $22-$28 for adults, $9 for children (5 and under are free)
In addition to being the home of President Thomas Jefferson, Monticello in Virginia is a World Heritage site, museum and presidential library. Built in 1772, the home showcases our third president's libraries, alcove bed and the Great Clock invented by Jefferson himself. While there, you can also explore the 5,000-acre plantation's grounds, featuring flower, fruit and vegetable gardens as well as the many unique touches Jefferson personally oversaw.
Despite Jefferson's opposition to slavery at the state and federal level, Monticello was also home to hundreds of slaves over Jefferson's lifetime. Be sure to tour Mulberry Row and learn about the lives of those who worked at the plantation — it's free with your day admission.
20. Harpers Ferry National Park
Cost to visit: $5 for visitors on foot or bike; $10 for vehicles
You might have forgotten about Harpers Ferry from your school days, but this West Virginia town and national park at the confluence of the Shenandoah and Potomac rivers played a major role in the abolishment of slavery.
In October 1859, John Brown led a group of armed abolitionists in a failed raid of the U.S. military arsenal at Harpers Ferry. The raid was intended to spark an armed slave revolt. Brown was captured in the raid and later hanged.
The raid raised tensions between the North and South and became an important historic event leading up to the Civil War.