New and Unexpected Travel Costs To Prepare For This Thanksgiving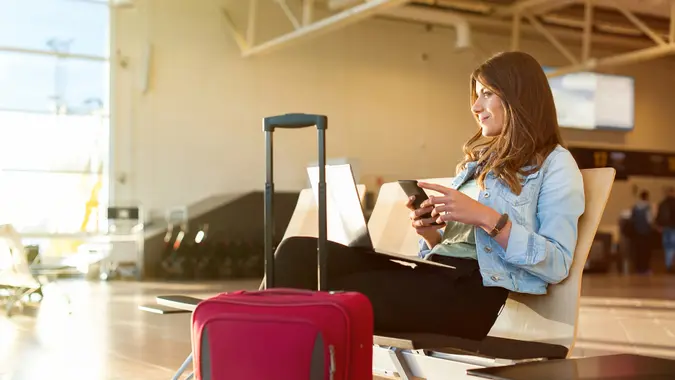 ©Shutterstock.com
With only two weeks left until Thanksgiving, holiday travelers are bracing themselves for impending travel expenses. Some of these include expensive flights, hotel rooms, and pricey car rentals and gas for those who plan to drive.
Holiday Spending: Get Top Holiday Shopping and Savings Tips
Dollar Tree: 5 High-Quality Items To Buy Now 
According to The Washington Post, most of the factors driving up these prices are the same ones travelers have faced throughout 2022: high inflation and jet fuel prices combined with demand and labor shortages.
While most travelers know to anticipate travel costs when it comes to airline tickets or filling up their gas tank, other costs may come as a surprise. Here are a few unexpected travel costs to prepare for this Thanksgiving.
Vehicle Inspections
According to a Thanksgiving travel survey conducted by Cars.com, 80% of respondents said they plan to drive to their Thanksgiving destination this year. Those planning to drive have several considerations factoring into this decision, including the ability to bring along children and pets and avoid any flight disruptions.
Make Your Money Work for You
Before heading out on the drive, it is highly recommended drivers get a vehicle inspection. Road trip tips from AAA include making sure the car's radiator and cooling systems are in good condition, tires are fully inflated (with a spare tire available in the trunk), and items packed in the event of a roadside emergency include jumper cables and motor oil.
Take Our Poll: Do You Believe in Quiet Quitting?
Charging Stations
According to the Cars.com survey, 86% of EV drivers have their driving routes planned around charging station locations.
A helpful recommendation for those driving electric vehicles to their Thanksgiving destination is to create a driving route where there may be a few charging stations along the way. In the event drivers encounter an inoperable station, it could cost them extra money and time to reroute where they are able to find a working charging station for their EV.
Taking Thanksgiving Dishes on Flights
Some Thanksgiving dishes, like pies, can be brought on carry-on and checked bags. Other dishes, like gravy, need to meet ounce limitations if you want to bring it on as a carry-on item. 
Make Your Money Work for You
Rather than tie up the TSA line trying to figure out which Thanksgiving dishes you can bring on your flight with you, download the MyTSA app. This app provides a thorough list of everything passengers are approved to bring on their flights as a carry-on or checked luggage, as well as prohibited items and items that may have special instructions.
Baggage Check Fees
Speaking of carry-on luggage, those flying home for Thanksgiving need to check in with their airline to see how many pieces of carry-on luggage they are permitted to take on the flight for free versus when they need to check or pay extra for. Know your airline's prices for checked luggage in advance so you can set aside enough money to pay if you need to.
Transportation Fees
Some of these transportation fees may include, but aren't limited to, the following:
Parking in airport parking lots and other places where drivers need to pay to park
Taking a rideshare to and from the airport
Scheduling a shuttle bus for airport pickup and drop off
Taking a taxi to or from the airport, in the event of a rideshare shortage or surge pricing
Taking a train, like the Amtrak, to reach your destination
Car rentals
Make Your Money Work for You
Whether you plan on paying some of these fees, or a few more you weren't planning on paying but need to out of necessity, make sure you have enough cash on hand and/or a credit card you can use for points to cover transportation fees in your budget.
Alternate Ways To Save on Thanksgiving Travel
There are a few ways travelers can cut Thanksgiving travel costs this year while making new traditions along the way. Consider these options to avoid more expensive travel costs.
Get Strategic at the Airport
This means going the extra mile beyond getting to your gate on time. Travel booking app Hopper, according to The Washington Post, recommends taking the first flight out in the day. Doing this will help passengers avoid crowds that come later in the day and reduce chances of delays.
Reschedule Thanksgiving During a 'Dead Week'
Families with some flexibility in their schedules may ultimately decide to skip celebrating on Thanksgiving Day and move their celebrations to another week, like the week after the holiday. CBS News reported the week following Thanksgiving is known in the travel industry as a "dead week" with lower airfare and hotel rates. Plus, cars are cheaper to rent and there's significantly less traffic. 
Celebrate on a Cruise Ship
You can travel for Thanksgiving on land, by air and, to a lesser extent, by sea. CBS News reported more than 1,500 cruise ship itineraries have cabins costing an average of less than $100 a day. Additional discounts are being offered by cruise lines for passengers.
If this sounds like a new Thanksgiving tradition you, or your family, would love to take part in, check in with the cruise line of your choice to see what's available.
More From GOBankingRates
Make Your Money Work for You