How To Save Money on Your Next Trip to Niagara Falls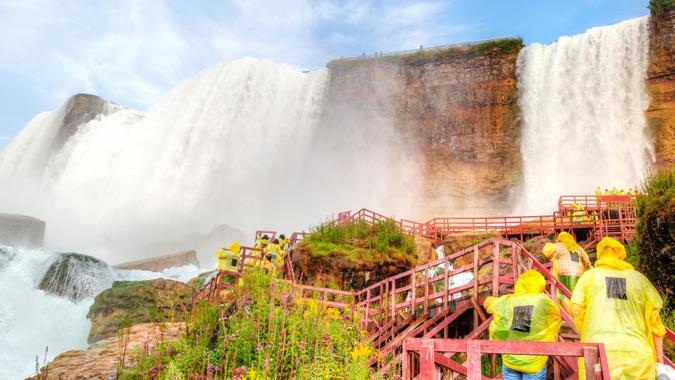 ronniechua / Getty Images/iStockphoto
Niagara Falls is largely located on the Niagara River, which marks the border between New York and Ontario, Canada. This natural wonder is comprised of three different waterfalls — American Falls, Horseshoe Falls and Bridal Veil Falls — and is truly a sight to behold. However, as with any tourist attraction, you can arm yourself with some savings tips before you go to avoid spending money don't have to.
See: In Less Than a Decade, You Won't Be Able To Afford a Home in These Cities
Find: 15 Cheap, Beautiful Places To Retire
If a trip to Niagara Falls is in your future, take a look at these ways to save that can help you enjoy your trip and keep more money in your wallet.
Visit During the Off-Season
"Niagara Falls is a phenomenal attraction that boasts millions of visitors each year," said Larry Snider, VP of Operations of Casago Vacation Rentals. "However, with such an attraction comes typically high costs. My best advice is to plan your visit during the off-season — spring, fall and winter. While the temperatures can drop to freezing levels, if you pack warmly and prepare for the weather, you will still see an amazing sight."
Make Your Money Work for You
He added, "Surrounding rates for accommodation are cheaper during this time, too."
Shop Package Deals
"For the package deals in Niagara Falls, NY, please check the Niagara Falls USA destination marketing organization's website first, Niagara Falls USA, where you can find lots of useful information for your travel planning," said Dr. Youngsoo Choi, associate professor at Niagara University's College of Hospitality, Sport and Tourism Management and program coordinator of the Hospitality and Tourism program.
Dr. Choi continued, "Sign up for the newsletter and information regarding insider tips, events, and special promotions. Online travel agencies like Expedia offer flight/hotel deals associated with several hotels in the area (from selected U.S. airports to Buffalo-Niagara international airport). Please check hotel rates and airfare for the dates of your trip/departure-arrival and compare it with those package deals in order to get the better deal."
POLL: Have Gas Prices Affected Your Driving Habits?
Buy a Niagara USA Discovery Pass
"To save some money while exploring several areas of interest in the Falls, Niagara USA Discovery Pass has been the most popular one, including Maid of the Mist, Cave of the Winds, Aquarium and trolley at a discounted rate," said Dr. Choi. "The sales of the pass has been on hold due to COVID-19, but please contact Niagara Falls State Park at 716-278-1796 for any updates on this year's plan."
Make Your Money Work for You
Use the Free Shuttle
"Visitors can travel to various destination sites with ease by taking advantage of the Discover Niagara Shuttle," said Krystina Iacovelli, communications manager for Niagara Falls USA. "The free shuttle service connects visitors to over 30 different attractions and experiences along the Niagara River and the Erie Canal. The Discover Niagara Shuttle operates seasonally and begins service on Friday, May 27, 2022."
Dr. Choi gave further insight on how the shuttle can help you save money, "You can park your car at many stops of the shuttle route that offer free parking and hop on the shuttle that has complimentary Wi-Fi service in order to explore diverse destination sites without any hassle of driving."
Park at Niagara State Park 
"Parking in the downtown Niagara Falls area is convenient, with several parking lots and ramps that are within walking distance to Niagara Falls State Park," said Iacovelli. "Parking is also available at Niagara Falls State Park and is the cheapest option."
Here are the rates:
Lots 1 and 2: May 27, 2022 – October 9, 2022: $10 USD/day Monday – Thursday | $15 USD/day Friday – Sunday
Lot 3: $10 Car / $20 RVs, Friday – Sunday and holidays | FREE, Monday (excluding holidays) – Thursday
Make Your Money Work for You
"If you plan to exit the park and then return to a parking lot, please be sure to take your receipt to show for same-day re-entry. Please note, the parking lots inside Niagara Falls State Park fill up quickly on weekends (Friday through Sunday) and holidays," Iacovelli added.
Save on Gas
"You can fill up your gas tank at a place like Smokin Joes in Sanborn (2293 Saunders Settlement Rd) where a gallon of gasoline is 30-50 cents cheaper than other gas stations," shared Dr. Choi.  "If you pay in cash, a discount of 10 cents/gallon will apply too."
Consider Free Attractions
While you can spend plenty of money on attractions at Niagara Falls, viewing the Falls is always free. Additionally, the Niagara River Recreation Trail offers approximately 33 miles of paved pathway that travels past various historical sites, natural areas, restaurants and attractions.
Other free attractions include the Niagara Parks' Botanical Gardens, which feature 99 acres of seasonal blooms and lush gardens. The Niagara Falls History Museum is also free on Thursdays after 5 p.m.
More From GOBankingRates