Taking a Post-Grad Trip: How To Get the Most Bang for Your Buck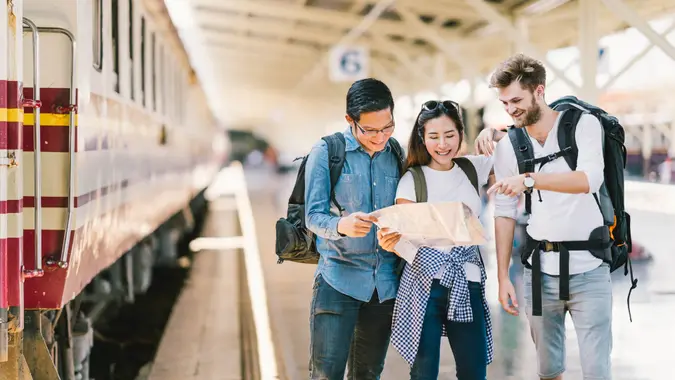 beer5020 / Getty Images/iStockphoto
After spending years in school, you've earned a vacation. Graduation is a huge milestone, so you should certainly treat yourself to a trip — but one you can afford.
See Our List: 100 Most Influential Money ExpertsRead: How To Build Your Savings From Scratch
If you don't have a huge budget, you'll need to stretch it as far as you can. You're certainly not alone with limited vacation funds, as just about half of 18 to 24-year-olds spent $1,000 or less on their last trip, according to a recent GOBankingRates survey.
Feeling stumped on exactly how you'll make your post-grad trip happen without overspending? Here are 10 tips to help you have the time of your life without breaking your youthful bank account.
Plan Ahead
When you're busy with school, it's easy to put vacation planning on the backburner, but it could cost you.
"Start planning your trip early to take advantage of lower prices on flights, accommodations and attractions," said Justin Albertynas, CEO of hotel comparison site RatePunk "Also, don't rush to book the first decent offer you find — research various destinations, compare prices and look for deals and discounts."
Make Your Money Work for You
Dine Out for Lunch
"Eating out is one of the main expenses when traveling, but that doesn't mean you shouldn't do it at all," Albertynas said. "It's understandable that you want to celebrate the post-grad mood somewhere in the city, so the tip here is to consider going for lunch instead of dinner, as lunch menus often offer more affordable options."
He also recommended seeking out restaurants with early bird specials or that offer a set menu at a fixed price.
Seek Free Attractions
These days, there are many free and cool activities in most cities. Therefore, Albertynas advised working them into your itinerary.
"Many cities have parks, museums or cultural sites that offer free admission," he said. "What's even better is that many of these activities often involve young people, so you might even meet new people."
Look for Student Discounts
One-quarter of 18 to 24-year-olds spent more on entertainment during their last trip than expected, according to the GOBankingRates survey. However, your student ID might be your ticket to saving money, Albertynas said.
Make Your Money Work for You
"As a post-graduate, you may still qualify for student discounts at various attractions, museums, theaters and transportation services. Always carry your student ID card and ask about available discounts not to waste anything." He added to pay attention to price differences listed on online travel agencies.
Use Public Transportation
Renting a car is expensive, so Albertynas advised against it.
"Instead of relying on taxis or rental cars, use public transportation systems such as buses, trains or subways," he said. "Public transportation is usually cheaper, especially if you purchase multi-day passes or travel cards, and that's also one of the best ways to get to know the destination and its people."
Be Flexible
Increasing costs of travel is the number one obstacle keeping 18 to 24-year-olds from traveling more, according to the GOBankingRates survey.
"Even though it's understandable that you want to go traveling right after graduation, the crucial thing here is not to have very strict dates," Albertynas said. "That will limit your options and definitely increase spending."
Instead, he recommended keeping your travel dates flexible and using money-saving tricks to keep your costs as low as possible. "For example, if you're staying at the hotel for a week, and the week looks expensive, try searching for one day at a time, just a weekend or a weekday section," he said. "You might find that making three reservations at the same hotel might be cheaper than a week-long reservation."
Make Your Money Work for You
He said there is a simple, little-known reason behind this. "When you make a week-long reservation, it makes all the nights equivalent to the most expensive night," he said. "Whereas if you book the individual ones, it might give you a cheaper rate."
Tim Hentschel, co-founder and CEO at HotelPlanner, said you might also be able to get a lower hotel rate by avoiding weekends — i.e., booking a Sunday through Thursday stay.
"Your favorite hotel or resort is much more likely to have availability during the work week, especially with business travel still recovering," he said.
Set Up Discount Alerts
You don't have all day and night to search for travel deals, so Hentschel recommended setting up discount alerts for your destination(s).
"When an attractive rate comes along, be willing to book it immediately," he said. "Again, flexibility is key. Consider this approach a part of your sense of adventure."
Time Your Booking Wisely
It's not just your travel dates that set the price of your trip, it's also when you book your reservations, Hentschel said.
Make Your Money Work for You
"Always book flights and hotels during non-peak hours — think 6am or midnight on Saturday or Sunday — when there is less real-time competition," he said. "Airline and hotel prices are fluid and dynamic and can change by the minute."
Visit Less Popular Destinations
You might have your sights set on popular tourist destinations, but so does everyone else. Hentschel said you can save money by planning a trip to less popular or more remote destinations.
"For instance, a beach weekend in Key West or Miami will be a lot more expensive than in Destin, Florida on the Gulf Coast," he said. "The beaches are just as nice and the cost will be cut in half."
Ryan McCoy, co-founder & CEO at Travelpass Group, echoed this sentiment. "Some of your best travel experiences actually depend on your mindset more than the destination or your budget," he said. "There are incredible people to meet and experiences to be had in a lot of places that aren't frequently highlighted."
He encouraged you to go off the beaten path with your trip. "Discover the wildflower-covered backroads of Washington state, the criminally underrated coffee shops of Chattanooga, Tennessee and the impressive display at the hot air balloon festival in New Mexico,"
Make Your Money Work for You
Stay Domestic
You might think you your passport to have an incredible trip, but McCoy said the U.S. has plenty of budget-friendly destinations that will make you forget you didn't actually leave the country.
"Everyone loves a good dupe these days, and traveling is no exception, he said. "For those yearning for a European village to walk around or a Caribbean beach for sunbathing, we'd recommend Helen, Georgia for an authentic Bavarian experience and Big Pine Key, Florida for those white-sand beaches and sparkling clear water."
Ultimately, you want to walk away from your post-grad trip with memories that will last a lifetime — not a mountain of debt. Hopefully, these tips will help you do just that.
More From GOBankingRates
Make Your Money Work for You