15 Cost-Cutting Hacks for Your Road Trip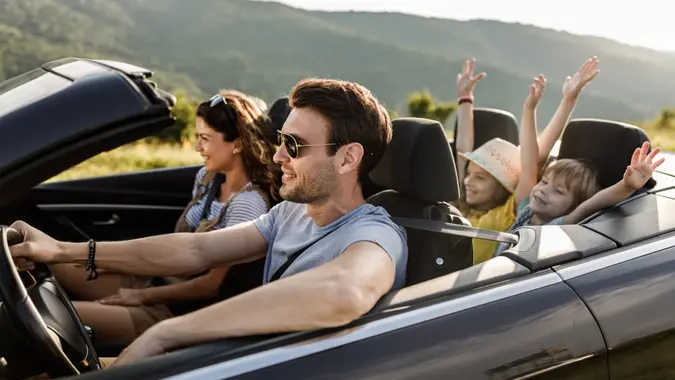 skynesher / Getty Images
There's a certain magic to a road trip — whether you set out with specific destinations in mind, or you just wing it. On the open road, you're beholden to no one and nothing (except the speed limit), and can go where you please on your own time table, with no long TSA lines and your own agenda in mind.
However, with gas prices on the rise and inflation spiking the prices of just about everything else, even a road trip can add up in cost depending on where you go and stay, and what you eat and see along the way.
See: 11 Best Prepared-Food Deals at Costco
Find: 25 Extra Grocery Costs You're Probably Forgetting About
Here, experts weigh in on 15 ways to save money on your road trip.
Avoid Tolls
According to TheLocalTourist.com, you can set up your route to avoid expensive toll roads. It turns out that most GPS systems have an "avoid tolls" setting that makes this super easy to do.
Make Your Money Work for You
Invite Friends
According to Jenny Ly, a professional travel blogger and entrepreneur at Go Wanderly, one good way to cut costs is to invite friends along. "You may divide costs like hotel and gas this way. They'll also keep you company while you're driving."
Pack Your Own Food
The cost of food, especially lately, is no joke! Packing your own is a way to control costs, Ly says. "Food can quickly deplete your bank account and derail your weekend plans, especially if you eat out every meal. For the first day or two, bring a cooler with sandwiches and other snacks. Also, include nonperishable snacks on your road trip so you don't have to stop at the drive-thru every time your stomach grumbles. Plan ahead if you intend to dine out."
Sleep Cheaply
According to Ly, road trips should be more about discovering new towns than staying in luxury hotels. "You'll probably only be in a hotel room long enough to sleep and shower. Choose an alternative hotel option with this in mind. If the motel is safe and clean, don't be afraid to stay there. Consider alternatives such as packing a tent and camping or looking into local Airbnb choices," she says.
POLL: Have Gas Prices Affected Your Driving Habits?
Make Your Money Work for You
Use a Gas App
Probably the biggest expense on a road trip other than lodging is gas, and right now that's even more the case with skyrocketing prices at the pump. Ly recommends utilizing gas apps to find the cheapest price. "GasBuddy, Gas Guru, Waze, and MapQuest Gas Prices are excellent resources that will point you in the proper way for saving money."
Drive One Way, Fly Back
A road trip doesn't mean you have to drive the entire time, says Chris Michaels, founder of Frugal Reality. "I rent a car from either a local rental location in the suburbs or a major airport then return it to a major airport on the other end. Surprisingly, finding one-way deals on car rentals isn't difficult, especially when you return the vehicle to a major airport. Personally, I find the Costco Travel site has the easiest interface to find the best price on a rental car."
Michaels does suggest booking your car at least three to four weeks in advance, though, since rental cars have been scarcer since the pandemic. "Driving one-way lets us cover multiple cities while not dreading the idea of driving back 15-20 hours. Plus, some car rental places give you discounts after renting the same vehicle for 5-7 days straight." 
Drive Slowly
If you're on a road trip, you can choose your own timeline and not be in a hurry, and that can be a boon for your wallet, according to Sumeet Sinha, founder and CEO of FinLightened, an award-winning personal finance blog and educational resource.
Make Your Money Work for You
"The first thing you can do is to drive at low speeds. The amount of gas you use directly correlates to how fast you drive. A car uses 15% more fuel for every 10mph that it travels over 50mph. So, for a 1,000 mile trip, driving 60mph will cost you an extra $150 in gas. Driving at around 70mph is not only dangerous, but will cost you an extra $300 in gas. Another way to save gas is to avoid idling. Idling wastes gas. So, if you're waiting in traffic, turn off your engine. The engine only uses fuel when it is turning. Also, try to take advantage of natural gas stations. These are usually found in the middle of towns and cities, which are typically well-marked. These stations are cheaper, and the fuel is better for the environment."
Choose Your Route Carefully
Sinha also points out that picking the right route can cut costs. "People generally like to travel by the most scenic route, but this is not always the most economical. Try to schedule your road trip to get in early enough to get a good night's sleep. Popular road trippers will have booked all hotels along the route several months in advance. Don't be afraid to cut a few corners or take a different route in your road trip."
Inflate Your Tires Properly
A simple but easy-to-overlook way to conserve costs on a road trip, according to Gary Grewal, a CFP and author of FinancialFives.com, is to check your tire pressure before departure. "Make sure your tires are inflated and you don't carry extra weight, it can get you over 10% better gas mileage, which has a magnified impact on a road trip." 
Sleep in Your Vehicle
A great way to save on lodging costs, says Grewal, is to make your ride double as your bed. "Consider renting a hatchback or SUV to sleep or camp in to save money on hotels and lodging. I did this in a Toyota Prius and saved hundreds on just one trip." 
Use Hotel Apps
You might think you'll save money by booking lodging ahead, but Grewal recommends using apps like Hotel Tonight, which allows you to find rooms that have been canceled or come available that day. Additionally, you can call hotels the day of to take advantage of vacancy rates. However, you'll want to have a backup plan if you do this, such as camping or sleeping in your car if nothing comes available.
Utilize Public Transportation
If your travels are taking you to a big city with good public transportation, find cheap street parking and take advantage of buses, trains, subways or other options. You might be surprised how much you can save in gas alone.
Make Your Own Coffee
Like other forms of dining out, buying your coffee on the road can add up quickly. However, is you pack a propane stove, coffee pot and your favorite java, you can make your own coffee along the way. If you're a cream lover, pack some powdered creamer of your choice, or keep some in a cooler.
Stay at Hostels
If you're not a big fan of camping, but you also don't need a luxury hotel for your lodging, consider hostels instead. These lodgings lend themselves to meeting other people, budget lodging, and are often significantly cheaper than a hotel. You do often have to share all accommodations, from bathrooms to bedrooms, but it can be fun — a lot like summer camp.
Find Hotels With Free Breakfast
If you are staying in hotels, pick those that provide a free breakfast — and not just the continental kind with a couple of stale pastries and burnt coffee. Many hotels, even affordable ones, offer a decent breakfast spread.
More From GOBankingRates
Make Your Money Work for You