I Save Thousands on My Luxury Vacations: Here's How I Get a Lot for a Little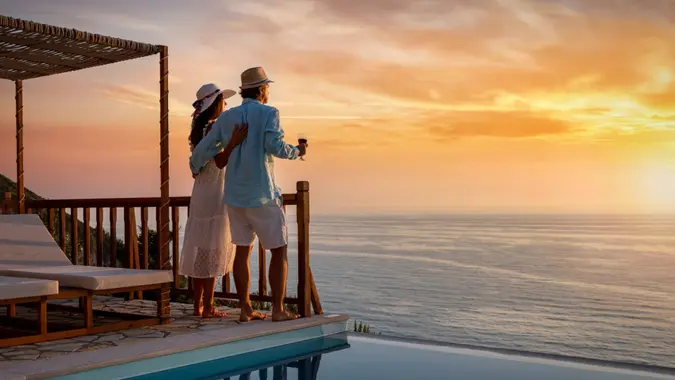 SHansche / Getty Images/iStockphoto
A luxury vacation may seem out of reach, but with some savvy planning, you can experience 5-star accommodations and activities on a bargain hunter's budget. We talked to Mercedes Zach, a travel agent with ASAP Tickets, and Keri Baugh, family travel expert at Bon Voyage With Kids, who regularly saves thousands on dream vacations for her family. Read on to discover their proven strategies for affording the vacation of your dreams.
Leverage Hotel and Airline Loyalty Programs
If you can afford the upfront investment, vacation club memberships can save you a bundle on lodging costs year after year. As a Marriott Vacation Club member, Baugh has stayed in oceanfront suites for free using her allotted annual points. These memberships pay for themselves quickly and provide ongoing savings.
"For starters, we are both Marriott Vacation Club Members and members of Marriott Bonvoy Rewards," Baugh said. "Because hotel costs are one of the biggest parts of any travel budget, using either our Vacation Club Membership to use points for rooms, or cashing in our Marriott Bonvoy Rewards, has gotten us rooms for basically the entirety of a vacation for free."
Hotel and airline loyalty programs offer some of the best ways to cut costs on accommodations and flights. Getting a travel rewards credit card will amplify your points earnings even more. 
"We have a Marriott credit card and when we travel, stay exclusively at Marriotts. We have accumulated so many points, we usually can stay in most places for free," Baugh said. "The same is true for accumulating airline points, as we can often fly for free."
Make Your Money Work for You
Using accrued points and miles, she has scored free nights in oceanfront suites and flown her family round-trip to Hawaii in first class at no extra cost. 
Buy Discounted Gift Cards 
For vacations to popular destinations like Disney World, look into buying gift cards at a discount from warehouse stores or retailers that offer loyalty discounts. 
"People can purchase gift cards to pay for their vacation. If they buy them at Costco or at Target using their Red Card, they can get the full value of the gift card but at a discounted price," Baugh said.
You can score gift cards for less than face value while still getting full value when you redeem them on your vacation. This strategy has saved Baugh up to 5% on Disney vacations. Bring your own food and drinks into the park for additional savings.
Book Flexible Itineraries With a Travel Agent
Don't be afraid to lean on the expertise of a travel agent when booking complex luxury itineraries. Experienced agents have insider knowledge and connections to find you the best fares, hotel rates and package deals. Give them flexibility on dates, connecting flights and gateway airports to unlock savings.
"When it comes to flights, I suggest booking tickets well in advance, comparing prices with several different travel agencies and airlines, or better yet reaching out to a personal travel agent to find the best deals that match the needs of your itinerary, including some great first-class ticket deals," Zach said.
Book Through Specialty Travel Companies
"We found a small family travel tour company called Costa Rica Escapes — that had amazing reviews — who created a customized itinerary that included hotels, activities, many meals, and transfers and was customized for us so it was private," Baugh said. 
Make Your Money Work for You
Instead of booking directly through mainstream tour operators, search for specialty travel planners who can customize luxury experiences at a lower price point. For an amazing private trip to Costa Rica, Baugh worked with a small company to build a custom itinerary that matched experiences offered by premium operators — for $10,000 to $15,000 less than she was quoted elsewhere.
By taking advantage of loyalty programs, discounted gift cards and specialty travel planners, Baugh has been able to afford luxury vacations that would normally be out of her family's budget. Use these strategies to get the most out of your next 5-star getaway.
Travel During Off-Peak Seasons
One of the easiest ways to save on luxury vacations is to travel during less popular times of the year. Avoid peak holiday seasons when prices skyrocket on flights, hotels, attractions and more. 
"That way, you will also avoid tourist crowds and, in most cases, get better deals," Zach said. "Airfares for flight routes during the holiday season can be up to 50% more expensive than other flights booked roughly six months out during off-peak times."
By planning trips during shoulder seasons or off-peak months, you can enjoy the same amenities at a fraction of the cost.  
Choose an All-Inclusive Luxury Resort 
At the right resort, an all-inclusive package can actually save you money compared to paying for dining, activities and amenities a la carte. Look for a luxury resort that bundles premium accommodations, gourmet cuisine, spa treatments and more into one upfront price. You'll enjoy an indulgent, stress-free getaway knowing everything is already covered.
Make Your Money Work for You
"It might seem like a more expensive choice at first, but if you combine all the meals and experiences together, this option will help you save quite a lot of money at the end of your trip," Zach said.
More From GOBankingRates