45% of Americans Overspend on Dining While Traveling — 8 Savvy Ways To Save on Food Costs

6 min Read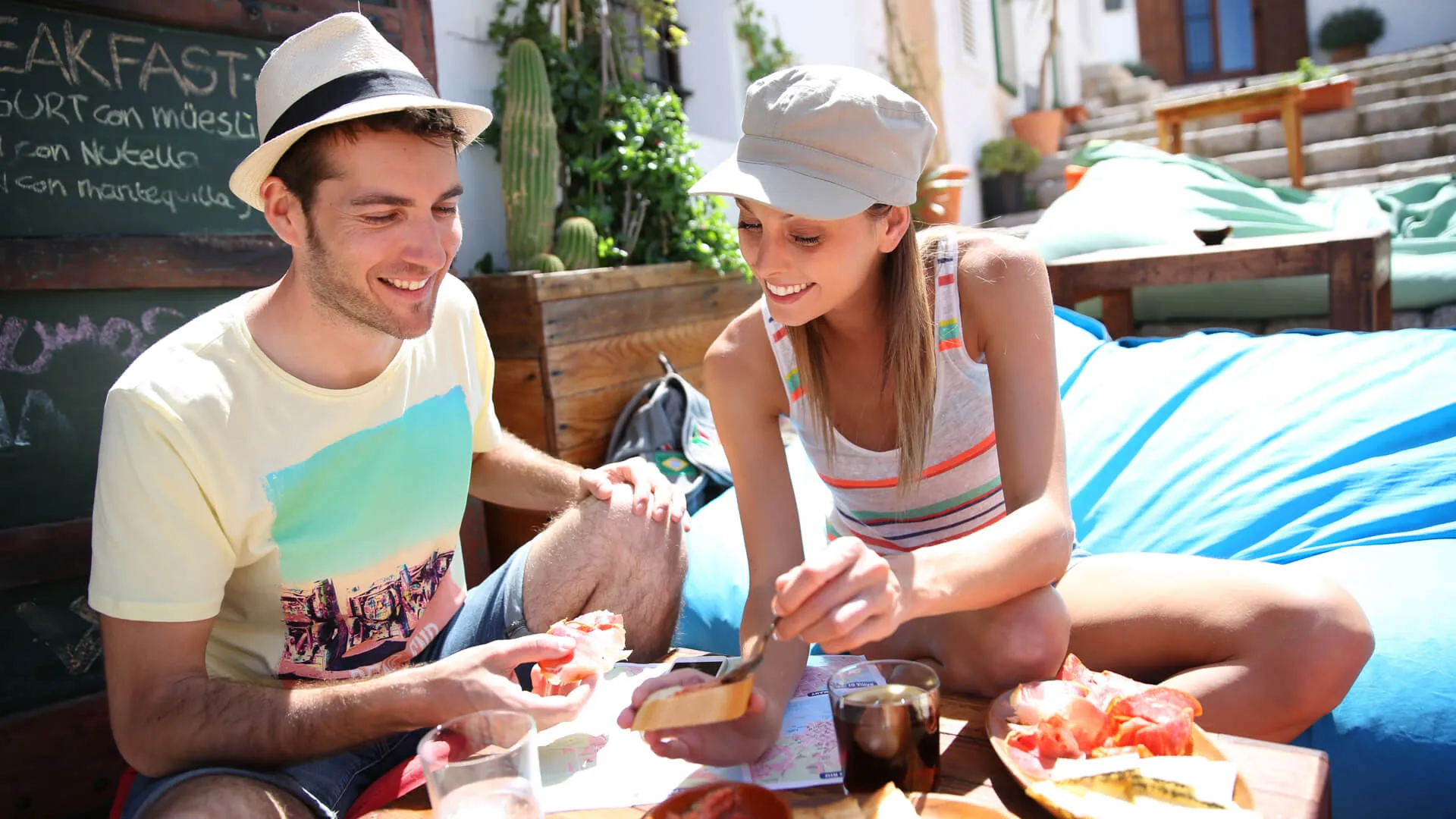 According to an early April study by GOBankingRates, Americans are actually pretty good about saving for their vacations. Over 62% of respondents in the 1,037-person survey indicated that they used personal savings to pay for their trips, rather than credit cards or other options. But that doesn't mean that they didn't still overspend on their vacations. In all, about 45% of respondents, or nearly half, reported that they spent more than expected on dining. This was the single largest category of overspending in the survey, outpacing travel, accommodations, entertainment and fees.
Tips: 50 Ways You're Throwing Money Away
Smart Money Moves: 9 Bills You Should Never Put on Autopay
To help prevent spending too much on dining, it pays to plan ahead and have a strategy in place before you travel. Here are some suggestions for how you can save on food costs while still enjoying your vacation.
Make Your Money Work for You
Splurge at Lunchtime Instead of Dinner
If you're looking to save money when you go out to eat, one of the easiest ways to do it is to eat out and fill up at lunchtime instead of dinner. Although portions are generally slightly larger at dinner, food also gets marked up, sometimes twice as high as at lunch. On a side note, many medical experts recommend eating a big lunch instead of a big dinner so that you have the time to burn those calories off before you sleep.
Buy Family Meals
If you're traveling with a family, there are two ways you may be able to save on dining. First, eat family style. A small number of large portions that you can share are often priced better than multiple individual entrees, which can also lead to food waste. Second, look for restaurants that cater to families and offer discounted family meals. For example, a bucket of chicken and sides will often be priced lower than if you bought all that food a la carte.
POLL: How Much Do You Expect To Spend on Travel This Summer (in Total)?
Choose Options With Free Refills
If you're traveling with kids — or are very hungry — look for restaurants that offer free refills. Many restaurants offer free refills on drinks, which can already be a money saver, but try to find options that also provide free refills of food items. The Olive Garden, for example, is known for its endless salad and breadsticks, while Korean restaurants typically offer unlimited sides of kimchi, pickled vegetables and egg, among others. These can help keep you full and away from larger portions of the more expensive main items.
Eat Out During Happy Hour
Happy hour used to be offered only by bars, but now many restaurants offer happy hour food items as well. The options are often smaller than regular servings, and sometimes they aren't the healthiest choices, but if you're just looking to get filled up and want to save a few dollars, eating at a happy hour menu can do the trick. If you're still hungry later, at least you probably won't be eating a full meal, so you'll still end up saving money.
Make Your Money Work for You
Check Prices Before You Go
In the not-too-distant past, you wouldn't know how much a restaurant really cost until you made your choice and sat down at your booth. Eventually, restaurants moved toward posting their menus at their front door, and now, thanks to the internet, you can see actual menu pages at most restaurants from the comfort of your own home. Take advantage of this power and comparison shop for your meals just like you would with any online purchase. For example, if you're in the mood for Thai food and there are three options in town, look to see how expensive each one is. Of course, you'll also want to factor in the quality of each different restaurant, but by taking just a few minutes of your time at home, you can end up saving lots of money when you go out to eat.
Go Local
For many travelers, one of the true joys of travel is "eating like a local." But if that's never been your thing, you might change your mind when you start looking at the prices. Local street food not only reflects the culture of the surrounding area, but it's also typically the cheapest food you can find. If that's still a bit too adventurous for you, "go local" by eating away from tourist areas. Walking just a few blocks away from where the masses congregate is often the ticket to saving lots of money when it comes to restaurants, even if you're eating the same food that's served in the tourist areas.
Look For Discounts
Americans are famous for searching for discounts, but when they are traveling, that often goes out the window. But just like there are sales and specials available at home, you can also score restaurant deals across America, and even abroad. Many restaurants will offer lunch specials, for example, or off-peak dining discounts like "early bird" plates. Senior or AAA discounts may also be available. Certain tourist locales may offer deals like "buy one, get one," or offer a free drink with the purchase of an entree. A little bit of leg work can go a long way when it comes to saving your dining dollars.
Make Your Money Work for You
Take Advantage of Lodging With Free Breakfast or Snacks
Many hotels offer free breakfast, and while it may not necessarily be restaurant quality, it can save you a lot of money on your food budget, particularly if you travel with a family. Hotels like Embassy Suites offer not just free breakfast but also a daily happy hour dubbed the "Evening Reception," with free drinks and snacks. Other hotels also offer late-afternoon canapes, snacks or drinks, so look around and get the most value you can for your hotel and dining dollars. You probably don't want to limit your eating to hotel food, but taking advantage of free offerings for even a few days can help keep you within your travel dining budget.
More From GOBankingRates
Methodology: GOBankingRates surveyed 1,037 Americans aged 18 and older from across the country between April 8 and April 9, 2022, asking seven different questions: (1) How much did you spend on your last vacation?; (2) If money were no object where would you choose to go on vacation?; (3) What was your biggest incentive to travel?; (4) How did you pay for your last vacation?; (5) Did you stay in your budget for your last vacation?; (6) What part of the trip cost more than you thought it would? (Select all that apply); and (7) What cost cutting measures did you use on your last vacation? (Select all that apply). GOBankingRates used PureSpectrum's survey platform to conduct the poll.
About the Author