Why You Shouldn't Spend Your Vacation in Los Angeles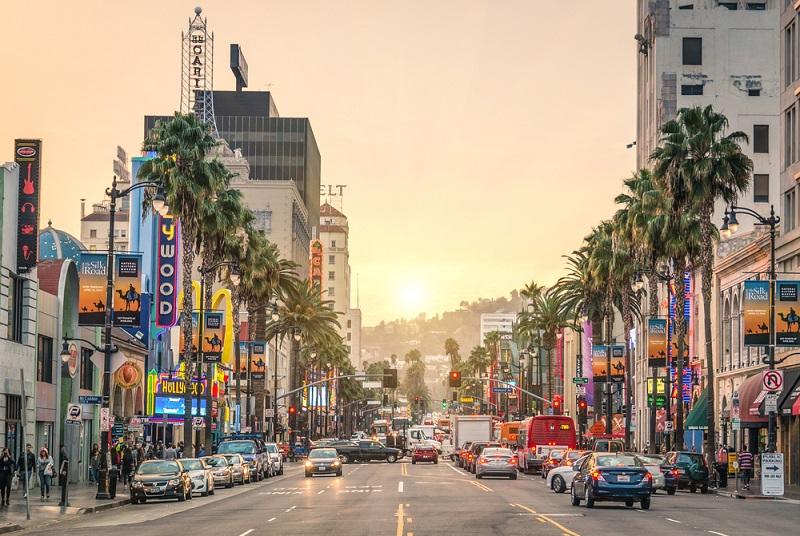 Los Angeles has everything a tourist could want, including museums, beaches, theme parks and restaurants. But when it comes to vacationing on a budget, the City of Angels is not the best choice. Tourists have to deal with expensive hotels, tourist activities, a 9 percent sales tax and high gas prices if they choose to rent a car (not to mention the horrific traffic).
All of these factors contributed to Los Angeles' No. 8 ranking in GOBankingRates study of the most expensive U.S. vacation cities. According to data from the study, a five-day vacation will cost around $165 per day, including average daily food costs, public transportation and a hotel. Since many tourists also spend extra on daily activities, souvenirs, dining out and entertainment, the price tag for a trip to Los Angeles can get hefty.
The Cost of Eating, Sleeping and Driving in Los Angeles
Before you decide to vacation in Los Angeles this summer, you should get an idea of how much you'll probably end up spending. Here are some statistics about traveling in Los Angeles:
Make Your Money Work for You
Hotel Prices
Tourists staying at an average, three-star hotel will spend an average of $149 per night, though some value options are available starting around $65 a night. For those traveling on a tight budget, there are some lower-end options averaging around $25 a night, but you'll probably find these savings come at the expense of comfort, room or even privacy. Deal sites such as Hotwire.com and Airbnb.com can help you find cheaper lodging without sacrificing comfort, location or price.
Car Rentals
Los Angeles does not have public transportation that's as accessible as the transportation in cities like New York or San Francisco. A more common method of transportation for tourists: car rentals.
A 2013 survey by CheapCarRental.net listed Los Angeles as the third-cheapest car rental destination in the U.S. at just $30 per day. Of course, the type of car you rent can change the price, as well as any fees accrued. The cost of gasoline is where visiting drivers will find the biggest price tag. In early April 2015, gas prices shifted between $3.23 and $3.13 per gallon, and was $0.75 more expensive per gallon on average than gas prices in the rest of the country.
Make Your Money Work for You
Getting to Los Angeles isn't cheap either, costing $424 for a round-trip ticket on average, according to the Bureau of Transportation Statistics.
Restaurants
You'll find a vast array of culinary choices in Los Angeles, from Mexican and French to fast food and fusion. Whatever you're craving, you can find a delicious meal in this city — but at a price.
The average meal at an inexpensive Los Angeles restaurant costs $14, and a mid-range, three-course meal for two costs about $55, according to Numbeo. Still, you can find less-expensive options if you do a little research and ask a few locals.
Read: 9 Best Travel Apps to Get Before Your Trip
High Price of Los Angeles Attractions
Rodeo Drive, the Santa Monica Pier, the Hollywood sign and Walk of Fame, the Walt Disney Concert Hall and dozens of museums, theaters and other attractions are what draw millions of visitors to Los Angeles ever year. Some of these attractions are costly, while others are inexpensive or even free.
Make Your Money Work for You
For example, walking the Santa Monica Pier or Rodeo Drive is free, but you have to factor in the cost of parking and gas when visiting these attractions. And depending on what concert you attend and the location of your seats, you could potentially end up spending hundreds of dollars for your family to visit the Walt Disney Concert Hall.
When planning a trip to Los Angeles, do yourself a favor and search Groupon, LivingSocial and other coupon or discount sites for money-saving deals. You'll be thanking yourself later when you realize how much money you save on your vacation.
Methodology: GOBankingRates curated 50 of the most popular vacation destinations in the United States, grading each on the factors that impact travelers' budgets the most: hotel prices, airfare, food and drink expenses, and ground transportation costs. Data on three-star hotel prices, local food and drink expenses, and ground transportation costs were provided by (with data pulled April 15, 2015), while domestic airfare information was provided by the Bureau of Transportation Statistics (with data pulled from the BTS's report for the third quarter of 2014 — the most recent numbers available at the time of writing). No data points were missing or excluded for all of the 50 cities surveyed. The study ranked all 50 cities on their affordability based on a five-day vacation period, weighting each of the categories to be representative of an actual vacation budget: 45 percent for hotel costs, 30 percent for airfare, 15 percent for food and drink, and 10 percent for ground transportation.
Photo credit: View Apart / Shutterstock.com