5 Budget Hacks for Your Trip to Los Angeles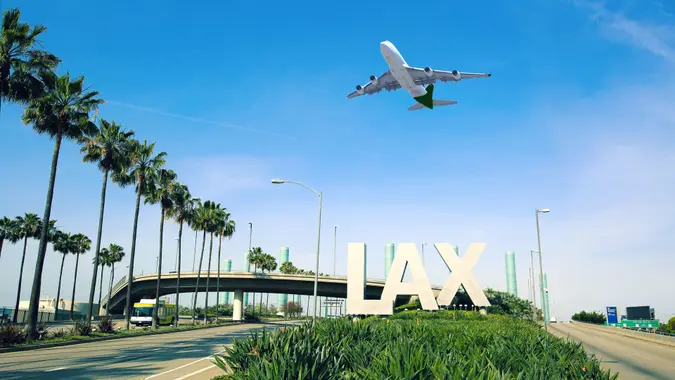 TriggerPhoto / Getty Images/iStockphoto
Los Angeles has everything a tourist could want, including museums, beaches, theme parks and restaurants. But when it comes to vacationing on a budget, its costliness means it doesn't end up as many travelers' first choice. 
Take a Look: States Whose Economies Are Failing vs. States Whose Economies Are Thriving
More: In Less Than a Decade, You Won't Be Able To Afford a Home in These Cities
However, if you look past the high-end hotels, tourist activities and the city's notorious sales tax, L.A. can be an ideal destination for the budget-minded traveler. Here's a rundown on low-cost things you can do in L.A. that won't decimate your bank account.
Visit Museum Row
A collection of five vastly different museums across three city blocks, museum row is one of the city's most eclectic and affordable options. There's the California Craft & Folk Art Museum, The Academy Museum of Motion Pictures, George C. Page Museum/La Brea Tar Pits, The Los Angeles County Museum of Art and the Petersen Automotive Museum. If you want to break out of the Museum Row area, you'll also find places like The Getty Museum, The Holocaust Museum and more. 
Make Your Money Work for You
Admissions vary, though some are free, while others have a reservation system in place to help mitigate COVID protocols. Before heading out, make sure you check their respective websites so you know what to expect.
POLL: How Much Do You Expect To Spend on Travel This Summer (in Total)? 
Catch the Sights in Hollywood
Taking in all the iconic landmarks of Hollywood doesn't cost anything. There's the TLC Chinese Theatre — complete with all the stars' handprints in cement — the Hollywood Walk of Fame and the hillside Hollywood sign, off in the distance. There's also the Hollywood Forever Cemetery, which may sound a little morbid, but it's more than the final resting place for some of the earliest showbiz titans, serving as one of the city's main cultural centers. 
While you can pay a little extra money and take a guided tour of studios or celebrity homes, there are cheaper options. For example, you can look into being an audience member for a TV show taping, which usually doesn't cost anything and is a quintessential Hollywood experience. 
Browse the City's Markets
Almost nonstop sunshine means that the city's outdoor markets operate year-round and offer plenty in the way of affordable local cuisine and unique souvenirs. Not to mention allow for plenty of casual browsing and window shopping. 
Make Your Money Work for You
The Original Farmer's Market opened back in 1934, where you can still find fresh homemade pies, farm-fresh produce, meat and cheese. There's also the Grand Central Market, which first started operating back in 1917. The 30,000-square-foot space aims to give Los Angeles a world-class experience, thanks to some of the best chefs, ingredients and entrepreneurs in the city. Both operate seven days a week, though each individual vendor may keep their own hours. 
Check Out the Comedy Scene
As one would expect from a city at the epicenter of movie and TV production, there's also a thriving performance scene, and comedy is no exception. There are clubs scattered all across the city, showcasing a mix of household names and up-and-comers. 
Cover charges will vary wildly depending on the venue and show, but events like The Comedy Store's Potluck Pop Ins feature dozens of comics for only $5, which may include special surprise guests. The Groundlings Theater is the go-to spot for improv, where several of today's comedy superstars started out. For more outside-the-box acts, check out the Elysian Theater, which has become a hub of alternative comedy and performance art. 
Make Your Money Work for You
Relax at the Beach
One of L.A.'s biggest draws is its miles and miles of sandy beaches, not to mention the nearly perfect weather to go along with it. The best part is that every beach will offer something a little different, depending on what you're in the mood for. 
Santa Monica has a boardwalk with world-class restaurants, vendors and an amusement park. The three-and-a-half-mile beach also has plenty of bike baths, outdoor workout areas and playgrounds. Just north near Malibu is Topanga Beach, nestled where Topanga Canyon meats the Pacific Coast Highway. This picturesque location is one of the original surfing hotspots and has been featured in countless movies and TV shows. Of course, there's also L.A.'s infamous Venice Beach, made popular by the counterculture of the '50s and '60s. Today, it remains a popular attraction, boasting outdoor basketball and volleyball courts, street vendors and performance art. 
It is worth noting you'll be traveling 15-plus miles outside of downtown L.A. to access the beach, so you may want to factor an Uber or rental car into your budget.
More From GOBankingRates
Make Your Money Work for You