The Best Time To Buy Plane Tickets for Summer 2023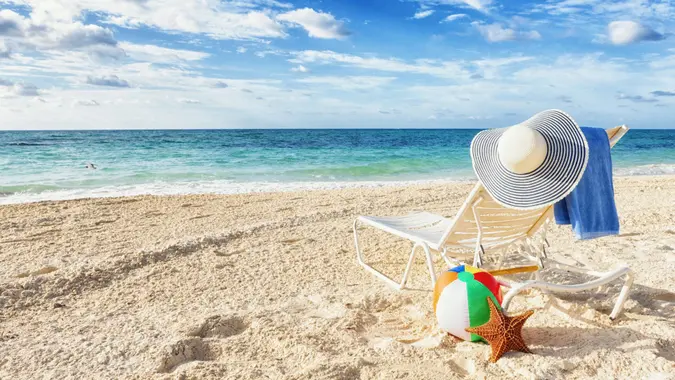 powerofforever / Getty Images/iStockphoto
The official start of summer (June 21) is less than 100 days away, which means it's now or never to get the best airfare deals for your summer vacation plans.
According to Reader's Digest, the best time to buy plane tickets is at least three weeks in advance for domestic flights. "Prices spike in the two weeks leading up to a flight's departure, rising 25% two weeks out and another 30% in the final week," Hayley Berg, lead economist for travel app Hopper, told the publication. 
Though, Travel + Leisure magazine said prime time for booking is actually further out. Citing a study by CheapAir.com, domestic flights should be secured about 76 days before the trip takes place.
Thankfully, with either scenario, we're still inside that window for summer vacations. That being said, deals still might be hard to come by since June-August are some of the most popular months to get away — and therefore among the most expensive. Travel + Leisure advised you might want to look at late summer travel options instead, since those will offer the best possible deals.
Make Your Money Work for You
There are some tools that can help identify a good time to buy. The Points Guy suggested Google Flights. That online option allows you to set an alert for the exact dates you are looking to travel, as well as departure and arrival cities. Google Flights can continually monitor how prices are tracking, with helpful comparisons, to let you know when to buy.
Per The Points Guy: "Google will tell you the average airfare for your journey and whether you are getting a deal, so you can rest easy knowing you can make an informed decision. Google will even email you if the price jumps or drops drastically."
Here are some other tips from the experts:
Travel on a Tuesday or Wednesday. If you're able to be flexible with dates, traveling midweek usually scores the best deals.
Book the flights on a Sunday. Reader's Digest points out that waiting until the very end of a weekend might offer the best deals, up to 5% off domestic and 10% off international routes.
Go for early flights. It might make you cringe having to wake up at 3 a.m. to make a 6 a.m. flight, but doing so could save you money and also provide the best options to get rebooked if, by chance, your original flight is canceled.
If you're going international, go in August. Generally this is the best time to travel abroad because most of Europe goes on vacation; however, this means many attractions will be closed, so research ahead of time to be sure what you want to do will be available.
Make Your Money Work for You
More From GOBankingRates