Travel Experts: These Are the Best Times To Buy Cheap First-Class Airline Tickets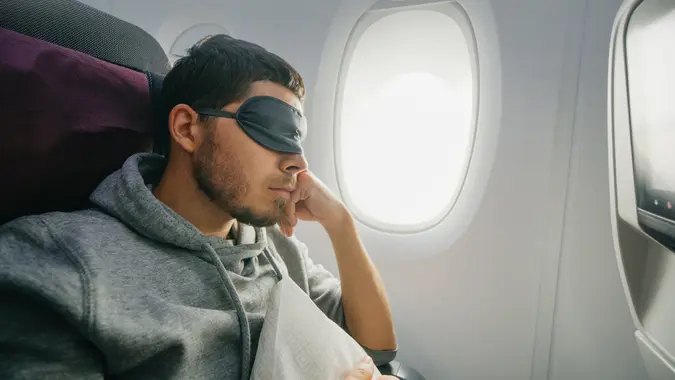 ©Shutterstock.com
Have you ever dreamed of flying around the world in a luxurious first-class seat? We all have, at some point. Many travelers would love to fly first class, but the cost of a ticket is usually sky-high. The price tag for the most luxurious first-class tickets might make your jaw drop.
Thankfully, there are always good times to buy cheap first-class airline tickets. You just need to know the best season, month, day of the week and even time of day to be one step ahead of the game.
GOBankingRates reached out to experienced flyers and travel industry experts to find out when the best times are to buy cheap first-class airline tickets. Here is the advice they had to offer.
Timing Is Everything
Knowing when to book is one of the keys to saving on first-class airfare tickets.
"Generally, booking about six weeks in advance is often cheaper than booking at the last minute," shares Fred Hoffman, a self-described avid traveler and founder and chief editor at The True Wilderness. "Airlines typically offer discounts for flights booked further in advance, so it pays to plan ahead."
Planning what day of the week to buy and fly can also help save some money on those coveted first-class tickets.
"Midweek flights are typically cheaper than weekend flights, as business travelers tend to book more flights during the weekdays," says Lillian E. Dodd, lead publisher and travel editor at HobbyKraze. "Tuesdays and Wednesdays are often the best days to book first-class tickets, as these days have fewer business travelers and lower demand."
Make Your Money Work for You
However, there is something to be said for waiting until the last minute and seeing what kind of deals are offered as the clock counts down.
"If first-class seats are not selling well on a particular flight, airlines may offer discounts or upgrades to customers who are willing to pay for them," says Elaine Warren, founder and CEO of The Family Cruise Companion.
Warren points out, though, that this can be a risky strategy with no guarantee of securing a seat, let alone at a lower price. So if you're set on your trip, the safest bet is to book well in advance. Another strategy is to book economy and see if you can snag a first-class upgrade at the airport.
Alternate Airports Might Offer Bigger Discounts
Flying direct can be pricey, so it's worth looking into what airports are near your final destination, then booking a first-class seat to that city.
"Consider other airports in the vicinity of your destination that may offer lower fares," suggests Hoffman. "While larger airports usually have higher fares, smaller regional airports may offer much cheaper tickets."
"You're also more likely to find cheaper first-class tickets on routes with multiple carriers offering premium cabins, as the competition drives the prices down," adds Shelley Marmor, the founder of Travel Blogging 101.
Watch For Seasonal Prices
As the seasons change, so do the price of airline tickets, including first-class ones.
"Seasonal variations in airfare pricing can make a big difference in the cost of your first-class ticket," states Hoffman. "Different times of year generally see different levels of demand for airline seats, and this is often reflected in the ticket prices. Generally, flying during off-peak seasons like winter or late summer can result in much cheaper tickets than during peak holiday periods."
Make Your Money Work for You
There are offseasons happening everywhere around the world, all the time, but monitor what is considered seasonal for your destination so you can plan accordingly.
"Generally, the offseason and shoulder season, which fall outside of the peak travel months, are a good time to look for discounted first-class tickets," Dodd agrees. "For example, for European travel, the fall months of September and October are often considered the shoulder season, and flights during this time may be cheaper than during the summer months."
Seek Out Package Deals
Good things come to those who know how to bundle, including travel deals.
"Large airlines often offer discounted tickets as part of a package deal," says Hoffman. "By bundling the cost of your ticket with other services such as hotel stays and car rentals, you can often save money on your first-class airfare."
More From GOBankingRates