Going to a Theme Park This Summer? Here's How ChatGPT Can Help You Budget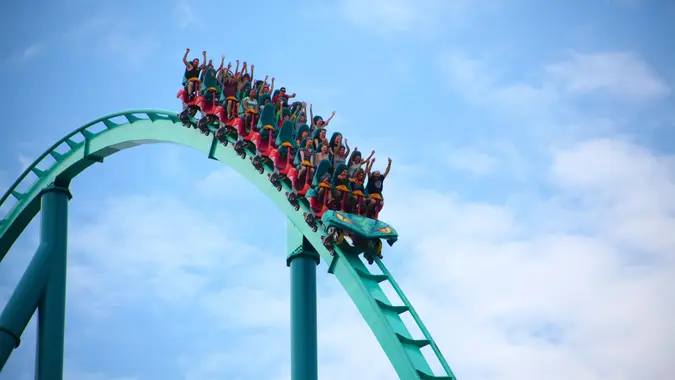 ©iStock.com
With kids out of school for the summer, it is officially theme park season. But with ticket prices going up, going on a family vacation to Disneyland, Universal Studios, Cedar Point, Six Flags or Disney World has never been more expensive.
I'm a Financial Planning Expert: Here Are 5 Things You Should Never Spend Money on If You Want To Be Rich
Learn: How To Build Your Savings From Scratch
Fortunately, by utilizing ChatGPT, you may be able to find lower prices and stay within your budget. Here is how to use ChatGPT to budget for your next theme park trip.
Start With Good Questions
The foundation of using ChatGPT effectively is to ask the right questions.
"It is possible to improve the quality of the responses you receive from ChatGPT by efficiently asking open-ended questions," said Shanal Aggarwal, tech expert at TechAhead.
For example, if you are going to a theme park, some questions you can ask are: What are some ways to save money at a theme park? How can I budget for my upcoming theme park trip?
By doing this, ChatGPT can give you more specialized answers. If there is something you are particularly concerned about — for example, spending too much on meals on your trip — you can ask ChatGPT for tips specifically related to food budgeting.
Make Money With AI and ChatGPT: How To Earn $1,000 a Month
Create a Budget
When asked, ChatGPT stated that a budget is essential in order to stay within your means while going to a theme park.
Make Your Money Work for You
ChatGPT said it is best to allocate funds to each category, such as tickets, accommodation, transportation, meals and extras. It also advised to "be realistic and consider any additional expenses like taxes, tips or fees."
Research which days are most expensive, as weekend tickets tend to cost more than weekday admission. As ChatGPT said, additional costs will also add up. It may be cheaper to purchase a ticket online or through a wholesaler like Costco than it would be to buy a ticket at the gate the day of your visit.
Give yourself a cushion in your budget to account for additional expenses. Also, keep in mind that you will be paying theme park prices, so expect to pay more for bottled water and snacks.
Adjust Your Budget If Needed
Upon being asked about exceeding the budget, ChatGPT said, "Consider what elements are most important to you and allocate your resources accordingly. Look for potential areas where you can save money, such as choosing more affordable accommodation or dining options."
Prioritize what is most important to you and move forward from there. You may be surprised at the high costs of theme park visits, especially if you have to book a hotel. Maybe you cut back on the number of souvenirs you bring home, or maybe you opt for a motel off site rather than a costly hotel closer to the theme park grounds.
Decide what is most important to you on your vacation, and then choose what to slash from your budget accordingly.
Make Your Money Work for You
Track Your Expenses
While at the park, it is important to track your purchases in order to stay on budget. You can do this through a budgeting app on your phone or even by using pen and paper. ChatGPT claims that this practice will help you stay within your budget and identify any areas where you may need to adjust your spending.
Mindfulness is key. While you may not want to monitor every purchase when you are supposed to be enjoying yourself at a theme park, by being aware of your spending, you can help yourself stay on budget and not spend beyond your means.
More From GOBankingRates