10 Tips for Saving Money on Airfare This Spring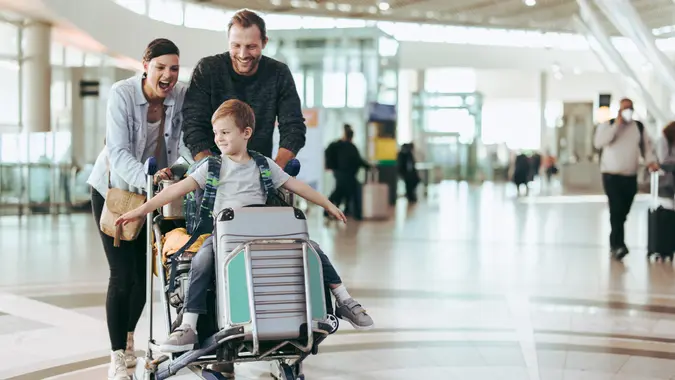 jacoblund / Getty Images/iStockphoto
Spring is almost in the air and people are ready to travel. Airline Weekly estimates that roughly 2.6 million people a day will fly on average in March and April — a 1% increase from 2019. Amid all the excitement, it's easy to forget just how expensive air travel has become.
Airfare has actually outpaced inflation, and according to data released by the U.S. Bureau of Labor Statistics' Consumer Price Index, was up 25.6% from January 2022 to January 2023. Despite rising costs, there are still ways to save on airfare this spring. Here's what experts recommend.
Book Now 
Prices are bound to rise so you need to book your airfare ASAP to save.
"Book no later than early March for the best deals," said Hayley Berg, lead economist at Hopper. "Plan to book April trips no later than this week. Prices can rise by over $200 per ticket in the last three to four weeks ahead of your trip."
Fly Mid-Week 
Weekends may be more convenient times to fly, but they're also more expensive. 
"Depart in the middle of the week," Berg said. "Just by flying on a Wednesday versus the weekend you can save as much as 33% (or $92 per ticket!) off of peak weekend prices."
Be Flexible 
It's tough to be flexible with your dates, especially when you've got set time off work or school, but flexibility and savings go hand in hand.
Make Your Money Work for You
"One of the biggest ways to save money on airfare is by being flexible on your dates or even your destination," said Rachel Childress, the owner and content writer of Our Vacationing Life. "It's not always the easiest tip to follow, although it saves significant money at times."
Take the First Flight Out
Did you know that flights departing after 9 a.m. are two times more likely to be delayed than departures scheduled between 5 to 8am?
"To avoid travel disruption and potential costs associated with delays, missed connections and cancellations, fly as early in the morning as possible," Berg said.
Fly Through Small Airports
Big airports are typically more convenient and thus more expensive.
"Most major flight hubs have smaller airports nearby which tend to be cheaper because they're less convenient," said Laura Adams, personal finance expert at Finder. "Compare the costs of primary and secondary airports, including any necessary additional transportation, for potential savings."
Always Search in Incognito Mode 
Put on your fake mustache and fedora and go into spy mode! Or simply just open a private browser.
"Many airlines practice dynamic pricing, adjusting pricing as demand changes," Adams said. "That means that by searching for flights and taking them close to checkout, the airline has intel on where you want to travel and how much you're willing to pay. In other words, when you return to purchase, they may have increased the price; however, you can avoid that problem by searching for flights in an incognito or private browser window."
Make Your Money Work for You
Use ChatGPT
ChatGPT has been making headlines for its ability to pass exams and potentially make some jobs redundant, but did you know it can also possibly help you save on flights?
"ChatGPT has a lot of knowledge about the travel industry, especially when to fly and possible routes that can save you money," said Germán Ceballos, main editor of the travel blog AirLapse. "You can check things like, 'What are the cheapest weeks to go to x', or compare multi-city itineraries like, 'Is it cheaper to go from x to y, or from x to b'."
Book One-Way Flights Separately
Usually we book round-trip flights precisely as that: round trip. But you might save by booking each flight individually.
"Sometimes it's cheaper to book one-way flights separately rather than booking a round-trip ticket," said Brian Meiggs, the founder of Smarts. "This is especially true if you're traveling to multiple destinations or if you're traveling for an extended period of time. Be sure to compare the prices of one-way flights versus round-trip tickets to see if this strategy can save you money."
Opt In
Nobody likes random marketing emails, and that's what a lot of those promotional emails from airlines end up being. But when you get that invite to "opt-in to receive promotional emails" or "sign up for our email newsletter" from an airline, go for it.
"When an airline wants to promote a sale, the first thing they do is send an email to their customer base because it's fast, efficient, and much more cost effective than paying for traditional advertising (tv, radio, print)," said Antoinette Harris, the founder and owner of Frolic & Courage, LLC. "This is great for the budget-conscious traveler because they are the first to receive notice of an airfare sale (directly to their email inbox) and can take advantage of it while there's full availability for their desired trip dates."
Make Your Money Work for You
Be Mindful of How You Pay 
Which credit card you pay with really matters here because some offer better cash-back rewards for travel purchases than others.
"If you find that your credit card does not offer this kind of benefit, consider switching to a travel card (if you travel frequently)," said shopping expert Trae Bodge. "If not, it could make sense to sign up for a general cashback card, like the Bread Cashback American Express, which offers a flat 2% back on all purchases. Plus, it has no foreign transaction fees, making it a handy card if you are traveling internationally."
More From GOBankingRates