I'm a Travel Agent: 7 Costliest Mistakes People Make When Planning Vacations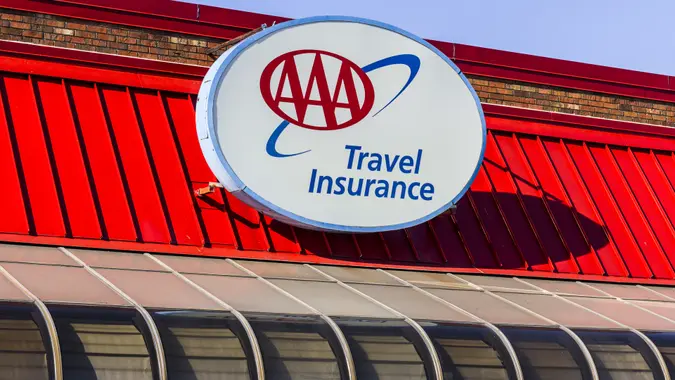 Jonathan Weiss / Shutterstock.com
It's vacation season!
With summer in full swing for most of the U.S., you might be putting the finishing touches on your vacation plans. Or you might be planning a winter getaway for later this year. Either way, before you take off on an epic road trip or fly to a desirable destination for some rest and relaxation, you might want to make sure you avoid making these massive travel mistakes.
We tapped Greg Johnson — expert world traveler, travel blogger at ClubThrifty.com and owner of Travel Blue Book Travel Agency — to share his insights on the costliest mistakes travelers make when planning vacations.
Not Planning Ahead
Failing to plan is planning to fail. Having a plan in place can help alleviate travel headaches and save you money at the same time.
"Most travelers book their vacations a few months before traveling," Johnson said. "By that time, availability is usually low — which causes prices to rise. Depending on the trip, this can increase your costs substantially.  
"To get the best deals, consider booking your trip as early as possible. Prices for flights, resorts and cruises are typically near their lowest when they first become available. By booking 11 to 12 months in advance, you can literally save thousands."
Take Our Poll: Who Has Given You the Best Money Advice You Have Ever Received?
Make Your Money Work for You
Being Inflexible With Dates and Destinations
Flexibility is key to saving money while traveling.
"One of the best ways to save on travel is to be flexible with your dates and destinations," Johnson said. "If you don't know exactly where you want to go, consider choosing your destination based on the price of flights. Likewise, being able to fly on a Tuesday could save you big money compared to flying on a Friday. The same goes for resorts and cruises." 
He also said, "Do a little price shopping and play with dates before committing to specific travel dates, hotels or cruises. It's not always possible, but being a little flexible can go a long way."
Traveling During Peak Times
Peak travel means high prices, period. Johnson advises against it, if possible. "If you can avoid peak travel season, do it. Traveling during shoulder seasons and off-peak times can save you up to 50% on the cost of your trip. Plus, you won't have to fight as many crowds, which can make your trip much more enjoyable."
Using a Mobile Phone Without an International Plan
Staying connected when traveling overseas can be costly.
"When you are traveling internationally, be sure that your mobile phone plan offers coverage at your destination before using it," Johnson said. "Not doing so can be an enormously costly mistake, potentially costing you thousands.
"If you already have an international phone plan, make sure that the country you are traveling to is covered under your plan. If you don't, call your mobile company and inquire about adding one during your trip."
Make Your Money Work for You
Johnson also said, "Cruisers should be sure to turn off their data when not docked in port, as many international plans don't cover you while sailing in international waters. You could easily rack up thousands of dollars in accidental bills if you're not careful. We like to flip our phones to airplane mode and use the ship's Wi-Fi throughout the cruise instead."
Not Buying Travel Insurance
Travel insurance helps you avoid the massive cost of having to reschedule or cancel vacation plans. Johnson sees travel insurance as a must in many circumstances.
"Having a good travel insurance policy is like carrying any other type of insurance: You hope you never need to use it; but, if you do, it is extremely important to have," he said.
"There are many different types of travel insurance policies. Some focus on comprehensive coverage both before and during your trip while others focus more on medical coverage and other items while you travel."
Johnson said international travelers always should carry extra insurance.
"At a minimum, I highly recommend that all of my clients who are traveling internationally carry some sort of medical coverage," he said. "An injury or illness during their trip could cost them tens of thousands of dollars — especially if they need some type of medical evacuation. Spending a few extra bucks on a good travel insurance policy can be extremely important in these situations."
Not Having the Right ID for Your Trip
Getting to the airport and forgetting your passport can cause a huge delay and possibly cost you a lot of money, too.
Make Your Money Work for You
"Not meeting the proper ID requirements is more common than you might think," Johnson said. "This is a huge mistake that could keep you from even going on your trip — potentially costing you thousands of dollars. 
"I know of several people who have not had the proper ID for their cruise or vacation, which meant they couldn't go on their trip. At that point, most of their costs were non-refundable, so they were simply out the money."
He said planning ahead is important for any trip.
"Before booking your trip, be sure to check with your airline or cruise line to ensure you have your ID documentation in order," he said. "You can also check with government agencies like the TSA and the State Department to ensure you have the proper documentation necessary for your travels."
Not Using a Travel Agent
Travel agents aren't simply searching for flights and hotels for you; they do so much more. Not using one can cost you.
"Saving money isn't the only thing that travelers should worry about," Johnson said. "Time, effort and energy count for something too. Not knowing where to stay, what to do, activities and attractions to avoid — these can all be costly mistakes as well. A good travel agent can help you navigate all of these things and more.
"For example, I've traveled to nearly 50 countries and territories across Europe and the Caribbean — many of those places several times. So, I know my way around pretty well. Sure, I can help you find a good deal. As importantly, however, I'm a great person to lean on for my knowledge."
Make Your Money Work for You
Even More Travel Mistakes
Johnson has been helping plan travel itineraries for years, and he shared even more (costly) travel mistakes:
"Shopping and Dining in Touristy Areas. There is a reason that some areas of a city are popular, but that doesn't mean you have to spend all of your time there. Eating, drinking and shopping in the most popular areas typically comes with increased costs. By walking a block or two off the main drag, you can usually find cheaper prices — and often tastier food.
Ignoring Credit Card Rewards. Find a good travel rewards card and use it to help defray some of your travel costs. Personally, we like to use points and miles to book flights — particularly when we are traveling with our kids. We take the thousands we save and put it toward our next trip.
Paying Foreign Transaction Fees. Many credit cards charge a fee when you use them abroad. Although 3% (or more) may not seem like much, it adds up when you're using it for every purchase. By using a travel rewards card that doesn't charge foreign transaction fees, you can avoid coming home to a bill larger than it needs to be."
Bottom Line
Traveling can be a wonderful experience, but if you don't have a plan in place and think of all the possible details ahead of time, you could end up having a poor experience, and you might lose thousands of dollars at the same time. Flexibility, planning ahead and using a well-seasoned travel agent can actually save you money and increase your enjoyment on your upcoming vacation.
More From GOBankingRates
Make Your Money Work for You