TSA PreCheck vs. Clear vs. Global Entry: Which Is the Best Deal?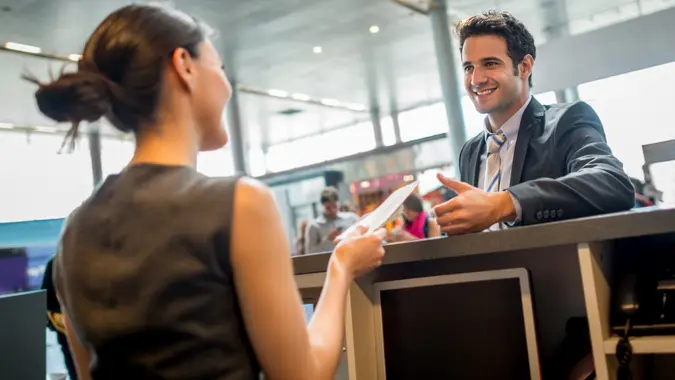 andresr / iStock.com
Many people find flying to be a stressful experience. Overcrowded airports, cancellations and lost luggage are just some reasons for that stress. However, there is yet another reason: airport security. Lines are often long and airports make you shuffle your belongings. All this often happens when you are already in a hurry.
TSA PreCheck, Clear and Global Entry are three services that can help. They give you an upgraded experience and make flying seamless. However, their differences are significant enough that the best choice for every flyer is not always the same one. We'll compare the rates and features of each and how to decide between them.
TSA PreCheck
TSA PreCheck is an expedited screening program introduced in 2013 to assess the risk factors of passengers before they arrive at an airport checkpoint. Transportation Security Administration (TSA) is responsible for the program. TSA PreCheck members can move through security checkpoints faster and with less hassle.
Some pros of TSA PreCheck include shorter lines and expedited security screening, which can save time and reduce stress at the airport. However, only select airports participate in the program, which can limit the benefits for some travelers. Additionally, TSA PreCheck doesn't include access to expedited customs processing, which might be a deal breaker for international travelers.
Make Your Money Work for You
TSA PreCheck costs $78 for five years, with a renewal cost of $70. All American citizens and lawful permanent residents can enroll in the program.
Clear
Clear is a privately owned biometric identification company that offers expedited security screening for eligible travelers at participating airports in the United States. Clear's technology allows passengers to verify their identity with a touch of a finger or scan of their eyes and bypass the traditional security line.
Some pros of Clear include bypassing the traditional security line and the convenience of biometric identification. However, Clear costs much more than TSA PreCheck or Global Entry, which may be a consideration for some travelers. Additionally, Clear is only available at select airports, which can limit the benefits for some travelers.
The annual cost of Clear is $189 for an individual membership, with discounted rates for additional family members. Clear doesn't offer five-year membership options like TSA PreCheck or Global Entry.
Global Entry
Global Entry is a U.S. Customs and Border Protection (CBP) program that offers expedited customs processing for travelers at select airports upon arrival in the United States. TSA PreCheck is included with the Global Entry program.
Some pros of Global Entry include faster customs processing and the benefits of TSA PreCheck. Global Entry also includes quicker processing at select international airports in other countries, including Canada and Mexico.
Make Your Money Work for You
However, Global Entry only benefits travelers entering the United States and doesn't provide expedited processing for outbound international flights. Additionally, the application process for Global Entry can take longer than TSA PreCheck or Clear because it requires an in-person interview.
The application fee for Global Entry is $100 for five years. This is slightly more expensive than TSA PreCheck but less expensive than Clear. "When you're comparing TSA Pre Check and Global Entry, hands down the better of the two is Global Entry, which automatically comes with TSA Pre Check," said Alex Miller, CEO at UpgradedPoints.com.
Miller highlighted several benefits of Global Entry, such as expedited entry into the U.S. from abroad. "You don't have to stand in line to be interrogated by the CBP and you're able to quickly proceed onto a connecting flight," Miller said. He believes Global Entry is well worth the extra $22.
Comparison of TSA PreCheck, Clear, and Global Entry
| | | | |
| --- | --- | --- | --- |
| | TSA PreCheck | Global Entry | Clear |
| Cost | $78 for five years and $70 for renewal | $100 for five years | $189 for one year with discounts for family members |
| How It Works | The participating airline will print an indicator on your boarding pass — both physical and online — allowing you to move through security faster by using the dedicated TSA PreCheck screening lanes. | Members present their machine-readable passport or U.S. permanent resident card at the automated kiosk, complete a customs declaration and scan their fingerprints. The kiosk then will issue a transaction receipt and the member can move on to baggage claim. | First, complete an identity verification and security screening. Once approved, use your biometrics (fingerprint or iris scan) instead of your government ID at the TSA kiosk. |
| Eligibility | U.S. citizens, lawful permanent residents of the U.S., members of the U.S. armed forces and relevant cadets of the U.S. military academy. | U.S. citizens, lawful permanent residents of the U.S. and citizens of countries such as the United Kingdom, Germany, Singapore, The Netherlands, India, South Korea, Switzerland and others. | U.S. citizens ages 18 and older. No background check is required. |
| Application Process | After submitting an online application, you will be called for a short in-person interview. This interview will include obtaining a record of your fingerprints for a background check. | You have to create a Trusted Traveler Programs account and complete your application. If it is accepted by CBP, you will be called for an in-person interview for personal identification document verification. | You can enroll online or in-person at any CLEAR airport location. If you apply online, no appointment is needed, though you do need a government-issued I.D. |
| Enrollment Centers | Over 500 enrollment centers | 116 enrollment centers | Apply online or at CLEAR airport locations |
| Number of Airports | Over 200 airports | Over 75 airports | Over 45 airports |
Make Your Money Work for You
Bottom Line
Choosing between TSA PreCheck, Clear and Global Entry depends on individual needs and preferences. Travel frequency, type of travel, program benefits and program cost are key factors to consider. Frequent domestic travelers may prefer TSA PreCheck, while frequent travelers who value convenience may choose Clear. International travelers may opt for Global Entry, though at just $22 extra, even domestic travelers sometimes like to have Global Entry. While all three provide a lot of value, the best choice comes down to your preferences.
More From GOBankingRates