15 Luxurious Vacation Spots Beloved by the Rich and Famous

10 min Read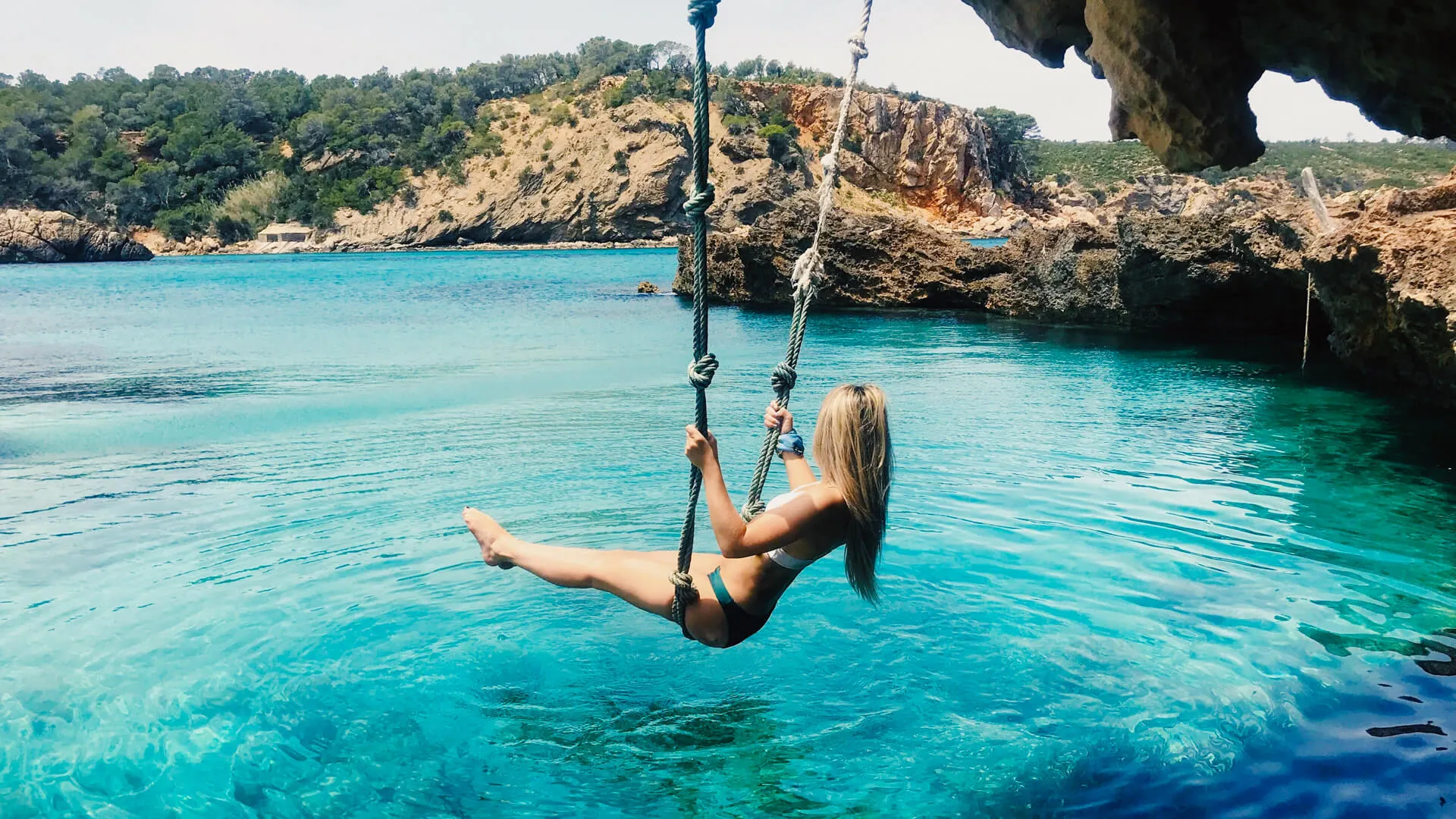 Make Your Money Work for You
Lanai, Hawaii
Larry Ellison owns many homes he could use as vacation retreats. The Oracle founder, who is now worth more than $59 billion, according to Forbes, can often be found on the Hawaiian island he purchased in 2012, though.
Ellison paid $300 million to buy 98 percent of Lanai, which boasts two Four Seasons resorts, as well as world-class golf courses. The lowest rate found for a room at the Four Seasons Resort Lanai was $1,075 per night.
Bill and Melinda Gates were married on Lanai in 1994, and since Ellison overhauled the Four Seasons Resort Lanai in 2016, it's been inundated with celebrity guests. Some of the high-profile vacationers include Cindy Crawford, Will Smith and Derek Jeter.
Kauai, Hawaii
Running Facebook is a big job, so it's no surprise that Mark Zuckerberg — the company's co-founder, chairman and CEO — likes to jet off to Hawaii to relax. In 2014, he purchased the 357-acre Kahu'aina Plantation on Kauai's North Shore for $66 million, according to Forbes. Zuckerberg — whose net worth exceeds $70 billion — then bought 350 more acres of land at the adjacent Pila'a Beach for $49.6 million.
Zuckerberg and wife Priscilla Chan got off to a rocky start with the locals. In 2016, he built a wall around the property, angering residents. He's also been involved in various property disputes, which he addressed in a January 2017 Facebook post.
In 2016 "The Bachelor" creator Mike Fleiss purchased a historic oceanfront Kauai estate from Julia Roberts for $16.2 million. "Scorpion" star Katharine McPhee was photographed vacationing on the island in August 2017.
Read More: 25 Coolest Family Vacation Spots in the US
Telluride, Colorado
Tropical locales aren't the only places the rich and famous go to relax. Hewlett Packard Enterprise CEO Meg Whitman heads to the mountains for leisure time.
Along with her husband, Whitman, whose net worth Forbes puts at $2.9 billion, owns a ski resort condo, dude ranch and hundreds of acres of land around the Alta Lakes in Telluride, Colo. The Denver Post reported that she paid $20 million for her Skyline Guest Ranch in 2005.
Tom Cruise tried to sell his $59 million Telluride estate for two years, but took it off the market in 2016. Laura Linney and Ralph Lauren also own homes in the area.
Make Your Money Work for You
Fiji
Tony Robbins spends most of his time working — in fact, he is generally on the road 200 days per year. The New York Times No. 1 best-selling author enjoys spending downtime at his tropical hideaway, Namale Resort, though.
Robbins, who has a net worth of $500 million, according to Celebrity Net Worth, created the 525-acre resort in the Fiji islands. Popular with A-listers, the site has hosted numerous stars, including Edward Norton and Meg Ryan. Rates for rooms at Namale Resort start at $1244 per night, but discounts are available for booking multi-night stays.
The Hamptons, New York
Campaigning is hard work, so in 2015, then-Democratic presidential contender Hillary Clinton took some time out to relax at a luxury rental in the Hamptons. She was joined by her husband, former President Bill Clinton, daughter Chelsea, son-in-law Marc and granddaughter Charlotte.
The Clintons, who have a combined net worth of $125 million, according to Celebrity Net Worth, paid a reported $100,000 to rent the four-bedroom house in Amagansett, N.Y., for two weeks, according to Vanity Fair. The family also stayed at the home in 2014.
A celebrity favorite, Jerry Seinfeld has owned a 12-acre East Hampton estate since 2000, purchased from Billy Joel for $32 million. In 2017, Jay-Z and Beyoncé bought a 12,000-square-foot East Hampton home for nearly $26 million.
Palm Beach, Florida
Since becoming president, Trump has embarked on multiple weekend getaways to his Mar-a-Lago resort. In February, the Washington Post estimated that his first three trips to the Palm Beach, Fla., destination cost taxpayers $10 million.
After purchasing the property for $5 million in 1985 — he threw in an additional $3 million for former owner Marjorie Merriweather Post's furnishings — Trump turned Mar-a-Lago into a private club in 1995. When he became president, CNBC reported that the club's initiation fee doubled to $200,000. Members also pay $14,000 in annual dues, plus tax.
Think Bigger: Best Places in Every State To Get a Vacation Home
Make Your Money Work for You
Lake Como, Italy
If you want to travel like a millionaire, head to Italy. Two-time Oscar winner George Clooney has a busy work schedule, but he still finds time to relax with his wife Amal. The couple owns several homes, including two luxury villas in Lake Como, Italy — Villa Oleandra and the adjoining Villa Margherita.
Clooney, who has a net worth of $500 million, according to Celebrity Net Worth, spends up to four months a year at the lakeside Villa Oleandra. He purchased the property for $10 million in 2001, according to the Daily Mail.
In 2014, Nicky Hilton got engaged to now-husband James Rothschild in Lake Como. Other famous vacationers include Brad Pitt, Angelina Jolie and Madonna.
Florence, Italy
Sting's net worth is $300 million, according to Celebrity Net Worth, so it's only fitting that the Grammy winner and his wife Trudie Styler own a Tuscan villa. The couple purchased the 900-acre Villa Palagio — located 16 miles from Florence, Italy — in 1997.
When the "If You Love Somebody Set Them Free" singer isn't relaxing at his villa, he rents it out to the public. If you want to stay there, you'll need to rent out the entire property. In 2015, Elle Decor reported that a seven-night stay in the nine-bedroom estate starts at $67,000.
In 2014, Kim Kardashian and Kanye West were married at Forte di Belvedere in Florence. Beyoncé and Jay-Z visited the city the following year, and documented their trip in several photos posted on the "Lemonade" singer's official website.
Cabo San Lucas, Mexico
Long-time Malibu resident Cindy Crawford lives in a beach town, but that doesn't stop her from heading to the ocean for vacations. Along with family friend George Clooney, the former supermodel and her husband Rande Gerber sold their Cabo San Lucas, Mexico, compound for $100 million in 2016, according to TMZ.
The celebrity best buds are currently without a vacation home south of the border, but a bigger and better compound is already in the works. Crawford's net worth is $100 million, according to Celebrity Net Worth, and the Casamigos founders sold their business to British liquor company Diageo for up to $1 billion in June 2017, so the new Mexican retreat will no doubt be amazing.
Justin Bieber and then-rumored girlfriend Sofia Richie visited Cabo in August 2016. Lauren Conrad also had her bachelorette party there in 2014.
Make Your Money Work for You
Kennebunkport, Maine
Incredibly, the extended Bush family — which boasts a combined net worth of $400 million, according to Celebrity Net Worth — includes two former presidents and a former Florida governor. Like many families, though, the group enjoys taking vacations together.
Located in Kennebunkport, Maine, Walker's Point has been the family's getaway for years. George H.W. Bush and his wife Barbara purchased a 26-room house on 11 acres of land from his aunt in the 1980s, and the family has since turned it into a compound.
In 2015, the former president and his wife built a brand-new house on the property for son Jeb and his family. Located on a 1.3-acre site worth at least $1.4 million, the 3,000-square-foot home cost $600,000, according to the Boston Globe.
Aspen, Colorado
A wintry playground for A-listers, Aspen is a favorite spot of Mariah Carey — i.e., the "queen of Christmas." In fact, she spent time in a $22 million Aspen, Colo. rental home, courtesy of Airbnb, during the 2016 holiday season. Katy Perry and Orlando Bloom visited the city in April 2016, and the actor was spotted hitting the slopes. For her 26th birthday in 2014, Rihanna hunkered down in an 18,750-square-foot, $45 million rental home.
Bali, Indonesia
The Indonesian island of Bali is a celebrity favorite. In 2017 alone, some of its high-profile visitors have included John Legend and Chrissy Teigen, the Obama family and supermodel Ashley Graham. Plus, reality star Brody Jenner got engaged to his fiancé Kaitlynn Carter on the island in May 2016, and Evan Ross and Ashlee Simpson honeymooned there in September 2014.
Bora Bora, French Polynesia
The crown jewel of French Polynesia, Bora Bora frequently attracts A-list guests. After tying the knot in August 2015, Jennifer Aniston and Justin Theroux jetted to the island, and brought several famous friends with them, including Chelsea Handler, Jason Bateman and Courteney Cox.
The Kardashian Klan — along with Kim's then-boyfriend Kris Humphries — also vacationed at the Hilton Bora Bora Nui Resort in April 2011, and their trip was documented on their hit reality series "Keeping Up With the Kardashians." Since renamed the Conrad Bora Bora Nui, the hotel offers nightly rates from $585, according to TripAdvisor.
Make Your Money Work for You
Ibiza, Spain
Located off the east coast of Spain, Ibiza is a top destination for celebrities. Shakira and Gerard Pique enjoy it so much, they bought a $2.6 million apartment there in 2013. Revered by the fashion crowd, the island played host to models Doutzen Kroes and Alessandra Ambrosio in 2017. Plus, it's still cheaper to live in Ibiza than New York City, and Ibiza is only one of the many beautiful places in Spain.
Not new to the A-list scene, Anne Hathaway was photographed on a rental luxury yacht on the island in 2015. Paris Hilton, Justin Bieber, Kim Kardashian and Kanye West, Kate Moss, Naomi Campbell, Orlando Bloom, Michelle Rodriguez, Lindsay Lohan and P. Diddy are among the many luminaries who have kicked back and relaxed in Ibiza.
Necker Island, British Virgin Islands
Who wouldn't want to escape to one of the most beautiful beaches in the world? When he's not traveling for work, Richard Branson, the Virgin Group founder — who is worth $5.1 billion, according to Forbes — heads to his private island in the British Virgin Islands.
Known for being a place where Branson and his celebrity pals can kick back and party, the island has hosted events ranging from Kate Moss's 40th birthday party to the wedding of Google co-founder Larry Page. Branson bought Necker Island for $180,000 decades ago and has since turned it into a resort.
The all-inclusive property features a main house and six smaller houses, as well as pools, on-site dining, tennis courts and a disco DJ. Nightly rates vary by season, with rates for couples starting at around $4,390. Additionally, up to 34 guests can reserve the entire island for $80,000 per night.
In September 2017, Necker Island was hit hard by Hurricane Irma. Branson rode the hurricane out with family and friends in a wine cellar on the island. In a post-storm Twitter post, he revealed that many buildings were destroyed. The island is not currently accepting bookings online.
More From GOBankingRates
Images used are for representation purposes only, and sometimes don't depict the precise location described.
About the Author